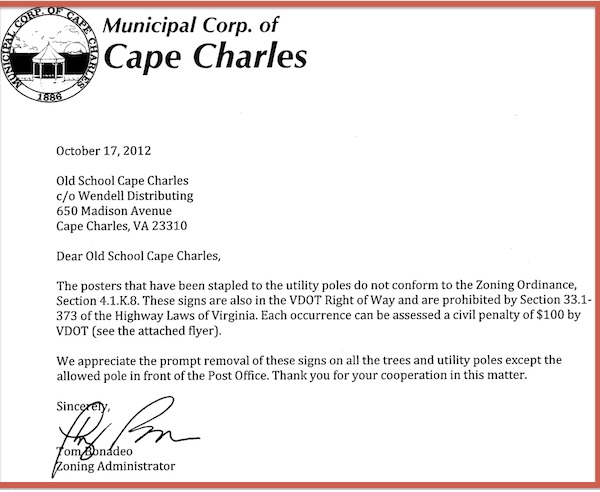 HOW THE WAVE SEES IT
November 13, 2012
There are laws meant to be obeyed, and there are laws meant to be broken.
A wise town authority knows when to bear down, and when to look the other way. But a foolish authority ends up looking, well — foolish.
The Cape Charles Wave takes more than simple pleasure in pointing out official foolishness — we see it as our civic duty. Question authority!
So, for example, we pointed out the, yes, stupidity of trying to enforce a ban on political yard signs until just 45 days before a Presidential election. We noted that the U.S. Supreme Court long ago struck down any such ban. And we cheered on our own vice mayor for ignoring the town ban by prominently displaying political advertising in his yard before the permitted date.
Just yesterday we drew attention to more foolishness, as our Town Council members put their heads together this Thursday to discuss enacting rules to constrain behavior at public meetings. Town staff recommends that we, the residents, be prohibited from handing out or receiving flyers within 50 feet of the door of the meeting hall.
What are they afraid of?
There's also a suggestion to prohibit speakers from personally criticizing elected Town officials or Town staff. To do so would be an "attack" on their person.
Virginia Beach banned "personal attacks" during the public comment of school board meetings, and the courts ruled the ban unconstitutional.
We're not suggesting that "anything goes." The presiding town official has the right to require a certain decorum, but a wise official will differentiate between scathing criticism (allowed) and speech that violates the "habits and manners of civility" (not allowed).
And now we've learned of even more foolishness by a town staff that seems to have too much time on its hands. As shown above, the Town has issued an official warning to Old School Cape Charles for advertising its Oyster Roast on telephone poles. Each sign is cause for a $100 fine. [Read more…]
Ahhh, yes! Something to do on Saturday after Thanksgiving, when everyone is stir crazy, over their turkey-coma, tired of cooking, and scared of the crowds in the stores — Come Raise the Roof! [Read more…]
A seminar on "Coral Reefs of the World: Health and Sustainability" will be held 7 p.m. Thursday, November 15, at the Anheuser Busch Coastal Research Center in Oyster. [Read more…]
By GEORGE SOUTHERN
Cape Charles Wave
November 12, 2012
The natives are restless, and Cape Charles Town Council is working on doing something about it.
The Council is holding a work session at 6 p.m. Thursday, November 15, to review "citizen participation guidelines" at public meetings.
The work session is open to the public but not to public comment.
As recently as last spring, Council's biggest worry about public participation was that there was none.
At the March 2012 Council meeting, Vice Mayor Chris Bannon remarked that up until then, almost nobody had attended meetings other than Council and staff.
That was before word got out that Council planned to sell the old school and accompanying property in Central Park to a developer for $10. Town Council meetings have not been the same since.
The most contentious meeting was August 23, when Mayor Dora Sullivan directed police to eject four residents from the room.
Two persons were removed while speaking at the podium, and the other two were taken out for holding up signs. [Read more…]