LETTER:
Group Seeks to Preserve Cape Charles Colored School
March 6, 2013
DEAR EDITOR,
There are no front yard signs in support of "the other Old School Cape Charles." However, there is definitely an effort gaining momentum to preserve the history of another Cape Charles former public school building.
This movement has been characterized not by spirited debate and public hearings, but by the same quiet dignity and determination that led to the creation in 1928 of the Cape Charles Colored School.
The school is situated just over the hump from the Historic District to the Bay Creek golf community. It is an unassuming red brick building. Spray paint evidences its brief history as an eel processing plant. The modest structure belies the storied and important history of the school.
CONTINUED FROM FIRST PAGE
Created at a time of racial segregation, the Colored School was a collaborative effort between the black community of Cape Charles, the State of Virginia, and the Julius Rosenwald Fund.
Rosenwald, a philanthropist and co-founder of Sears Roebuck, was inspired by the famed black educator Booker T. Washington to support the building of schools across the rural South for African-American students.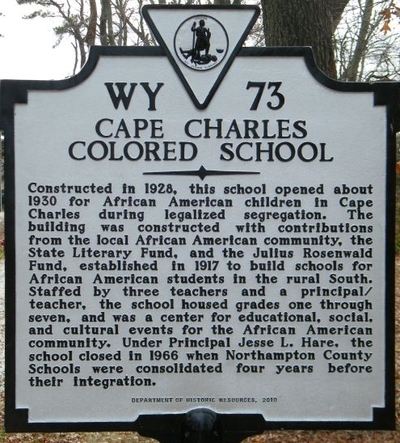 The National Trust for Historic Preservation lists Rosenwald schools among the most endangered historic sites in America and considers them "iconic landmarks of African-American history."
And here we have one in our own little town. As the historical marker adjacent to the school building indicates, the Colored School was the educational, social, and cultural hub of the African-American community in Cape Charles.
In 2009, the Cape Charles Rosenwald School Restoration Initiative, Inc., was formed, with the ultimate goal of acquiring the school building, now in private hands, and restoring it as a museum.
The first meeting of the newly constituted board was held last weekend at First Baptist Church in Cape Charles. Five of the eight board members present attended the Colored School.
The board agreed on an immediate goal to incorporate as a 501(c) charitable and educational entity, which would permit donors to make tax-deductable contributions toward the restoration effort.
A second goal is to locate a repository for artifacts from the school that are being collected and to preserve an oral history from the individuals who either attended or had some other close connection to the school.
In that regard the Restoration Initiative is seeking donations of money, time, resources, or artifacts, as well as persons to provide oral histories.
Interested persons may contact Tevya Griffin at [email protected], Lenora Mitchell at [email protected], or Odelle Collins at [email protected].
It is the hope of the Restoration Initiative that the residents of the Town of Cape Charles can come together to support this effort to preserve an enormously important historical landmark.
SUSAN BAUER
Cape Charles
Letters to the Editor are welcome on any subject relevant to Cape Charles, and a diversity of opinions is encouraged. Letters should be original and never submitted elsewhere. Send submissions to [email protected].