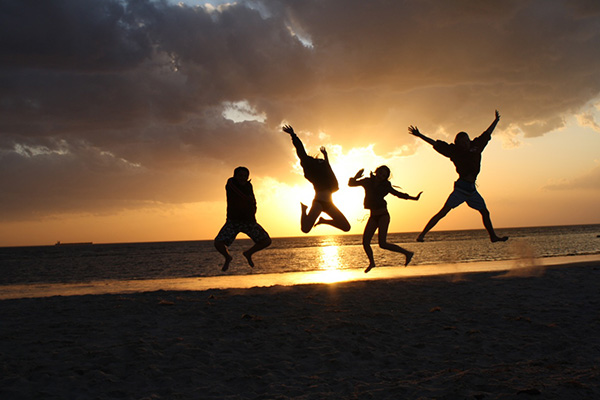 May 1, 2013
"Even Cloudy Sunsets Are Magical," by Gabriela Quinonez, is one of three winning photos in the Cape Charles by the Bay contest. A total of 72 photographers submitted 451 photos, which are on display this week at Arts Enter. The Wave will publish one photo from the contest each day this week. Click the ARTS tab at top of page to see other photos.
By GEORGE SOUTHERN
Cape Charles Wave
April 30, 2013
Four months have passed since December 26, 2012, when Town maintenance workers returning to work after the Christmas holidays removed the backboards and hoops from what had been Cape Charles' only basketball court.
One week earlier, on December 19, Mayor Dora Sullivan had signed over the deed conveying to a developer the basketball court, playground parking lot, and Old School at Central Park.
The backboards and hoops were not excluded from the sale, and so belonged to the developer, but the Town was allowed to have them in exchange for removing them. They have been in storage ever since.
Developer J. David McCormack, formerly operating as Echelon Resources but now doing business as Charon Ventures, struck a deal with the Town to convert the Old School into an apartment building and the basketball court into a private parking lot.
The property was valued on the Town tax rolls at $921,000, but Town Council agreed to pay Echelon Resources $41,000 to take the property. No bids were requested, and offers from the community group Old School Cape Charles were rejected without a vote.
The children's playground parking lot was also conveyed, and will become private parking for tenants at the 17-unit apartment complex.
The Old School and parkland had been zoned Open Space until the Town rezoned it R-1 Residential.
Although apartment buildings are not permitted in R-1 Residential, the Town Planning Commission voted last August 23 to recommend an exception. A condition to that exception was that the basketball court be relocated.
Eight months later, relocating the basketball court has yet to appear on Town Council's agenda.
Town Council has, however, extended until August 23 the deadline for developer McCormack to begin construction, which means the former basketball court could sit unused another four months. [Read more…]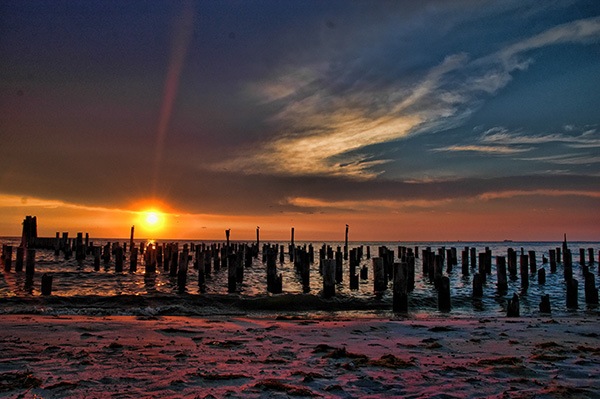 April 30, 2013
"A Ray of Beaming Light," by Florence Womacks, is one of three winning photos in the Cape Charles by the Bay contest. A total of 72 photographers submitted 451 photos, which are on display this week at Arts Enter.
The Science and Philosophy Seminar of the Eastern Shore of Virginia presents "Pysanky: The Science and Philosophy of Traditional Ukrainian Egg Painting" 12:30 p.m. Friday, May 3, in the Eastern Shore Community College lecture hall, 29300 Lankford Hwy., Melfa.
Nancy Kupar-Page will discuss the culture and history of egg painting as well as the techniques used. Kupar-Page is the grandchild of Ruthenian immigrants, has a liberal arts education, and enjoys dabbling in several art forms.
The Science and Philosophy Seminar explores topics ranging from philosophical speculation to scientific research. All seminars are free and open to the public.
Seminars are occasionally postponed on short notice; check www.SciPhi.org within two days of a scheduled date.
By TIMOTHY J. KRAWCZEL
April 29, 2013
Ronald Reagan famously said, "Government is not the solution, government is the problem."
A Cape Charles town employee told me last summer, "We don't need anything except money."
The thinking seemed to be: Money is supreme, run government like a business, we know more about it than you, don't argue with us, we're technocrats.
A few weeks ago, my wife and I bought a new fax/printer. It cost $125 and is better than the one we paid $400 for four years ago. Why? Because when there is competition, prices go down and quality goes up. That is the free market.
If the cost of a product is too high or the quality is too low, a consumer is free to buy somewhere else. Business responds by cutting costs and improving quality.
Not so with our Town government. It has a monopoly on service, and the Town Council year after year has allowed monopoly power on setting prices, i.e. tax revenues.
The taxpayer has no choice — pay the tax or face a penalty and a property lien.
This year the money numbers are indisputable. Real estate assessed values are down 20-38 percent, depending on the source of the estimate. Undeniably, the sale value of real estate in Cape Charles has declined from the last assessment five years earlier.
In real terms, many taxpayers have seen the market value of their investments evaporate, and some have lost their life savings.
But what is happening with the cost of local government? Has the Town reduced the burden of taxes in response to lower property values? No. All the Town taxpayers have gotten is a flaccid discussion of whether taxes will go up or stay the same. There has been no discussion of actually cutting tax rates, — of making choices that every homeowner and investor has to make, namely, how to do more with less. [Read more…]
April 27, 2013
THE PLACE:  Cape Charles Museum
THE TIME: 5-9 p.m. Saturday, April 27
THE MENU: Louisiana shrimp boil: shrimp cooked with red potatoes, special "Old Timer" sausage shipped in from Alabama, corn on the cob, onions, and peppers (recipe courtesy of Lenore Savage)
THE SIDES: Homemade rolls, coleslaw, and dessert
BEVERAGES: Wine and beer available
THE MUSIC: Live performance by local band Loaded Goat [Read more…]
By DORIE SOUTHERN
Cape Charles Wave
April 26, 2013
With one week left to agree on how much to increase Cape Charles property taxes, Town Council members are split over what to do.
Last year's rate was 18 cents per hundred dollars of value, but the Town would have to slash its budget to maintain that rate.
That's because Northampton County has reassessed all properties for the first time in five years, and values in Cape Charles dropped an average of 35 percent.
According to Town Manager Heather Arcos, the new "equalization" tax rate would be 27 cents per hundred dollars. That means that on average, with a rate of 27 cents, Town property owners would pay the same amount of tax as last year.
At last night's special meeting of Town Council, Mayor Dora Sullivan said Council needs to make whatever budget cuts are necessary to keep from exceeding the equalized rate of 27 cents. But she acknowledged that this would not be easy.
"I don't think it has ever been this difficult to arrive at a budget before," Mayor Sullivan said, speaking as one who has served more than a decade on Council.
Her husband, Councilman Mike Sullivan, agreed that the Town needs to draw the line at 27 cents.
Councilman Frank Wendell added his voice, bringing the number of supporters of a no-growth budget to three.
On the other side was Vice Mayor Chris Bannon, who thought a tax increase to maintain Town services might be necessary.
Councilman Steve Bennett sided with Bannon.
Councilman Tom Godwin was on the fence. He would prefer equal budget cuts for all Town departments in order to hold the line, but if that were not possible he would vote for a tax increase.
The tie-breaker would have been Councilwoman Joan Natali, but she was out of town.
Natali and Bannon usually vote the same way. [Read more…]
Come see Mattawoman Creek Farms 9 a.m. to 3 p.m. Saturday, April 27. Free farm tours at 10, 11, 12, 1, and 2. [Read more…]