COMMENTARY: On a Come-Here Meeting Born-Heres
By SHER HOROSKO
June 12, 2013
Outside my window, a fleece of gray wool covers the sky. A white ibis with her pinky-orange beak prowls the ground while a blue bird stands atop his new cedar house. The wheat field has gone golden. I came here a couple of weeks ago to fall into the arms of wonder. I haven't been disappointed.
The stories of the "born-here's" captivate me. Your language is filled with color and sound. You may not even know this is so, because you're steeped in a lifetime of conversation that draws from the storm and bounty of the land and water, that is tuned to the rhythms of harvest and migration.
But I know a living language when I hear it. I came to Cape Charles with ears used to listening to the thin, plain, read "dull" language of people who live as far away from the natural world as they can be. They don't know when the flounder is running or the sweet corn will be picked. They buy food from six grocery stores, not one.
CONTINUED FROM FIRST PAGE
There is a push and drive in the city that never stops. Here, "stopping" is an art form. There are fish to catch. And that requires a kind of stopping, too.
Yesterday, I went to the Bayview Community Health Center in Cheriton. I've been here such a short time and already I've got the inch-wide red badge from a tick bite under my left arm. It was awkward for me. This was my first time in a rural health clinic. I received my medical care at Johns Hopkins and in the University of Arizona medical system, two of the nation's best. At Hopkins, life-size posters of doctors who've appeared on the front covers of Time or Newsweek serve as wall art near the elevator doors.
No posters like that here.
Tucked in the chair with a book of poetry, I watched as people shuffled and limped into the waiting room. The woman behind the glass window greeted every person who came into the clinic by name. "How is she doing this?" I asked without asking. She called me up with a smile that went from one side of her face to the other.
I'm thinking: I may have had the nation's best medical care but no one ever welcomed me with a smile like this. No one ever took the time to ask me what brought me to a place.
"I've lived here all my life," she offered. "There comes a time in life when you just want peace, don't you?" Her eyes cast a plumb line straight into my heart. I nodded yes.
You could say I am one of the ones who got away, a veteran of the high-powered, jockeying world where integrity is an antique-of-an-idea and where relationships are casually tossed into the flames for personal gain.
Peace is good. Very good.
Here's the thing: I don't know how to fish or dig for clams or craft and build a dead rise boat. I don't know how to read the tides or just when a sea of white birds will fill the night skies to escape the raptor's claws.
But I am up for learning and for writing a few stories now and again. Teach me and I'll tell your story.
I already know it's a good one.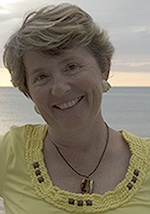 Sher Horosko's commentary is an occasional Wednesday feature of the Wave. A recent transplant to the Eastern Shore, Sher writes on nature and spirituality at sherhoroskoblogdotcom.wordpress.com