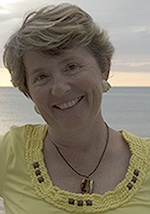 By SHER HOROSKO
Cape Charles Wave
June 26, 2013
I have learned in my life that we will protect fiercely whatever it is we love.
And love takes time. It requires an intimacy that is woven between people and life of all sorts, whether fish or flowers, elusive doodlebugs or old forest trees. What is necessary is this: that we take time to stand still and pay attention to the life around us as if it truly matters.
Because it does.
Here, on Virginia's Eastern shore, life is teeming. Wild turkeys thunder out of the dry thickets of wheat when I walk down the sandy road in the early morning light. A young eagle sits high on the top of a loblolly pine whose center trunk was snapped by a runaway wind. Fastening my gaze on his mustard-colored feet with the curled javelin tips, I think: it may take time for his head to go white but his feet are ready and set.
All day and every day, something big is happening on the Shore. In Red Bank, a frantic mockingbird jumps up and down on the back of a black snake arching and swerving across the road. I reach for my camera but am so mesmerized by the utter bravery of the bird, I miss the shot.
Days later, while wading through the grass at Savage Neck, I spot a blue-colored hornet diving into one of his own kind on a swaying Queen Anne's lace. Is this a petaled battlefield between the boys or a drunken dive into the sweet elixir of spring passion?
Waiting and watching, I'm certain. Hornet perfume must be very strong.
There are people for whom the land and sea are alive. I am one. And though I have been on your Shore for just a month, it is evident to me there are many others who feel the alternatively cool and fiery pulse of life in this place. [Read more…]
The group known as Old School Cape Charles will meet 7 p.m. Thursday, June 27, in the social hall at St. Stephen's AME Church, 511 Jefferson Avenue. The public is encouraged to attend — especially those interested in discussing public property issues and property values in Cape Charles. [Read more…]
By DORIE SOUTHERN
Cape Charles Wave
June 25, 2013
It's official – VDOT will construct a $6 million harbor access road connecting Stone Road (SR 184) and Old Cape Charles Road (SR 642).
The 1.7-mile connector will intersect Stone Road near the Blue Heron Realty billboard just outside Town limits and run to the entrance to Bayshore Concrete Products.
Cape Charles Town Manager Heather Arcos announced the approval at the June 20 Town Council meeting.
The road is not expected to be complete until 2022 – nine years from now.
Engineering studies are ongoing, and no announcement has been made about possible traffic lights and turning lanes.
The harbor access road will align with Old Cape Charles Road just east of the entrance to Bay Creek golf resort.
Instead of an intersection, Old Cape Charles Road will be closed off at that point. Traffic heading west on Old Cape Charles Road will be routed to a T-intersection with the new road.
Continuing west past the entrance to Bay Creek, the new road will overlap Old Cape Charles Road until the point where Old Cape Charles Road makes a 90-degree right turn toward the Hump.
The access road will then continue straight all the way to the entrance to Bayshore Concrete Products. [Read more…]