Georgianna Pearson, 81, Retired School Cafeteria Worker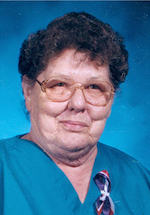 January 6, 2014
Georgianna Moore Pearson, 81, a resident of Cheriton, passed away Sunday, January 5, at Riverside Shore Memorial Hospital.
A graveside service will be conducted 2 p.m. Saturday, January 11, at Capeville Masonic Cemetery with Reverend Randy Lewis officiating. Family will join friends at Wilkins-Doughty Funeral Home in Cape Charles that morning from 10 a.m. to 12 p.m.
A native of Seaford Farm, Eastville Station, she was born August 10, 1932, the daughter of the late Curtis Moore and the late Gladys Moore. Mrs. Pearson was retired from Northampton County Public Schools Cafeteria.
She is survived by two daughters, Theresa Ann Spady and her fiancé, James West, Sr., of Cape Charles, Norma Jean Erwin and her husband, Bob, of Cheriton; a son, James Robbins and his wife, Denise, of Horntown; a sister, Peggy Ann Carey and her husband, George, of Cape Charles; a brother, Ralph Moore of Cheriton; three granddaughters, Dawn Elaine, Jamie Lynn and her companion, Robert, Devin and her fiancé, Ricky; and nine great-grandchildren. She was predeceased by two brothers, Charles C. Moore and Mickey Moore.
Flowers will be accepted or memorials may be sent to UVA Children's Hospital Fund, Attn: Melissa Gormes, Alumni Hall, PO Box 400314, Charlottesville, VA 22904 or to Riverside Shore Cancer Center, PO Box 17, Nassawadox, VA 23413.
Online condolences may be sent to the family at www.doughtyfuneralhome.com.
Arrangements are by Wilkins-Doughty Funeral Home, Cape Charles.