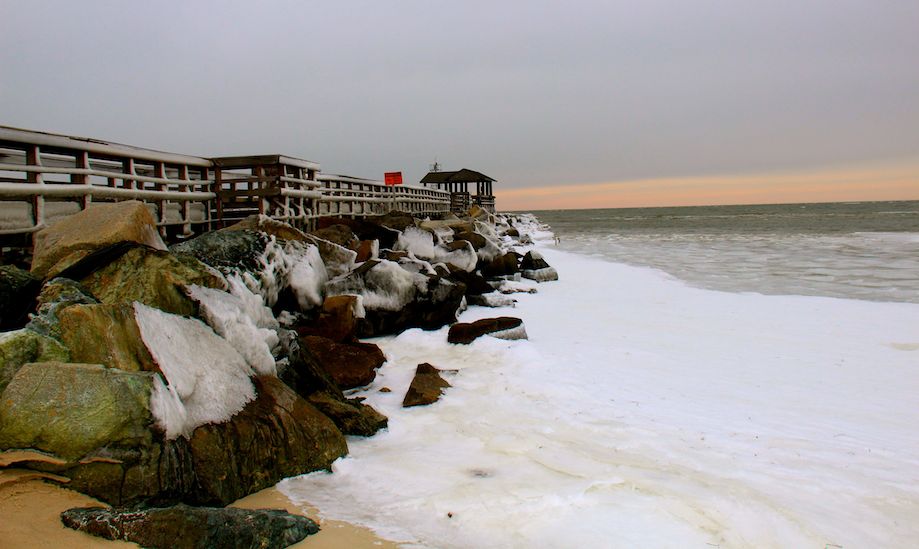 WEEKEND: ICE, SNOW, WATER, AND SAND
When salt water freezes you know it's cold — not that anyone needed to be told. What looks like sea foam in this photo is actually ice with a snowy frosting.  The Bay's brackish water only freezes where it is relatively still, such as around the jetty.
Readers are invited to submit their favorite local photos for Weekend editions of the Wave, when the picture extends all the way across the page. (Wave photo published January 25, 2014)
By GEORGE SOUTHERN
Cape Charles Wave
January 23, 2014
Town of Cape Charles offices were closed yesterday due to snow, but that didn't stop Town Council from holding a special meeting to grant a deferral to South Port Investors of up to $180,000 in utility connection charges.
South Port, the developer of Cape Charles Yacht Center, is engaged in yacht repair and storage, and is soliciting vendors for boat manufacturing, yacht brokerage, boat rentals, sail making, ship stores, insurance, a bistro, retail shops, and a bed & breakfast.
South Port last month requested a waiver of utility charges and fees for property it is leasing from the Town. Unable to reach consensus at its December meeting, Town Council held a special work session earlier this month to further discuss the issue, but still could not agree on what to do.
A week ago, Council held a closed meeting, revealing only that the discussion concerned "property leased by the Town and Town-owned property," leading observers to conclude that South Port again was the topic.
The thorny issue is that although Town Code requires utility connection charges, Town Council has begun making exceptions. The Shanty Restaurant, built on property leased from the Town, was not required to pay a utility connection fee (which would have been $60,000).
South Port's legal representative, Cela Burge, said South Port is only asking for equal treatment. She also pointed out that the Town waived a portion of connection fees for the developer of the apartments planned for the Old School at Central Park. (The fees essentially were eliminated by cutting them 75 percent and then giving the developer $41,000 to apply toward the remainder.)
Council member Joan Natali appeared to have forgotten about the Old School: "To my mind our precedent is limited to leased Town property," she said.
Most recently, the Town reduced connection fees for the new Bay Creek Beach Club from $153,000 to $44,000. [Read more…]
NOTE: TIME HAS BEEN CHANGED TO 4:30 p.m. DUE TO ROAD CONDITIONS.
Cape Charles Town Council is holding a special meeting 4:30 p.m. Wednesday, January 22, at Town Hall to act on a request from South Port Investors that the Town waive the normal utility hookup fees for three parcels leased from the Town for use by Cape Charles Yacht Center. The fees would be at least $40,000. South Port requests that it be treated the same as the Shanty Restaurant, which also leases property from the Town and which had its utility hookup fee waived.
Arts Enter Cape Charles will hold open auditions for the show '"Curiosity Cat" 10 a.m. Saturday, February 1, at the Palace Theatre, 305 Mason Avenue. [Read more…]
Interested in starting a community garden? Eastern Shore Healthy Communities and the Eastern Shore Health District request proposals from organizations, interested parties, and community members that would like to newly develop or sustain an existing community garden on Virginia's Eastern Shore. [Read more…]
"Energy Conservation in Alpine Animals" is the next Science and Philosophy Seminar, 12:30 p.m. Friday, January 24, in the Lecture Hall of the Eastern Shore Community College, 29300 Lankford Hwy., Melfa. [Read more…]
On May 6, Town Elections will be held for the towns of Cape Charles, Cheriton, Eastville, Exmore, and Nassawadox in Northampton County. Cape Charles and Exmore will be electing a Mayor and three council members. Cheriton, Eastville and Nassawadox will elect a Mayor and six council members. [Read more…]
By CLARICE MACGARVEY
Cape Charles Wave
January 21, 2014
Chef Timothy Brown of Hook-U-Up Gourmet has ambitious culinary goals. He intends to elevate the level of dining on the Eastern Shore, and establish some new benchmarks for quality and good taste, both locally and region-wide.
A talented and innovative chef, Brown's credentials include teaching at the Culinary Institute of America and operating the 5-Star restaurant, Myriah's at Tower Hill.  He opened Hook-U-Up, a gourmet dine-in/take-out café-style restaurant, in April 2012, and began introducing Bistro Tuesdays, a more upscale dining experience, this past November.
My first visit to Hook-U-Up Gourmet's Bistro Tuesdays event indicates that Chef Brown is taking the right approach, and that there is plenty of great dining ahead for epicureans living on, or visiting, the Shore.
Located at 227 Mason Avenue in downtown Cape Charles, the venue is small and intimate, with only six tables at the front. The kitchen is within view.  My companion and I arrived at 7:30, and although the dining space was packed, our server, also named Tim, seated us and took our drink orders right away.  My first surprise was finding some of my favorite wines listed at very reasonable price points.  The bottle of Hess Select Chardonnay we enjoyed, for example, was only $22.
For appetizers, my companion ordered the Salmon Mousse served with chopped egg, red onion, and crème fraiche.  It was so creamy and delicious, I couldn't keep my fork away, even though I had a lovely appetizer of my own: Sauteed Local Crabmeat en bouchee, finished with sherry, butter, and country ham. [Read more…]