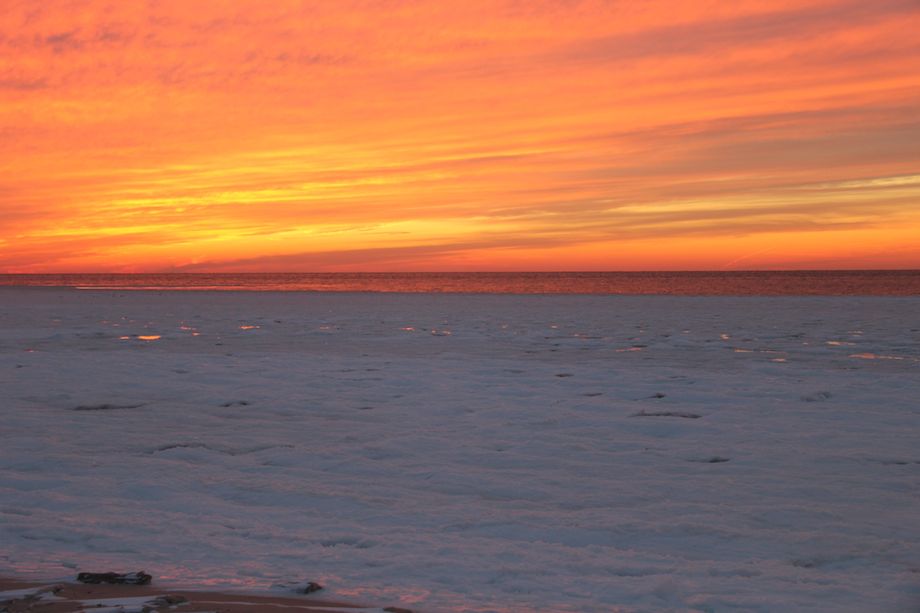 WEEKEND: FIRE AND ICE
January 31, 2014
One good thing about winter in Cape Charles: the colder it gets, the more dramatic the sunsets. And nobody who truly loves Cape Charles ever tires of seeing a sunset. This one, taken Wednesday at 16 degrees, really is primordial — evoking a time millions of years ago when fire and ice were all the earth knew. 
Readers are invited to submit their favorite local photos for Weekend editions of the Wave, when the picture extends all the way across the page. (Wave photo)
A beginners' beekeeping class will be offered by the Beekeepers' Guild of the Eastern Shore two consecutive Saturdays, February 8 and 15, from 9-1, at the Eastern Shore Chamber of Commerce, Route 13, Melfa. [Read more…]
January 30, 2014
We take a drive down Mason Avenue and over the Hump so you don't have to. (Click bottom right of window for full screen view.)
This show has been cancelled. Apparently some like it hotter. –EDITOR
Arts Enter Cape Charles presents a special screening of "Some Like It Hot" with champagne lunch at the Historic Palace Theatre, 305 Mason Avenue, Cape Charles, [CANCELLED] [Read more…]
The Orchestra of the Eastern Shore will present a pre-Super Bowl concert of Baroque music at 4 p.m. Sunday, February 2, at Hungars Church on Bayside Road in Bridgetown, near Machipongo. [Read more…]
Science and Philosophy Seminar of the Eastern Shore of Virginia's next seminar is "Permaculture and Forest Farming for Non-Hippies," 12:30 p.m. Friday, January 31, in the Lecture Hall of the Eastern Shore Community College, 29300 Lankford Hwy., Melfa. [Read more…]
PSA Funding Is Stopped Until Change of Leadership

By GEORGE SOUTHERN
Cape Charles Wave
January 28, 2014
Northampton County Board of Supervisors effectively ended Bob Panek's Public Service Authority chairmanship yesterday by voting to "stop all future funding until there is a change of leadership in the PSA." Newly elected Board Chairman Larry LeMond made the motion, which was seconded by Larry Trala and passed unanimously.
The previous Board Chairman, Willie Randall, had maintained that the Supervisors had no power to dictate who chairs the PSA, because PSA members elect their own chairman. Randall lost his seat in the November election to Granville Hogg, and the deciding factor in that upset seems to have been the PSA issue.
The new Board of Supervisors simply used the power of the purse. The PSA is financed wholly by the County, and without funds it can do nothing. Although Panek technically remains chairman, a refusal by him to step down would be a Pyrrhic victory, since the PSA could no longer function.
The opposition to Panek centered on the fact that he is also the assistant town manager for the Town of Cape Charles. A Wave editorial (click to read) addressed the issue last September, maintaining that Town Council's appointment of Panek to the PSA "violates the principle of separation between a paid public employee and an elected or appointed official."
Under Panek's leadership, the PSA turned a deaf ear to public outcry.  Last September 17, some 100 residents came to the Cheriton Fire Hall to oppose PSA plans to establish a sewer district around the Route 13-Cheriton area that could increase property taxes in the special district by almost 100 percent. Despite the universal outcry at the meeting, the PSA met immediately afterward to unanimously approve a $70,000 contract with the engineering firm Hurt & Profitt to begin surveying the sewer project. [Read more…]
January 26, 2014
(EDITOR'S NOTE: Cape Charles Historical Society has for more than a decade been recording oral histories of the area's earlier days.  In 2008, Bill and Jan Neville interviewed Alston Godwin, who was then 96. Mrs. Godwin lived to be 101, and her obituary may be read by clicking here.
A grant from the Virginia Foundation for the Humanities enabled 15 interviews to be transcribed, and the Historical Society has made this one available for readers of the Wave.  All the transcriptions may be read at the Cape Charles Museum.)
Excerpts from an interview with Bill and Jan Neville, March 12, 2008
Entering the Funeral Business
The Funeral business started, my aunt and uncle [Mills Grey] established that business.  I don't think Uncle Mills was born here.  But anyway, he and my aunt were very lovable people, lovable to each other and all the people they came in contact with.  He learned people and he worked to do that.  He established himself and his memory was good for everything he had ever heard or seen.  And so then, he got married and established his business.  It was the first black business in Cape Charles.  They had one white undertaker.  This was in 1895.  My aunt stuck right by him.  She learned from him what he was doing, but he didn't have her embalm and she didn't want to embalm.  And you know, I didn't either!  I'd work to do anything but that.  I didn't care for that.  My daughter, Jennie Marie, used to hang around them.  She wasn't afraid of no dead people.
Now I'll tell you how I came to [enter the funeral business].  My first year in college, we were having our Christmas vacation and I came home and Uncle Mills had just died and been buried.  He hadn't been buried very long and I said to my mother, " Mama I think I would like to go spend a couple nights with Aunt Jenny."  She said, "I think Alston that's a good idea."  So I went there and I was an excellent driver.  I could drive anywhere.  So then I went and when I got there, sure enough, she had a call out.  And I drove the hearse for her.  And she and I went and got the body.  She went with me.  Because she worked with her husband, too.  She was with him all the time.  So then I saw a need that I had to stay longer.  I was going to stay there until this body was buried.  My aunt wasn't up to it.
Bill Neville: She didn't have anybody else to help her after her husband died?
Oh yes, back then that's one good thing.  There was not a neighbor, white or black, that wouldn't come if you called and do anything to help you.  And they'd come and cook for her.  I didn't have to do any cooking.  But I wanted to because I didn't want to forget how to cook.  Then I used to give them dinners and things to eat. [Read more…]