CANCELLED: 'Some Like It Hot' — Champagne Lunch, Film at the Palace
This show has been cancelled. Apparently some like it hotter. –EDITOR
Arts Enter Cape Charles presents a special screening of "Some Like It Hot" with champagne lunch at the Historic Palace Theatre, 305 Mason Avenue, Cape Charles, [CANCELLED]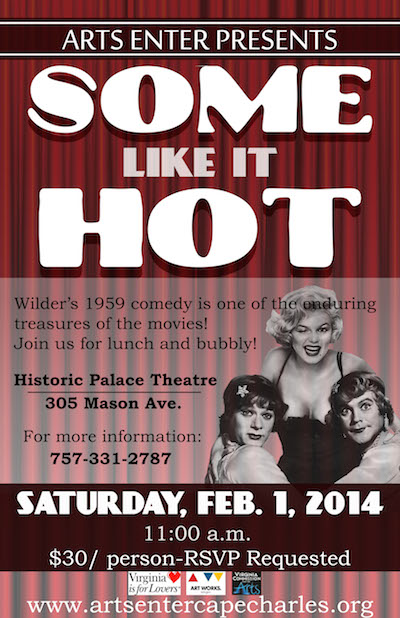 Billy Wilder's 1959 comedy is one of the enduring treasures of the movies, a film of inspiration and meticulous craft, a movie that's about nothing but sex and yet pretends it's about crime and greed. It is underwired with Wilder's cheerful cynicism, so that no time is lost to soppiness and everyone behaves according to basic Darwinian drives.
When sincere emotion strikes these characters, it blindsides them: Curtis thinks he wants only sex, Monroe thinks she wants only money, and they are as astonished as delighted to find they want only each other.
The plot is classic screwball. Curtis and Lemmon play Chicago musicians who disguise themselves as women to avoid being rubbed out after they witness the St. Valentine's Day Massacre. They join an all-girl orchestra on its way to Florida. Monroe is the singer, who dreams of marrying a millionaire.
Tickets are $30 per person and RSVP is requested. Reserve your seat by contacting Arts Enter at 757-331-2787.