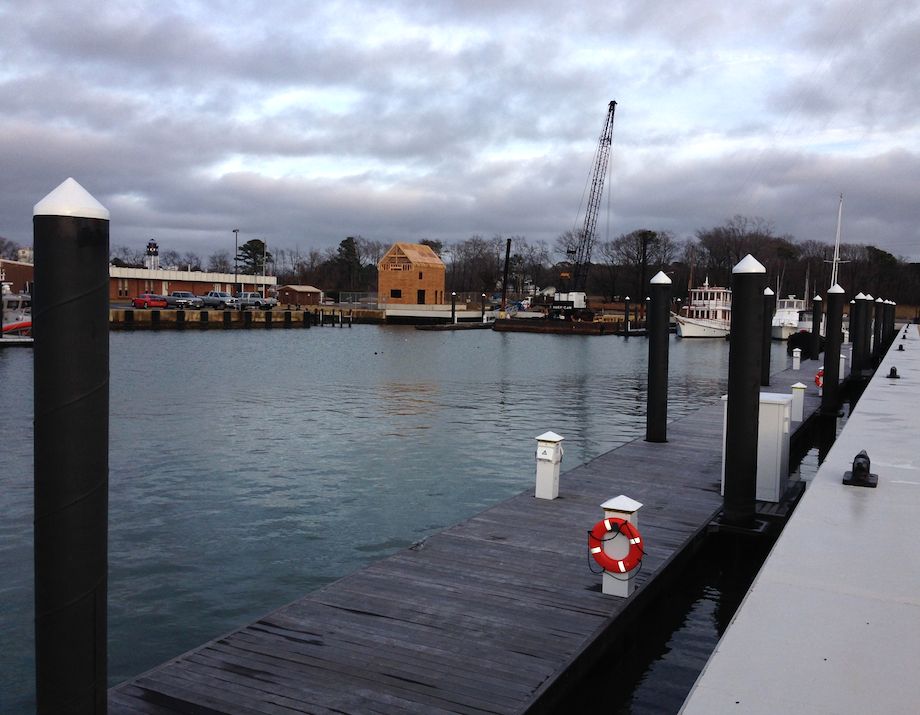 WEEKEND: SOUTH PORT RISES
February 8, 2014
Construction of South Port Investors' Cape Charles Yacht Center has been ongoing for the past year, but only now has anything risen above the horizon. The two-story wooden structure across from the Coast Guard station began taking shape late last month. The first floor is for equipment storage, while upstairs will be an apartment for an on-site manager.
The bulkhead and floating dock at right were constructed last year to accommodate mega-yachts. At the east end of the yacht center are three boats owned by principal investors Furlong and Eyre Baldwin: a Hinckley sailboat, the restored Buy Boat "Georgie E.," and the sightseeing vessel "Oyster Catcher."
Behind the building under construction, a 40-foot high, three-level boatel will offer storage for 33 boats.  Drydock yacht repair will take place across the road in the area formerly occupied by the town wastewater treatment plant.
South Port is soliciting vendors for a bistro, rental shops, and a bed & breakfast in addition to boat manufacturing, yacht brokerage, boat rentals, sail making, ship stores, and insurance.
Readers are invited to submit their favorite local photos for Weekend editions of the Wave, when the picture extends all the way across the page. (Wave photo)