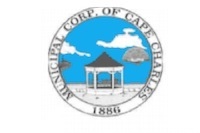 By DORIE SOUTHERN
Cape Charles Wave
February 10, 2014
Cape Charles Town Council wants to spend $10,000 for a wage compensation study for town employees. At a Council "retreat" on Saturday (February 8), Council members Steve Bennett and Joan Natali emphasized that the "essential" study should be done as soon as possible.
Only Councilman Frank Wendell opposed the idea, arguing that town managers and directors are already paid to determine those requirements. Town Manager Heather Arcos said that most localities have an outside person determine wage and position descriptions, but she conceded that Cape Charles has never had such a study done. A knowledgeable source has observed that wage and compensation information is available for free on the Department of Labor website.
Arcos said the town could pay for the wage study with money budgeted to update the Comprehensive Plan. Town Council budgeted $30,000 for the update, but subsequently contracted for it to be done for $8,600.
Council members also discussed raising the transient occupancy tax from the current 3 percent to 3.7 percent. Combined with state and county taxes, Cape Charles tourists now pay 10.3 percent of their hotel bill in tax. Raising the town tax would make it 11 percent.
Arcos noted that the town spends money to attract tourists, and needs to "sustain momentum." The transient occupancy tax could help the town provide funds for organizations such as Citizens for Central Park, Arts Enter, and Friends of Cape Charles Memorial Library.
Councilman Chris Bannon, who operates a bed and breakfast, said he hoped the tax increase could be approved before the tourist season begins.
Arcos also said that Cape Charles provides an "outsize" contribution to the Eastern Shore of Virginia Tourism Commission, which maintains the Welcome Center at the Bridge-Tunnel.  Council members agreed that the town should make a set contribution to the Tourism Commission instead of a percentage of the transient occupancy tax collected. Last year the town contributed $14,232 to the Tourism Commission. [Read more…]
CAPE CHARLES WAVE
February 10, 2014
A bumper crop of cold-water crazies turned out for Saturday's 2014 Habitat for Humanity February Freeze at the Cape Charles Beach. Watch the video to see who gets the wettest, and keep a sharp eye out for Kiptopeke Elementary Principal Subrina Parker. As always, swim instructor/polar bear Victor Abrahamian spent the longest time in the water (and actually "swam" a few strokes at the finish). Click bottom right of box for full-screen view (but don't get wet!).
By DORIE SOUTHERN
Cape Charles Wave
February 10, 2014
Part-time residents Sheryl and Paul Eulitt drove down from Baltimore February 4 for one purpose: to tell members of the Cape Charles Planning Commission that they oppose allowing chickens to be kept in town. Sheryl Eulitt said they intend to retire here, and don't want any chickens in their neighborhood.
After Eulitt spoke for 3 minutes, Planning Commission Chair Dennis McCoy gave her a 20-second warning:
McCOY: 20 seconds.
EULITT: I'm sorry?
McCOY: 20 seconds.
EULITT: Oh – oh really? Oh I'm sorry, I didn't know.
McCOY: You have a 3-minute time limit. You've now gone to 3:13.
And 20 seconds later the gong sounded. The Eulitts returned to Baltimore the same night. No other member of the public spoke.
CLICK HERE to listen to Eulitt's presentation to the Planning Commission.
Eulitt asked why the current ordinance that excludes the keeping of farm animals in town has not been enforced. Town Planner Rob Testerman said that the chickens have been allowed to stay while an ordinance is being drafted with the thought that it would be wrong to send them away only to later allow them.
Eulitt maintained that chickens are not pets. She said the chickens wake them in the morning and create an unpleasant odor.
Noting her surprise at being stopped mid-sentence, Commissioner Mike Strub explained to the Eulitts that the Planning Commissioners would take what she said under advisement even though they would not respond directly to her.
The Commission is considering the pros and cons of allowing residents to keep a few chickens, and may propose a revised ordinance.  A public hearing would then be held to further assess residents' feelings.
Four of the six Planning Commissioners present at the meeting reside in Bay Creek, and they noted that any ordinance the town might pass allowing chickens would not apply In Bay Creek. Indeed, no action the Planning Commission takes on any subject applies inside Bay Creek. The four Bay Creek residents are Chairman Dennis McCoy, Joan Natali, Sandra Salopek, and Bill Stramm.
The commissioners asked Town Planner Testerman to continue his review of other municipalities' chicken ordinances for further discussion at the next meeting. [Read more…]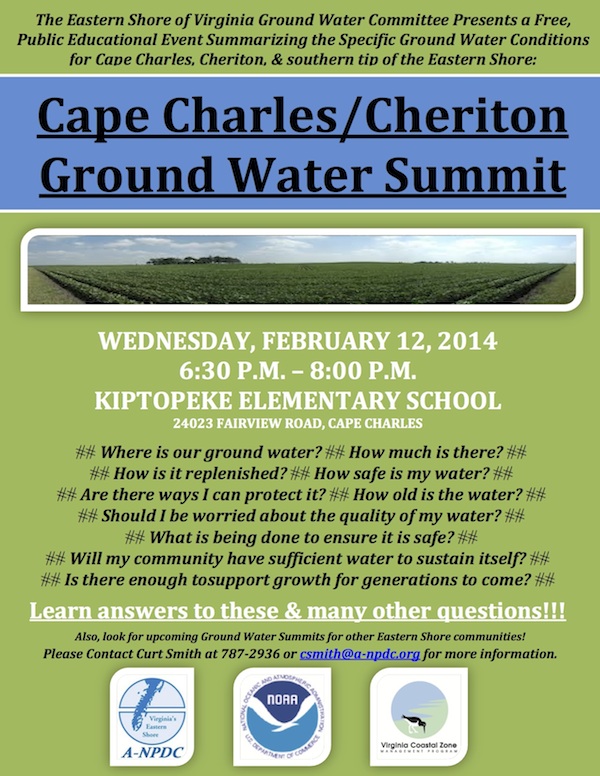 February 10, 2014
Water is everywhere on the Shore, but the only drops to drink come from underground. As the only source of drinking water, groundwater's sustainability and quality are essential for residents and communities.
The Eastern Shore of Virginia Ground Water Committee is sponsoring a Cape Charles-Cheriton Ground Water Summit 6:30-8 p.m. Wednesday, February 12, at Kiptopeke Elementary School. The summit will be an educational forum that answers critical questions and concerns related to ground water conditions for Cape Charles, Cheriton, and surrounding areas.
Participants will gain a better understanding of where their water comes from, how and when it got there, what is being done to ensure its quality, and what are its largest threats. Presentations include the area's geologic evolution, what is and what is not known about the resource, and an answer to the question: "Is there enough water to support our community for generations to come?"
Britt McMillan, consulting hydrogeologist to the Eastern Shore Ground Water Committee, and Curt Smith, Director of Planning for the Accomack-Northampton Planning District Commission, will answer questions from the audience.
Refreshments will be served. [Read more…]
February 10,  2014
(EDITOR'S NOTE: Cape Charles Historical Society has for more than a decade been recording oral histories of the area's earlier days.  In 2006, Bill and Jan Neville interviewed the late Capt. Bill Evans. A grant from the Virginia Foundation for the Humanities enabled 15 interviews to be transcribed, and the Historical Society has made this one available for readers of the Wave.  All the transcriptions may be read at the Cape Charles Museum.)
Excerpts from an interview with Bill and Jan Neville, March 31, 2006
PART ONE
Today is March 31st, 2006, and we're talking with Captain Evans, his lovely wife, Grace is here with us, as is my brother, Junius, aka Jan.  I don't know where to start.  I guess one of the things I was curious about, did you grow up around here?
No, I come from Pennsylvania.  From the coal mines.  Shamokin — that's an Indian name.
(Grace):  Tell them what you were in Pennsylvania.  Weren't you known as a bootlegger?
Yeah, I was a bootlegger in Pennsylvania.  You go up in the mountains, you dig a hole and you go down and get the coal out.  You're a bootleg coal miner.
My brother-in-law is a coal miner in western Virginia.  I didn't know you mined coal!
My grandfather and my uncles, they were coal miners, authentic coalminers.  I was a bootlegger.
When did you come here?
I come here the first day of January, 1938.  I was 18 years old.  My stepfather had married my mother and they lived in Shamokin for a while and then he decided to come down here.  He took my mother and I went to Baltimore and got a job there on a riveting gang.  And got laid off there and I started looking for another job and my mother told me to come on down here.  So I come down here and that's how I ended up down here.  Yes, my stepfather was from Cape Charles.  His name was Bernice Ward.  I come down here and I wound up cutting wood for the house.  They come got me one day and told me I had a job on the ferry.  But come to find out my father's father had spoke to one of the captains on the boat and that's how I got the job.
Inside track!  So where did you start out on the boat?
Just as low as you could get!  Ordinary seaman.  I had to get a lifeboat ticket first.  Which I did.  You had to have a year's time on deck to get the lifeboat ticket.
So what did that qualify you to do?
A steamboat had to have so many men that had lifeboat tickets.  We were a passenger ferry.  That qualifies you to operate a lifeboat with a crew.  You were in charge of the lifeboat.
What was the first steamer you worked on?
The Princess Anne.  I started out on the Princess Anne.  But the one I worked on the most was the Pocahontas. [Read more…]
February 10, 2013
The Cape Charles Rosenwald School Restoration Initiative is working to preserve the history of the old Cape Charles Rosenwald School, its alumni, and faculty. The group has been awarded a $2,000 grant from the Virginia Foundation of the Humanities to conduct an oral history project entitled "Voices from Over the Hump – An Oral History of the Cape Charles Elementary School – A Rosenwald School."
The project captures in words and film the history of the Cape Charles Elementary School (identified on the historical highway marker as the Cape Charles Colored School), from the experiences of surviving alumni, faculty, and members of the school's community, as well as from existing institutional records, personal photos and other historical documents collected from local government and private individuals.
The interviews are conducted by students from the Old Dominion University, guided and supervised by Dr. Bridget Anderson, ODU Associate Professor of Linguistics. The students will record, transcribe and analyze the interviews using ethnographic methodology.
The data collected and analyzed will provide the foundation for a documentary film, booklet of excerpts from the oral history interviews, archived scholarly research materials, a virtual museum for a future web site and traveling exhibit that could be used in schools and other venues in the region.
Nine interviews have been conducted. Six additional interviews are scheduled for the spring. Alumni and faculty members interested in archiving their experiences are asked to contact the Initiative through their Facebook page (click here).
By TED WARNER
February 3, 2014
On Wednesday, January 15, I drove back to Northampton County, across the increasingly overpriced Bay Bridge-Tunnel. I drove around Cape Charles, taking in the familiar streets, and eventually made my way to the Northampton County Public Schools Central Office in order to witness the swearing in ceremony of the county's first elected school board.
For many of us, the ceremony marked the end of a long process which began several years ago.
Several hundred of us sat in the Old Middle School auditorium to express our outrage over the unceremonious dismissal of a popular high school principal. But there were only eight of us a few weeks later, facing that great, inevitable question: "What's next?"
Over the next few months, we collaborated closely and struggled to develop a message that was respectful of a long litany of complaints about the state of our public schools, but was also forward-thinking, positive, and would ultimately lead to a positive change in the county. We recognized that the county's public school administrators and School Board were not responding to needs of teachers, parents, and the community at large. For example, the county's strategic plan addressed the topic of "community outreach" with only the ominously apathetic words "on going." That, we felt, was not enough. So we began circulating a petition to create an elected (and not appointed) school board. The petition led to a referendum, which was overwhelming approved by the voting public in November 2012. Then we turned our attention to recruiting candidates for the School Board.
For my part, I was adamant that the candidates be subjected to public scrutiny and that they be asked to articulate an unwavering commitment to involving the expertise of teachers in their deliberations. I firmly believe that almost any problem in our schools can be better solved by a group of teachers, working in the classroom day in and day out, than by Central Office personnel or state-level officials in the Department of Education. Although I was there for every step of this story, I hope that this last point — that the teachers should be more respected — was my contribution.
After a series of public forums, of which the most productive was sponsored by the Northampton County Education Association, a professional association of Northampton's teachers and support professionals, a group of candidates was selected. In November, the people elected their first school board.
When they raised their hands a week ago and took their oath of office, I hope they realized that although a long story had come to a triumphant conclusion, a new story was beginning. And that story begins with that same great, inevitable question: "What's next?"
It saddens me that I will not be a part of answering that question. Shortly after the election in November, I accepted a position that required me to move out of the school system. My colleagues congratulated me warmly, and I was grateful for their support. As we all must, my decision to move on was responsible to my family obligations and respectful to the resignation process as defined by School Board policy. I certainly wish that Northampton County could have created the circumstances for me to remain. [Read more…]
"Puppy Drum on the Eastern Shore" is this week's topic at the Science and Philosophy Seminar, being held jointly with the Academy for Lifetime Learning, both of the Eastern Shore of Virginia. The seminar begins at 12:30 p.m. Friday, February 14, in the Lecture Hall of the Eastern Shore Community College, 29300 Lankford Hwy., Melfa. [Read more…]