11/15 Service for Dorris Fauber, Father of Dave Fauber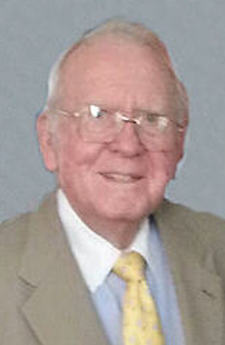 November 12, 2014
Dorris Wilson Fauber, 94, died October 31 at his home on Jacobia Lane. A memorial service will be held 2 p.m. Saturday, November 15, at Holmes Presbyterian Church, Cheriton. The family will receive friends at 2496 Jacobia Lane following the service.
Mr. Fauber was born September 7, 1920, in Amherst County, the son of the late Massie Hewitt Fauber and Mary Frances Carpenter Fauber. He was preceded in death by his wife of 68 years, Amanda Ann Powell Fauber, and three sisters, Audrey "Peg" Campbell, Mary "Zid" Brandon, and Frances "Beese" Beverley. He is survived by three brothers, Bernard Massey Fauber of Pauma Valley, California, Melvin Cecil Fauber and Fred Lloyd Fauber, both of Lynchburg ; four children, Pamela F. Kupiec and husband John of Mathews; Doris F. Strickler and husband Michael of Lexington; David W. Fauber and wife Donna of Oyster; Michael P. Fauber and wife Connie of Dallas, TX; eight grandchildren: Scott Kupiec, Matthew Strickler, Amanda Green, Battaile Fauber, Joseph Fauber, Abigail Fauber, Caleb Fauber, and Ruth Dean; and four great grandchildren.
Mr. Fauber and his bride to be met in 1942, prior to his being sent overseas for World War II, and they courted by mail for three years. "She was the prettiest girl I had ever seen, and I knew I loved her from the start," he said. They married in 1946. Their journey together paralleled his career with the Chesapeake and Potomac Telephone Co. and later with AT&T, from which he retired in 1985. For nearly 30 years their home has been on Plantation Creek. For the past 28 years he and his wife were members of Holmes Presbyterian Church. He was a Sunday school teacher and an ordained elder.
In lieu of flowers, contributions may be made to Holmes Presbyterian Church, P. O. Box 258, Cheriton, VA 23316-0258. Online condolences may be sent to the family at doughtyfuneralhome.com.
Arrangements are by Wilkins-Doughty Funeral Home, Cape Charles.