Northampton County Chamber of Commerce proudly presents the 19th Annual Holiday Progressive Tasting Tour Friday, December 5. Take a step back in time in the Victorian town of Cape Charles, that has been decked out for the holidays. Tour lovely restored homes in the Sea Cottage Addition area of town. Visit quaint and unique shops — a great way to kick off the holiday season.
The tour begins at the Historic Palace Theatre, located in the heart of downtown Cape Charles. At each of the six sites, guests are treated to creatively prepared regional foods by some of the finest restaurants on the Shore. The walking path is aglow from the light of 1200 luminaires that lead the guests to the tour sites. [Read more…]
The Nature Conservancy's Virginia Coast Reserve invites you to a Holiday Open House at the Historic Brownsville House Thursday, December 4, from  4 – 8 p.m.  Adults and children are welcome to join the festivities and enjoy a tour of the Brownsville House, farm rides until sunset, a campfire with s'mores and plenty of refreshments. [Read more…]
On Sunday, November 30, Emmanuel Episcopal, 601 Tazewell Avenue, will have a special music program on the First Sunday in Advent. Dennis Saidat, a part-time resident, and Sallie Bartholemew from Richmond will play flute and harp for the prelude, offertory, and postlude. The worship service begins at 9 a.m. All are welcome to worship and fellowship.
Welcome back to the legendary "Giddens' Do Drop Inn," creating memories Friday, November 28. Doors open 7 p.m., showtime 7:30 p.m. Live bands, dancing, and much more! [Read more…]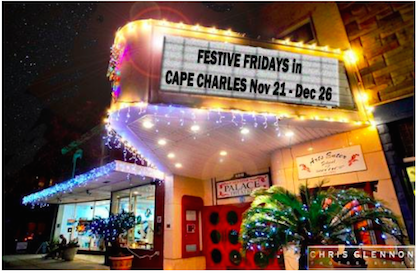 By SARAH GOLIBART
Cape Charles Wave
November 21, 2014
Cue the song by Little River Band "Reminiscing." The song is playing on a Friday night, just as a guy is walking his girl home, a frequent happening in small towns like our own Cape Charles.
If only there were more events to walk your girl or guy home from in Cape Charles!
"Well, I want to tell you, Cape Charles, I want to plan my schedule around you. Tell you that it's true. I want to make you understand. I'm talking about a holiday plan!"
Calling all Cape Charles residents! You too can walk through the park reminiscing — after "Festive Fridays" that is.
"Festive Fridays" will take place on six consecutive Friday evenings beginning November 21 through December 26. This is your chance to enjoy an old-fashioned, small-town holiday experience, including shopping, delicious food and drink, entertainment, seasonal decorations, and plenty of good cheer.
Each Friday from 5-8 p.m. enjoy events like horse-drawn carriage rides, special deals at restaurants, refreshments, and special promotions at local merchants. Get into the holiday spirit by following the luminaries lighting the sidewalks of Cape Charles while enjoying holiday caroling and appearances by Santa and Mrs. Claus. Even the "Love" sign will be front and center in town and decorated for the season. Don't miss your chance to make new memories in Cape Charles that you'll reminisce about for years to come.