By WAYNE CREED
Cape Charles Wave
May 18, 2015
The May 12 regular meeting of the Northampton Board of Supervisors once again hosted a standing room only crowd, and once more, it was education that dominated the discussion.
Andy Teeling addressed the board with his vision of a "small, rural, waterfront county" that, at all levels, is a community fully invested in revitalizing our schools and getting personally connected with the students. With this came a resolution calling for a renewed partnership between the Board of Supervisors, the School Board, and the community to use education as driver for future economic development.
"The path to economic recovery, the path is simple," said Teeling. "We must improve our schools. We each have to ask, 'what can we do for our schools?' By helping each student reach their potential . . . we will reap dividends for our economy."
The core of Teeling's vision included a county that takes the initiative to promote education to drive the economy, that launches a mentorship program that involves retirees with trade and business backgrounds, that sees a surge of parental involvement, and finally, that brings new business to the Shore that are attracted by the education initiatives.
Supervisor Granville Hogg said, "We have just given back $20,000 that was a grant for industry-specific technical training, for workplace skills for entry level jobs — industrial technology. Though I'm fully in support of the resolution, we have let another opportunity slip through our fingers, only because there were not enough enrollments in the course. That, ladies and gentleman, falls on you all. We need to bring students in, to interest them, to provide them with a job and a way to make a living."
A resolution that echoed Teeling's call for a renewed partnership passed unanimously. Although several commentators piled on the Teeling presentation with heartstring, backslapping appeals, others, feeling the full weight of the reality on the ground, and a sense of just how daunting the task really is, also addressed the board. [Read more…]
May 18, 2015
DEAR EDITOR,
Today in the United States, approximately 900,000 law enforcement officers put their lives on the line for the safety  and protection of others. With great success, they serve with valor and distinction.
Federal statistics show that violent crime and property crime rates in the United States are at historic lows, thanks to the dedicated service of the men and women in law enforcement. The national Law Enforcement Memorial is ever-changing as new names are added to the memorial every year due to the selfless sacrifice of the men and women that serve our communities.
In 2014, 127 police officers were killed in the line of duty, leaving 159 children without a parent — and as of today 44 officers have fallen in 2015. These numbers are tragic on their own, not to mention the void that will never be filled.
In what other occupation is one expected to make correct, split-second, serious, and possibly life-and-death decisions while navigating complicated laws and procedures, in addition to having to lay his or her life on the line for total strangers?
The men and women of law enforcement are content in doing a difficult job, one most people in the world could not or would not do, and they do it well. It truly takes an extraordinary person to be a police officer. [Read more…]
CAPE CHARLES WAVE
May 18, 2015
Would the historic structure at 500 Tazewell Avenue be just as historic without its two chimneys? That's a decision to be made by the Historic District Review Board at its Tuesday, May 19, meeting.
The building, once a Methodist Church and more recently the Cape Charles Memorial Library, is now the town's "Civic Center" hosting public meetings. Town officials have recommended removal of both chimneys due to leaking around the flashing. Despite their best efforts, town maintenance workers have not been able to stop the leaks.
Town Planner Larry DiRe has advised that "the guidelines are rather quiet on the status of chimneys." But then, curiously, he quotes the guidelines as explicitly stating that "historic building roof types, including elements such as chimneys and light wells, should be retained (Building Element 1, page 34)."
The Historic Review Board ruled in May 2013 that a non-historic house at 621 Jefferson Avenue undergoing remodeling had to install a fake chimney to replace a decrepit flue being removed (CLICK). Following community ridicule the Board reversed itself. [Read more…]
By WAYNE CREED
Cape Charles Wave Columnist
May 18, 2015
This summer, my daughter Rachel will be spending her summer break from college working at the Cherrystone Campground Bait and Tackle shop. The job duties include monitoring the weather, marking the tides on the chalk board, recommending bait and tackle for the campers, and of course, running down the rules and size limitations when it comes to summer flounder and blue crabs.
For crabs, she is trained to remind the folks to always throw back sooks carrying a sponge, and that jimmys must be 5 inches point to point. You can use tape a measure, or just the railing at the end of the pier, which is 5 inches.
This season, the pier at Cherrystone may have a bit more blue crab action, as results of the winter dredge survey showed modest improvement in the Bay's blue crab fishery. According to results released by Maryland DNR, "juvenile crabs increased 35 percent from 2014, and more than doubled from the record low in 2013. The 2015 juvenile abundance of 269 million crabs is just above the 26 year average of 261 million. The total abundance of crabs — which include juveniles, and adult males and females – was approximately 411 million."
Going back to the results of the last few years, including the disastrous drop in populations recorded in 2013, the latest results show just how volatile the blue crab population is, and how vulnerable it can be to factors such as weather patterns (colder winters), changes in coastal currents, and of course fluctuations in levels of natural predators such as rockfish and red drum.
This year, the report estimates that 19% of the crabs died due to the severe winter temperatures. Given this amount of environmental variability, the task of managing this fishery is still a daunting one. According to Tom Miller of the University of Maryland Center for Environmental Science Chesapeake Biological Laboratory, "Managers acted to ensure the crab stock is no longer depleted as it was last year, and if we maintain exploitation rates close to the target the crab population will continue to increase over the long term." [Read more…]
By KAREN GAY
Cape Charles Wave
May 18, 2015
Catherine Harrison, of Willowdale Farm in Painter, is an unexpected cross between a mad scientist and a business executive. Looking at her land, you'd think that there isn't much farming going on there, but what she is growing blends in with the green pastures full of what we might call weeds: chicory, clover, and grass.
She produces a line of skin care products called Celluvati, which she coined from the word "cell" and the Sanskrit word "uvati," which means young, beautiful woman. Her prize ingredient is the orange Sea Buckthorn berry, which grows on a distinctive herb with long and narrow dusty green leaves. The berries are known for preventing infections, improving sight, and slowing the aging process. The plant in the photo below is a Sea Buckthorn (but there are no berries on this one).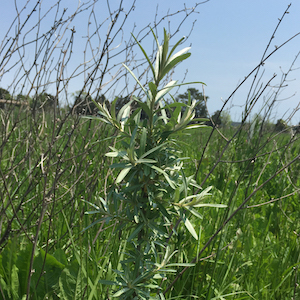 There is a full line of Celluvati products which Catherine offers on the web at celluvati.com. Products include moisturizers, eye creams, a serum, balm, and aftershave. I can attest to the lovely scent in the balm.
There is more to this farm than sea buckthorn, though. She has planted 250 Chinese chestnut trees and 250 native persimmons onto which she has grafted Japanese persimmons. There are goumi shrubs and elderberries. The goumi produce red berries with silver spots which can be eaten as a fruit or used as a botanical in future skin care products as they contain vitamins, flavonoids, and other bio-active compounds. Elderberry is also full of minerals and vitamins, particularly vitamin B17. The flowers can be used for tea, and the berries can be mashed for juice or used as a tonic for colds and flu. Elderberry is the source of the natural preservative used in the Celluvati products. [Read more…]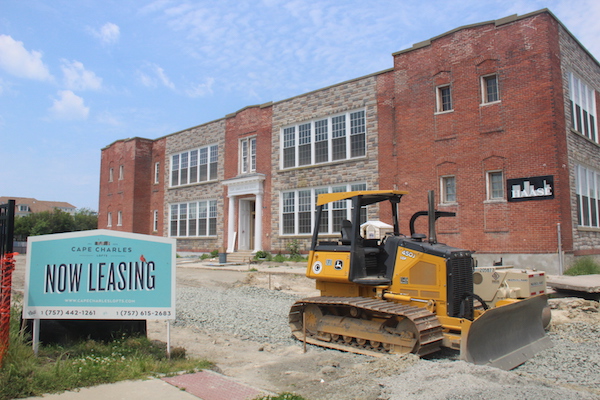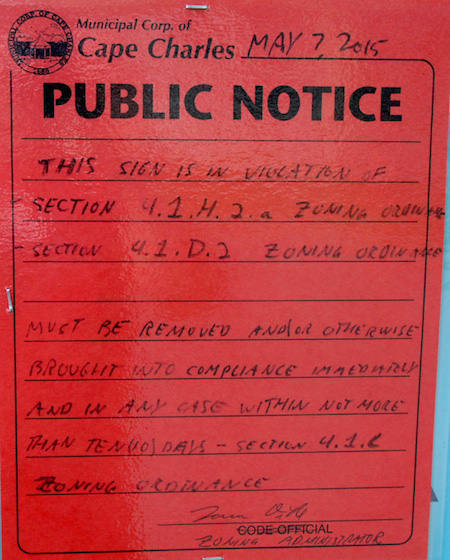 CAPE CHARLES WAVE
May 18, 2015
Last week the Wave reported that Town Zoning Administrator Larry DiRe had slapped a red violation notice on the new "Now Leasing" sign in front of the old Cape Charles High School. Dated May 7, the notice ordered the sign to be "brought into compliance immediately and in any case within not more than 10 days."
That would be by May 17. But 10 days later the only sign that's been removed is DiRe's original Public Notice shown at right.
VDOT does not allow signs on public right-of-way, and the "Now Leasing" sign has been moved to the other side of the sidewalk. But the town ordinance limiting the size of the sign to 4 square feet continues to be ignored: the sign is three to four times larger than allowed.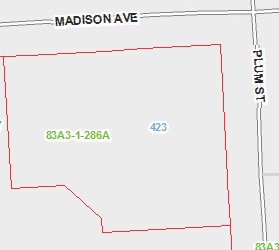 DiRe missed another sign violation (or maybe he just ran out of room): only one real estate sign is permitted on a single residential lot. But there are now two illegal signs occupying one residential lot — lot 423 at the corner of Plum and Madison. (See county tax map at right and second "Now Leasing" sign below.)
Last week the Wave noted that "DiRe has only been on the job a matter of weeks and apparently was unaware that Old School developer J. David McCormack gets carte blanche (including free water)."
It appears that Assistant Town Manager Bob Panek has now explained that fact to DiRe, and there will be no more red violation notices. [Read more…]
By SANDY MAYER
Eastern Shore Spay Organization

May 18, 2015
ESSO would like to thank all of our supporters and contributors who helped make our Cinco de Mayo Fiesta fundraiser a success. Don Valerio's did an excellent Mexican buffet that was enjoyed by everyone. We offered Sangria and beer as well as appetizers and Mexican brownies for dessert. Sombreros and mustaches were complementary as well as a bottle of margarita mix for each guest, generously contributed by Blue Crab Bay Company.
We expect to net approximately $2,000 from our attendance and silent auction proceeds and we hope to make this an annual fund raising event. ESSO has also been awarded a $500 grant from the Walmart Community Grants Team. We thank Walmart for recognizing our community efforts to help the cats and dogs in our area and to educate everyone about the value of our spay/neuter service. The grant will be put to good use and is very much appreciated.
As many know, cats are necessary in a harbor town to keep the rodent population under control. If this is not realized the rodents can become a serious problem carrying disease and illness. ESSO is working hard to attain low population growth by spay/neutering as many animals as possible. [Read more…]