By WAYNE CREED
Cape Charles Wave
June 1, 2015
In the Steve Jobs authorized biography by Walter Isaacson, Jobs relates a story about growing up with his dad outside of Palo Alto. When building things, even something like a fence, his dad always emphasized that every aspect of the project be done right — not just the parts you can see, but also the parts that are hidden.
I thought of this as Andy Teeling was telling me about how he builds furniture and cabinetry. "I want the piece to be finished and professional, the quality should be the same, no matter which way you look at it. From the back, bottom, top, or if you open it up and look inside, it should all be just as polished as the part you see," Teeling said.
This level of care, professionalism, and ethics says a lot about Teeling, and is one of the reasons that, if there is ever going to be any progress in Northampton — from business to industry to the sustainability of the county economy — it may just begin right here with Andy.
From Teeling's perspective, ground zero for economic recovery is our schools, and it all starts with one simple question: "What can we, each of us, individuals and businesses, do for our schools?"
Teeling understands that the situation in Northampton is daunting. The school population is shrinking, a reflection of the overall contraction of the county population. With that comes a leaner tax base, leaving less and less available for our schools. "This is an all hands on deck situation," said Teeling. "Unfortunately, the county is so divided. The zoning issues have divided us. We need both sides, and they are both right — the ones that want to protect the environment are right, but those that are more business friendly and want to see things grow and develop are also right."
Teeling believes this division has created a logjam, with the kids and the County's economic health stuck in the middle. Businesses and families won't move here because of the perception that Northampton schools are subpar. "The contentiousness, the division needs to end. We all need something that we can focus on, to work together on, and that is the schools. Committing ourselves to improving the schools, by putting our attention on our future citizens, will be good for business, be good for the economy," he said. [Read more…]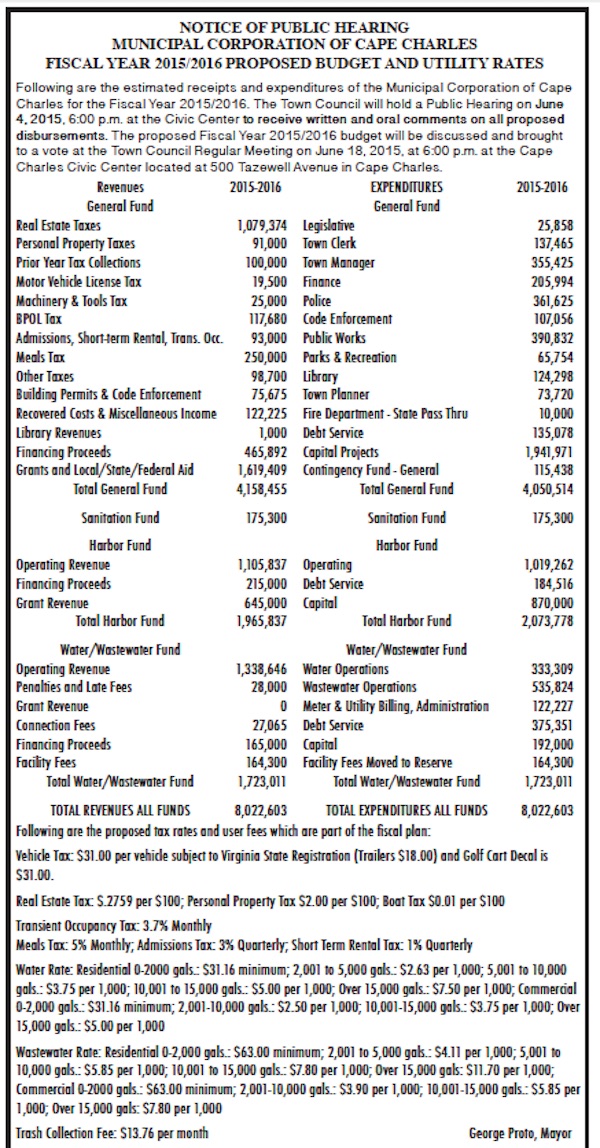 CAPE CHARLES WAVE
June 1, 2015
Owing to the untimely death of a computer software vendor, there will be no tax increase in the Town of Cape Charles next year. That's because real estate reappraisals were postponed by Northampton County when the software vendor died, and the town relies completely on the county for property values.
If property had been reappraised in 2015 as originally planned, the values would have dropped and the tax rate necessarily would have increased. Virginia state law requires appraisals to reflect actual market value, and as the Wave has documented in its Real Estate page, most Cape Charles real estate is selling below appraised value — especially empty lots.
When the last reappraisal occurred in 2013 the town was forced to raise tax rates from 18 cents per hundred dollars to 27.6 cents. That rate will continue to 2016. [Read more…]
By WAYNE CREED
Cape Charles Wave Columnist
June 1, 2015
In last week's Wave, it was reported that a smaller version of Virginia Beach's giant Neptune sculpture had been donated by patron Wyndham Price, and would be placed on the boardwalk. What seemed like a very generous offer was instead attacked by some as being utterly inappropriate, almost an insult to our refined sensibilities. One critic said that the work should instead be "a more appropriate symbol signifying who we are."
My first impression was that the town should immediately commission an artist to create a work to symbolize the "New Cape Charles," one that conveys a narrative of who we are. Maybe a work comprised of a pig, a bird, and a snake to symbolize the three Buddhist poisons of ignorance, attachment and aversion.
But then I stopped: Is "who we are" a question we really want answered?
A case in point: Over at the old library, now arbitrarily called the "Civic Center" instead of what it really is, the Town Hall, the Historic District Review Board recently voted to remove the chimneys because they were leaking. After several anemic attempts by Public Works to repair them, the town decided it would be easier to just tear them down.
It seems the town is always quite ready to hang its hat on the historical integrity of Cape Charles when it suits them (usually when developer tax credits are on the line), but when it comes to maintaining the integrity (historical character) of a true historical structure they seem more than willing to rape and violate it, generally out of nothing more than sheer laziness and incompetence.
For years, the town allowed the old school to fall into a state of disrepair. This was a willful and illegal act, and instead of making simple, inexpensive fixes, like new windows to keep out the water, they instead amused themselves by making up the most fraudulent stories about the place's ultimate demise. Carpet baggers from Richmond have recently exposed those tall tales as nothing but silly little lies. [Read more…]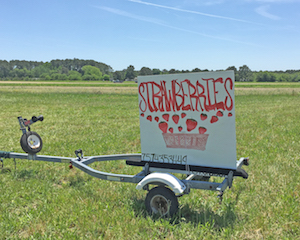 By KAREN GAY
Cape Charles Wave Columnist
June 1, 2015
Last spring while my friends were gorging on juicy, sweet strawberries I was supine on my zero-gravity recliner recovering from 35 years of sitting at a desk. This year, feeling much better, I determined to find that farm that everyone talked about but no one could quite explain exactly where it was. Asking one friend, I heard "Oh, it's just a ways up 13." Another friend looked at me blankly when I asked whether it was north or south of OBS Building Supply. Someone told me it was before you hit Exmore. "Well, is it before or after the Machipongo Trading Company?" She couldn't say.
So on a sunny Saturday I set off north from Cape Charles to find these ephemeral strawberry fields where everyone in town went, but where no one could identify its location. Lo and behold, just a short distance north of Eastville the fields appeared just after Union Baptist Church. I swung right into Bell Lane and parked in the grassy lot to the side of the farm stand. As soon as I opened the car door I could tell there were strawberries nearby. The scent wafted over me as I approached the stand and then it only got better as Janice Giddens welcomed me with a huge smile and bright pink stained hands. She and two others had been in the back of the stand packing strawberries into quart containers. I bought two quarts and asked if I could interview her. She deftly pointed me out to the fields to question the boss who was in a red shirt. [Read more…]
CAPE CHARLES WAVE
June 1, 2015
Radio without the antenna — that's the miracle of the Internet, and now little ol' Cape Charles has its own radio station: WCCR (Cape Charles Radio, we assume).
AM or FM? No, you don't get it. It's Internet exclusive: Click here: http://www.wccr-theresort.com/music.html. If all goes well you'll find yourself listening to light jazz while continuing to read the Wave.
"We created WCCR-The Resort to emphasize the 'Resort' aspects of the lower Eastern Shore," said founder David LaBonte, whose DJ moniker is "David Bayside."  "Cape Charles is a wonderful small town with beautiful beaches, and multiple surrounding resorts like the Oyster Farm at Kings Creek, Bay Creek Golf Resort, Cherrystone, and Kiptopeke State Park just to name a few — all with their own unique offerings. What we bring you is music to go along with your resort experience," he said.
LaBonte's online resume shows him headquartered in Bethany Beach, Delaware, and how he happened to focus on Cape Charles is not stated. LaBonte previously worked for Clear Channel (now iHeart Communications), the country's largest radio broadcaster. [Read more…]