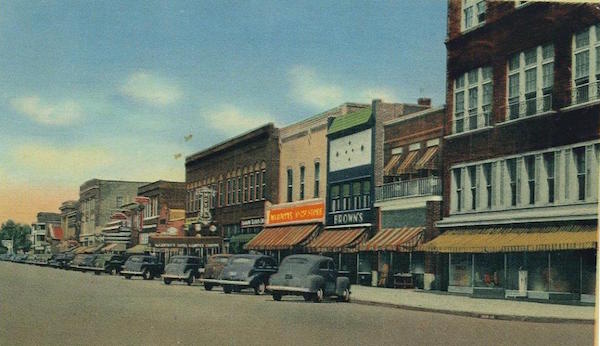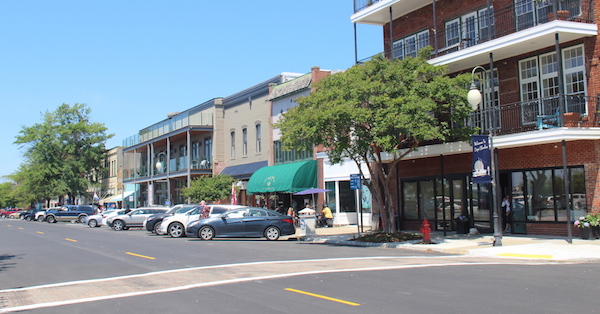 CAPE CHARLES WAVE
May 25, 2015
Angle parking on Mason Avenue is nothing new, as the penny postcard above demonstrates. Judging from the automobiles, the scene is pre-WWII.
It looks like there were no white or yellow lines back in that day — somehow, folks just figured out how to drive and park without them. And they all lined up front-ways to the curb.  Anyone parking backwards might have been suspected of DUI.
Pity the poor motorists of last century, bereft of the advances of modern society: no automatic transmission, no cell phone, no GPS — and no town or state official had yet decreed that reverse angle parking is far superior to the old fashioned way.
By WAYNE CREED
Cape Charles Wave
May 25, 2015
Even as the previous mayor of Cape Charles successfully fostered a culture of incompetence and ineptitude, and set the bar so low that even the most flexible amoeba would have to find new and creative ways to limbo under it, and even as we thought it was a record that would never be replicated, the current mayor, with his implementation of reverse angle parking as part of Mason Avenue's "Street Improvements," has proven that he is more than up to the task of duplicating, if not surpassing, his predecessor's dubious achievements. However, having the town's current Planning Commission at his disposal certainly gives him an edge, and puts this goal well within reach.
During the police report to Town Council May 19, Chief Jim Pruitt reported that due to the new reverse angle parking they were able to issue nine parking tickets in just the first week. With the cat somewhat out of the bag, Mayor George Proto nearly knocked over the microphone as he exclaimed, "I just want to say that the town did not do this to make money!"
"I think we need an ordinance for this," Councilman Sambo Brown said. "Right now, they're writing tickets based on Virginia Code, and all that says is you need to park on the right side of the road. Even if they pull in head first, they are still on the right side. This could be challenged."
The town has put up signs, and is issuing tickets without first having an ordinance to back it up.
Councilwoman Joan Natali noted, "We may have fallen short here," to which Proto responded, "We maybe could have done a better job."
During Council comments, Vice Mayor Chris Bannon added, "Given so many people's inability to park, we could start charging a fee to let them parallel park on the other side of Mason Avenue."
Chief Pruitt also reported that there were three felony assaults against police officers this month. "Would you care to elaborate on this?" asked Councilman Steve Bennett.
"No I would not," replied Pruitt.
"Are things getting worse here?" asked Proto.
"You just never know when these things are going to happen," Pruitt said. Whether this scuffle was related to the new reverse angle parking was not disclosed. [Read more…]
By WAYNE CREED
Cape Charles Wave
May 25, 2015
Top of the agenda at the Cape Charles Historic District Review Board's May 19 meeting was the Town Civic Center. Cape Charles applied for a Certificate of Appropriateness for the former library at 500 Tazewell Avenue. Due to leaks around the chimneys, the town sought permission to remove both chimneys. Town crews have attempted unsuccessfully several times to repair the flashing. The leaks have continued for some time, and Director of Public Works and Facilities Dave Fauber recommended that the chimneys be removed.
Chairman Joe Fehrer questioned why the town had not brought in an outside contractor for an estimate, while at the same time noting that water damage inside the building was evident, and if left untreated had the potential to create more problems.
"We have approved this kind of thing in the past," said Fehrer. "If they were decorative, or ornamental, that might make a difference. Even as they do affect the look of the building, they are a liability."
Given that the chimneys are non-functioning, and just sticking out of the roof, the consensus was that the water damage justified the removal. The Board approved the request 4-0.
VINYL SIDING
According to Town Planner Larry DiRe, Historic District Guidelines advise against replacing original siding materials with synthetics such as vinyl (Building Element 1, page 55). Nevertheless, the owners of 415 Randolph Avenue applied for a Certificate of Appropriateness proposing to remove the existing wood siding and replace with synthetic. [Read more…]
By KAREN GAY
Cape Charles Wave Columnist
May 25, 2015

Last Saturday I hosted a Weston A. Price booth at the Crabby Blues Festival. It was a wonderful day not only because of the fabulous weather and music by The Janitors but because of the many health-minded people who stopped by my booth to talk about their successes with weight loss, their farming experiences, and dietary plans that they like. Several folks signed up to take one of the Juicing and Smoothie classes that I'll be offering. And quite a few festival-goers expressed an interest in buying the fermented vegetables that I had on display.
What are fermented vegetables? Sauerkraut and kimchi are examples of vegetables that are prepared in a crock or glass jar and covered with a brine of water and salt. Over a week or more, the lacto-fermentation process causes the growth of bacteria which benefits the gut. Many traditional societies ate these fermented or cultured foods with each meal to keep their intestinal micro-biome in balance. Today we have culture starters that can be added to the brine which adds an even broader spectrum of beneficial bacteria. Someday I may have the time to start a home-based business to make and sell these vegetables.
I was so pleased to see the many small businesses selling their products at the festival. These enterprises add so much value to the Shore's economy and in my mind they suit our environment. We are not a place for large corporations, polluting chicken houses, and massive agribusiness. I'd like to see a return to a sustainable farm-based economy where our neighbors grow our food and small businesses grow up around the farms to add value to their products. Those of us who partake in eating and using what our neighbors have to offer may pay more for food, but we'll all see a return in the explosion of money-making activity, community, and especially our health.
I've reported on two small farms, La Caridad and Willowdale, on the Eastern Shore of Virginia and there are quite a few more: Mattawoman, Perennial Roots, Copper Cricket, Shine and Rise, By the Bay Alpaca, ES Emus, and others I have yet to discover. These farms produce vegetables, herbs, fruit, pork, chickens, eggs, rabbits, dairy, emu, alpaca and probably things I don't know about. [Read more…]