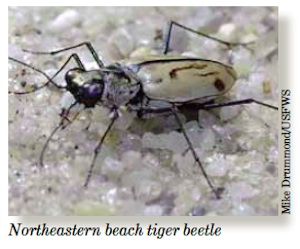 CAPE CHARLES WAVE
September 2, 2014
The lowly Northeastern beach tiger beetle, a threatened species, has won out over Bay Creek beach goers — with the help of the U.S. Fish & Wildlife Service.
The Bay Creek Homeowners Association used to rake the Bay Creek beaches to remove whatever washed up with the tide, such as seaweed, grasses, and the like — just as Cape Charles does at the town's public beach. But the raking, especially with a tractor, is highly damaging to the Northeastern beach tiger beetle, whose habitat has been reduced to two areas: Martha's Vineyard in Massachusetts and some relatively undisturbed beaches on the Chesapeake Bay.
That counts out the town public beach, where the tiger beetle gave up long ago. But the Bay Creek beaches, having become frequented by people only in recent times, still host the tiger beetle. So the beaches at Bayside Village and at The Colony/Kings Bay have been designated by the F&WS as tiger beetle habitat and may not be disturbed. 
"This means that the beach must be left to nature with the exception that human pedestrian traffic is permitted, as well as the hand removal of glass, metal, plastic, etc. In years past the beach at Bay Creek was mechanically raked and maintained. This practice was suspended when the F&WS Enforcement branch placed the management of the Home Owners Association on notice that cleaning the beach is a violation of law subject to criminal prosecution and heavy daily fines for continued violations," the Bay Creek HOA reported to its members in August. [Read more...]
By GEORGE SOUTHERN
Cape Charles Wave
August 25, 2014
Despite Assistant Town Manager Bob Panek's best efforts, Cape Charles Town Council once again has sidestepped any decision on how much to charge to accept sewage from out-of-town commercial properties on and near Route 13. Panek recommended providing the county with "updated cost estimates" to process sewage, but Town Council balked at their August 21 meeting, voting instead to hold a work session to further consider the matter.
The "update" would be to an earlier cost estimate that Panek provided the County Public Service Authority without authorization from Town Council. That was when Panek was also chairman of the PSA, a position he lost following complaints of conflict of interest. But he remains the town's representative to the PSA.
Almost a year has passed since Town Council last wrestled with the question of how much to charge for sewage coming from the highway. Since then, one strong opponent of subsidizing out-of-town businesses – Mike Sullivan — has left the council. That leaves Frank Wendell as adamantly opposed, with Joan Natali and Chris Bannon on Panek's side. Mayor George Proto and Councilman Steve Bennett also expressed reservations at last Thursday's meeting, which prevented Panek from getting his wish.
Newly elected Councilman Sambo Brown said he believed the county simply wanted to know whether the town was willing to accept sewage, to which Panek responded "That's right." Panek did not explain to the new councilman that Town Council had already twice indicated a willingness to accept county sewage, first informally at a June 24, 2010, work session, and later, at Panek's insistence, on August 9, 2012, with a formal motion. All council members approved that motion with the exception of Wendell. [Read more...]
By TAMMY HOLLOWAY
Cape Charles Christian School
August 25, 2014
Cape Charles Christian School is beginning its sixth year with exciting physical, educational, and administrative changes. "If you have driven by the corner of Tazewell and Strawberry lately you have seen a lot of action taking place both inside and out," said Gwen Coghill, CCCS Board member. From the outside additional parking sets the stage in the front of the school but the exciting part occurs when you open the doors of the sanctuary of the former Presbyterian Church of Cape Charles, built in 1925.
The renovation will bring new life to the former sanctuary while maintaining and respecting its historical bones. The space is being transformed into a multi-use event space that will serve as the school's fellowship hall as well as host anything from wedding ceremonies to meetings and conferences. An exciting component to this project is the unveiling of the magnificent stained glass windows that have been shielded by a protective plexiglass for years. The school will launch a fundraising campaign this fall providing donors with a chance to dedicate a window in honor or memory of someone significant to them. "Take a drive by one evening and you too will witness this glorious site," says CCCS Board Chair John Burdiss. [Read more...]
By WAYNE CREED
August 25, 2014
Discovery Channel's Shark Week 2014 ended the same as always, with the statement: "Sharks have more reason to fear us than we have to fear them." Only 10 people died from shark attacks last year, yet on average, 73 million sharks are killed by people each year (that works out to more than 8000 sharks per hour).
Estimates from the International Union for Conservation of Nature (IUCN) indicate that 90 percent of large sharks have been severely diminished (93-99 percent of all large sharks off the east coast of North America have been destroyed (tiger sharks, bull sharks, hammerhead sharks.) On the IUCN's Red List of endangered species, 50 shark species are listed as being at high risk of extinction (either critically Endangered, Endangered, or Vulnerable) and 63 additional endangered shark species are approaching threatened status. Another 199 species of sharks are considered "data deficient"; they may be endangered, but there is insufficient data to determine their status.
When Europeans first came to the New World, they had no word for shark. Spaniards used the Carib Indians' term "tiburon," while English transformed the Mayan word "xoc" to shark. No matter which name was chosen, these animals were much larger and more numerous than what we currently see. According to NOAA shark biologist Jose Castro, who just released a paper on shark history, "Historical Knowledge of Sharks: Ancient Lore, Earliest Attacks." He writes, "Imagine what it was like back in the 1500s. The number of sharks in those waters can only be imagined, but it must have been tremendous."
These great predators have ruled the seas for 450 million years, and it is not until the viral spread of humans that they have become threatened. Industrial exploitation of sharks in North America began in 1917, with the incorporation of the Ocean Leather Co. Due to its ability to produce unusually high quality leather the company set out processing a thousand sharks a day. It only took a few decades before many shark populations reached overfished status.
Sharks are particularly sensitive to overfishing due to their tendency to take many years to mature and have relatively few young. Modern day industrial overfishing is mainly due to Hong Kong's unsustainable appetite for shark fin soup, which sells for over $100 a bowl. Shark finning goes entirely against the United Nations Food and Agriculture Organization's International Plan for the Conservation and Management of Sharks; however, these are not legal requirements but recommendations which cannot be enforced. There are no national or international laws or treaties that exist to prohibit the sale of shark fins. Shark finning is the practice of catching a live shark, slicing off its fins with a hot knife blade and then dumping the still-living shark back in the ocean, where it drowns or bleeds to death. [Read more...]
By SARAH GOLIBART
Cape Charles Wave
August 18, 2014
It's not every day that you find yourself shirtless in a room with a man who recently moved from the Dominican Republic. Now, don't jump to conclusions! I was receiving acupuncture treatment from Dr. Greg Stern, Cape Charles' newest acupuncturist and chiropractor.
I tensed as he pushed the third needle into the muscle of my right shoulder. About seven more needles were waiting to puncture my back, hands, shoulders, and ears. Surprisingly, it didn't really hurt. According to Dr. Stern, acupuncture isn't supposed to cause pain, but instead promote healing and well-being.
"Dr. Greg," as he's called, was treating my shoulder for an injury I received almost two years ago in a bicycling accident. I fell while riding downhill and dislocated my shoulder. I partially tore my rotator cuff and immobilized my arm. Eight months of physical therapy has almost fully restored my arm's motion, but left my deltoid useless and without sensation. The deltoid is a very crucial muscle involved in arm movement. Dr. Greg chose to focus on my shoulder injury for my acupuncture and chiropractic treatment. [Read more...]
August 18, 2014
(EDITOR'S NOTE: Cape Charles Historical Society has for more than a decade been recording oral histories of the area's earlier days.  A grant from the Virginia Foundation for the Humanities enabled 15 interviews to be transcribed, and the Historical Society has made this one available for readers of the Wave.  All the transcriptions may be read at the Cape Charles Museum.CLICK to read previous oral histories in the Wave.)
1990 Interview of Virginia Fitzhugh conducted by Virginia Savage
PART FIVE
VIRGINIA SAVAGE: Where was the Fitzhugh house?
VIRGINIA FITZHUGH:   Right there on the corner where Shrieves lives [southwest corner of Randolph and Peach].
The yellow house on the corner of Peach and Randolph.  And that's where you started housekeeping.  Did Mr. Fitzhugh build that house?
No. That house was built by Dr. Kellam, the doctor that was in Cape Charles.  And Mr. Fitzhugh bought it from him.
Now the house next to that where the Johnsons lived now. And the next house was Harold Smith's. 
That's right.  That was a boarding house.
That was an old Federal type building there [torn down in the '80s].  Do you remember when the Mack buildings were built?
Yep.  They were built late.  I would say '30s or '40s.
Do you remember when Mr. Parsons built his house on the beach?  Mr. Russell Parsons . . . Miss Alice Parsons.  The one the second floor burned probably during the late '70s.
I don't know how old I was when that was built.
That was such a gorgeous house.  What a calamity that it burned.  [The five dormers were lost, the Chippendale railing around the upper porch and a wonderful slate roof.]
Listen,  it was worth it.  They got so much money back, because it had gone perfectly terrible and they didn't have the money to fix it.  But how in the world they got so much insurance money — it's like an almost entirely new house inside.  I tell you, Virginia, Miss Alice Parsons had property but I don't think she had much cash.  Because she was a working woman.  She had all those apartments up over where Harold Smith had his hardware store.  And up there where the Eastern Star was.  [Parson building on Mason.]  See they had apartments up there.  They owned all these big houses at the end of Tazewell. [Read more...]
August 18, 2014
DEAR EDITOR,
It is with much praise and gratitude that I express my sincere appreciation for the event "Harbor for the Arts" in Cape Charles August 1-17. As the second annual event, this arts festival deserves great acclaim. Not only has our cultural arts organization Arts Enter Cape Charles demonstrated expertise in grant and sponsorship funding, it has also proved to the world that our community has one of the premier cultural arts centers in the nation if not the world.
Performances and exhibitions took place over a two week period using venues that represented the best private and public assets of the Town of Cape Charles and her surrounding environs. Street performances, bands under pavilions on the park and at the beach, concerts and films in our beautifully restored historic theater, entertainers gathering audiences on the sidewalks, a multi-media dance production in a classic 150-year-old equestrian barn overlooking the seaside sounds and islands, and more — wherever one turned during these two weeks the cultural arts permeated our living space here in Cape Charles. How blessed this writer felt to be living and working in such an incredibly talented community!
Arts Enter Cape Charles deserves all of the support our community can possibly give — through attendance, financial gifts, sponsorships and volunteer participation. This dedicated group colors our community with excellence in the arts, offering instruction in the performing and visual arts as well as amazing performances that educate, entertain and thrill her audiences. This is the essence of economic development: establishing our community as a center of the arts and education, improving our reputation and attracting new growth and business to our region.
Thank you to Arts Enter Cape Charles for enriching our lives and lifting our souls!
DAVID L. KABLER
Machipongo
Letters to the Editor are welcome, and a diversity of opinions is encouraged. Send submissions to [email protected].
By WAYNE CREED
August 19, 2014
In response to David Kabler's letter (CLICK), I certainly agree with everything Capt K is saying, especially "establishing our community as a center of the arts and education, improving our reputation and attracting new growth and business to our region."
However, the deconstructionist in me would be remiss not to point out that textually the narrative always bleeds over and tends to occupy the most important part of the narrative, out in the margins, echoing Guy Debord's claims that different commodities conflict with each other, preventing the consumer from consuming the whole. Each commodity claims itself as the only existent one:
"Irreconcilable claims jockey for position on the stage of the affluent economy's unified spectacle, and different star commodities simultaneously promote conflicting social policies."
What I mean is that as beautiful a celebration of the Arts as Harbor for the Arts was, simultaneously, right across town, in the old school, crews were working to demolish the oldest, most historical stage on the Eastern Shore.
As much as I love and support everyone and everything involved in HFA, it's still hard to reconcile these "oppositional" events. I guess my ultimate criticism is that the ultimate goal here, as described by Kabler, is economic development; however, this belief is couched in the belief that existence is structured in terms of oppositions (historical significance and social justice or grants for digital cameras) and that these oppositions are hierarchical, with one side of the opposition being more valuable than the other (this is certainly the reality (of the street) that the historically underserved are being expected to accept). The courts certainly seem to agree with this, and insist that we urgently re-inscribe this new hierarchy (devalue social and historical significance and replace it with the "New": see Hotel Cape Charles) so that we can move ahead with "economic development" as the main driver. [Read more...]