EDITOR'S NOTE: In the absence of other reporting staff, Cape Charles' most acerbic social critic, Wave columnist Wayne Creed, has recently donned a reportorial hat and dutifully recorded the actions of Northampton's Board of Supervisors, which can be read in the news columns here and here. But in the column below, the indomitable Mr. Creed returns to his roots with an opinionated but highly informative commentary on Cape Charles Town Council's first meeting of the new year.
By WAYNE CREED
Cape Charles Wave
January 19, 2015
With Christmas decorations ripped down, the sidewalks dark and lonely, the night cold and wet, the lights were turned on inside the Town Civic Center January 15 in order to conduct the first Town Council Regular Meeting of the New Year. Aside from two members of news media (Cape Charles Wave and Eastern Shore Post), only two other constituents braved the raw weather to attend. Mayor Proto himself arrived nearly 30 minutes late.
Town Council voted to request the Virginia Port Authority to carry over to the new year several grants previously awarded for harbor improvements. This includes $645,000 for offshore breakwaters and $185,000 for a wave attenuator and dock improvements. The VPA has altered the terms to a 75%-25% match, making the proposal more fiscally attractive. Local matching funds must still be identified for these projects. Councilman Steve Bennett aggressively questioned Harbormaster Smitty Dize in what appeared to be a leading manner, attempting to get Mr. Dize to acknowledge, or at least provide a modicum of actual requirements that might justify the request for funds.
"Are there no plans to spend the money (we have)? No contracts have been awarded?"
Mr. Dize only responded, "I'm with you," and "the VPA likes Cape Charles. We spend their money."
The motion to have Mayor Proto write a letter requesting the funds passed unanimously (Councilman Wendell was absent). There was no discussion by Council regarding who would actually write, edit, or approve the letter Mayor Proto is required to sign. [Read more…]
By WAYNE CREED
Cape Charles Wave
January 12, 2015
A crowd of close to 60 people braved the frigid cold January 8 to attend District 1 Supervisor Granville Hogg's Town Hall Meeting, held at Kiptopeke Elementary. Following the last few months of intense opposition to the proposed zoning ordinance changes, those in attendance were anxious for any further information regarding this as well as other items being undertaken by the Board of Supervisors.
The first item on Mr. Hogg's agenda was the Public Service Authority Southern Node Project. Hogg reiterated many concerns that have been voiced after the Northern Node part of the project was rejected and focus was turned on the Southern Node: Is there a legitimate need for it, and is there a decent business plan in place that will justify it? And — just who will pay for it?
Martina Coker questioned whether the project is really going to create commercial growth, or will have the opposite effect. An example she used was the new Veterinary Clinic in the Food Lion Shopping Center, which had already been executed based on an established cost estimation and business plan, and whether it would be fair now to burden them, and future businesses, with an excessive new cost.
Along these lines, Roberta Kellam argued that since wastewater has already been approved in these areas, and existing septic systems are working, there is no indication that this project will create new jobs.
Former Supervisor Spencer Murray noted, 'This is basically a build it and they will come scenario. Sensitive growth is good — the question is how you get it."
The next topic addressed by Mr. Hogg was the proposed construction of a new Emergency Medical Services facility. The Board of Supervisors is looking three options:
· Fully restore the Machipango Middle School facility, with an estimated price tag of $3.8 to $5.5 million;
· Or, acquire the existing EMS property now being leased, and build onto that. Estimated cost, depending on the size of the new garage, would be $500,000 to $600,000.
· Or, construct the new EMS facility at the existing school bus garage in Eastville. Again, cost estimates are closer to the $600,000 figure. [Read more…]
January 12, 2015
DEAR EDITOR,
I am writing to add my voice publicly to those who have already spoken and written their objections to the way in which Northampton County's new proposed rezoning is being handled. I was a participant in several of the citizen workshops held when the present zoning was being reviewed, and am appalled at the way this is being handled now.
I am an elected public servant, having served on the Eastville Town Council for over 20 years, but I write this as a private property owner and business owner. I sent an earlier version of this letter as an email to the Northampton County Board of Supervisors in late March 2014. I received no reply from any of them.
Everything about the way this matter is being handled makes me suspicious that it is being driven by interests that DO NOT have the interests of Northampton County citizens and taxpayers in mind.
I, as a resident, property owner, rental home owner, bed and breakfast owner, and taxpayer, feel betrayed. I understand a desire on local government's part to do something, anything, to improve the economic situation, but this is not the answer.
Eastville, on a much smaller scale, of course, has gone through the same process of Comprehensive Plan review and updating of its zoning text and map, and it was a steep learning curve for us on the town council at the time. County staff was fantastic,  helping us in every way they could, including bringing in planning and zoning experts from as far away as Colorado. Zoning is complicated and doesn't interest everyone. But whether you care or not, your community's zoning does affect you and your property values. This proposed county rezoning is opening a Pandora's Box. [Read more…]
Reprinted from the Cape Charles Gazette
January 12, 2015
The Cape Charles Town Harbor hosted the first Cape Charles Dropping of the Crab Pot on December 31, 2014, at 10 p.m. on Mason Avenue. What started as an idea for a small gathering for New Year's Eve evolved into an exciting event with over 500 residents and visitors braving the cold temperatures for this inaugural event! The attendees enjoyed live music by Loaded Goat, a local band on the Eastern Shore, along with hot apple cider and hot chocolate served by the Cape Charles Volunteer Fire Company to bring in 2015 with a bang!
The preparations began a week prior to the event with the construction of a 6'x6' "crab
pot." The crab was illustrated by Rachael Taylor, cut out of metal by Sheldon Williams,
and painted by Kristin Lewis to give the crab a lifelike feel in dedication to our local
watermen. The pot was wrapped in fencing and Christmas lights with a "2015" sign made by Andy
Buchholz/Eastern Shore Signs, and built to light up Mason Avenue with full effect. The
crab pot also featured laser lights and a smoke machine to add to the effect,
compliments of Shane Hayward. [Read more…]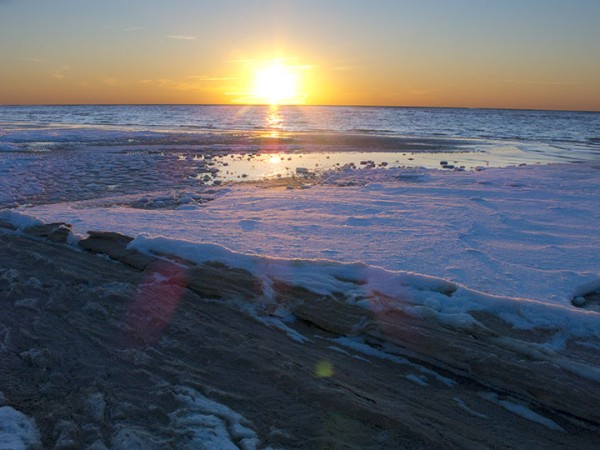 By GERTRAUD FENDLER
January 11, 2015
Nice cold day — yes!
Staying home? No way! Just had to go to the beach. . . [Read more…]
CAPE CHARLES WAVE
January 10, 2014
The Cape Charles Gazette has announced that Lawrence DiRe will be the new town planner effective February 2. DiRe replaces Rob Testerman, who resigned in October to work for the town of Kitty Hawk, N.C.
The Gazette provided no further information, but DiRe has posted his full bio on linkedin.com. According to linkedin and other websites, DiRe is 51 years old and has connections with the Eastern Shore. He has lived in Delmar, Delaware, just north of the Maryland state line on Route 13. From 2013-2014 he was an advisor for Delmarva Education Foundation in Salisbury, Maryland.
DiRe has worked in a number of jobs in several states. From 2009-2014 he was an instructor at Elmhurst College in Chicago. From 2007-2009 he was chief administrative officer and treasurer for the village of Berkeley, Illinois. From 2004-2007 he was town administrator for the town of St. Pauls, North Carolina. From 2002-2004 he was town manager for LaCrosse, Virginia, about 110 miles west of Norfolk. Earlier he interned for the town of Leesburg, Virginia. [Read more…]
(EDITOR'S NOTE: The following report is reprinted by permission from the January 2015 issue of ShoreLine, the Citizens for a Better Eastern Shore newsletter.)
CBES STAFF REPORT
January 5, 2014
The Eastern Shore of Virginia Public Service Authority, after recently giving itself authority to contract for the $2.4 million sewer pipeline from the Route 13 Cheriton area to the Cape Charles wastewater plant, was given yet more directions from the Northampton County Board of Supervisors. Board Chairman Larry LeMond, representing District 2, which includes Cheriton, has on more than one occasion said that he wanted to see all the optons for service to that area. But the PSA has provided engineering information on only one option – piping sewage to the Cape Charles treatment plant.
The Supervisors recently approved $10,000 for another engineering study and requested that the PSA provide figures for construction and costs to pipe sewage to the nearby Bayview system, which is operated by the county. The engineering for the Bayview option, which may well be a less expensive alternative, will be done by Hurt and Proffitt, a Lynchburg firm – the same firm which has in-hand the PSA's multi-million-dollar projected contract for the Cape Charles option.
Even though the Board of Supervisors has requested that all options be brought to the table by the PSA, there are at least two more alternatives for which engineering and cost estimates have not been submitted. First, at least 10 years ago research was done on a stand-alone, on-site wastewater treatment system often used in rural commercial areas, especially where there are few users in a small locale. These small, but expandable plants are usually funded and maintained either by the users themselves, or by a locality's public works department.
A recent EPA report has stated that small, decentralized sewer systems, including septic and alternative systems, are an effective and efficient way to protect water quality where population density is small: "On June 28, 2013, EPA released a model program for onsite wastewater treatment systems in the Chesapeake Bay watershed to help states more effectively prevent nutrients from entering the Bay . . . . When properly designed, sited, and maintained, decentralized systems like septic systems can treat wastewater effectively and protect surface water and groundwater." (http://water.epa.gov/infrastructure/septic/index.cfm) [Read more…]
By WAYNE CREED
January 5, 2015
As the holidays end, the realization that winter is really here finally begins to sink in. The colder air and diminishing light began to incubate my seasonal affective funk. This growing malaise is compounded by the fact that my son's fall sports — JJV football and Shore Soccer — are also over. Sitting on my front porch steps, I'm watching him, in a cold, light rain, dribble up and down the wet sidewalk. One way to avoid the inevitable winter depression is to stay as busy as possible; self-tasking, I try to help Joey begin the transition to winter sports: basketball. Going over the fundamentals, defense by Kevin Garnet and Gary Payton, workout routines by Steve Nash — this kind of work is good, but not fun; he still really wants to go out and play for real. Being an old Knicks fan, I try and remind him of what Bill Bradley used to say, "When you're not out practicing, someone else is. And when you meet that person, he's going to beat you."
True, yet even Bill would have to admit it's tough here for ballers, since there isn't anywhere in Cape Charles to truly practice or play (Cape Charles Baptist Church has one goal in a small area for every player in and around town. The backboard has already been crashed once). The outside courts at the old school, perfect for the urban ¾ game, have been taken down, and the beautiful old court inside is being chopped up and turned into apartments.
A few weeks ago, the Wave published a story about the developer of the old school. As usual, there were several interesting comments, but one really struck me. This person said in his comment that he really didn't have a dog in the fight, but was against the town keeping the courts public. Yet in the same breath he said he hoped the folks that wanted a "community center" would eventually get one. I had to wonder just what it would have taken for him to have a dog in the fight. From my perspective, it was easy because my dog was mainly sports — indoor and outdoor. Without the gym and outside courts, I just don't see how you can even pursue the concept of a "community center." [Read more…]