By SANDY MAYER
Eastern Shore Spay Organization

May 18, 2015
ESSO would like to thank all of our supporters and contributors who helped make our Cinco de Mayo Fiesta fundraiser a success. Don Valerio's did an excellent Mexican buffet that was enjoyed by everyone. We offered Sangria and beer as well as appetizers and Mexican brownies for dessert. Sombreros and mustaches were complementary as well as a bottle of margarita mix for each guest, generously contributed by Blue Crab Bay Company.
We expect to net approximately $2,000 from our attendance and silent auction proceeds and we hope to make this an annual fund raising event. ESSO has also been awarded a $500 grant from the Walmart Community Grants Team. We thank Walmart for recognizing our community efforts to help the cats and dogs in our area and to educate everyone about the value of our spay/neuter service. The grant will be put to good use and is very much appreciated.
As many know, cats are necessary in a harbor town to keep the rodent population under control. If this is not realized the rodents can become a serious problem carrying disease and illness. ESSO is working hard to attain low population growth by spay/neutering as many animals as possible. [Read more…]
May 18, 2015
Shine and Rise Farm in Painter has been featured on the PBS show Virginia Currents for its innovative approach to agriculture. The program features the sustainable ways that fruits, vegetables, and animals are raised on the food forest farm.
Co-owners Tatum Sumners Ford and Jay Ford started Shine and Rise three years ago and since that time have planted over 10,000 perennial food plants in a 'Food Forest' a agricultural system that models the forest edge.
"When we started Shine and Rise we asked ourselves: what would farms look like if we designed them to focus on improving the well-being of our planet and the well-being of the people in our community? the Fords said. "That question keeps us innovating every day, experimenting with new ways to grow nutritionally dense, delicious foods for healthy people and a healthy planet. We are thrilled to share our work with the viewers of PBS so that they might consider planting their own little food forests as well. Just think what would happen if everyone planted a fruit tree — what a beautiful way to change the world." [Read more…]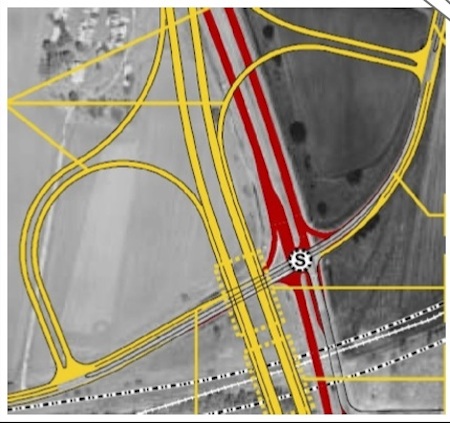 CAPE CHARLES WAVE
May 11, 2015
Resembling ancient symbols in the sand, the array of lines at right depicts a proposed Los Angeles-style reworking of the intersection of Stone Road and Route 13 — Cape Charles's only traffic light (at the sign of the "S").
Northampton Supervisor Granville Hogg dubs it "a million-dollar fix for a hundred-dollar problem."
The red lines show the existing Route 13 including ramps to Stone Road and S. Bayside Road. The yellow lines show a proposed Route 13 relocated to the west with two half-cloverleaf interchanges. The dotted yellow lines signify bridges over Stone Road and the railroad tracks.
VDOT will be in attendance at the Tuesday, May 12, Board of Supervisors meeting, where public input may be voiced at the 7 p.m. session.
By WAYNE CREED
Cape Charles Wave
May 11, 2015
The May 5 Cape Charles Planning Commission agenda covered not just the visual and aesthetic, but also the fiscal issues that could have broad effects for both businesses and the general population.
Due to scheduling conflicts, the Planning Commission had to conduct the session with a skeleton crew: two members absent and a third 30 minutes late.
Town Planner Larry DiRe reported that "reverse angle parking" will be implemented on Mason Avenue in the next week or so. For higher traffic areas, reverse angle parking is a safer type of angle parking — instead of pulling into the parking spot, cars are supposed to (but not required to) back into their spots, allowing them to make eye contact with oncoming traffic when exiting the parking space. You don't have to back out into oncoming traffic. The benefits will be to create a more efficient parking scenario, fitting more parking into less space.
DiRe also noted that the town will be looking at reverse angle parking on some parts of Bay Avenue. Once feasibility is determined, the same application process with VDOT will have to be undertaken (possibly in front of the gazebo, and south towards the pier).
The Commission once again visited the notion of a Tourist Zoning Ordinance somewhat akin to the Technology Zone already in place. The goal of these specialized economic zones is to attract investment in the downtown and harbor areas. How this will actually be implemented is still in question but could involve a grant or credit. "We need to look at this," said Commissioner Joan Natali. "Do we need to change this to say grant, or credit, to reflect what is accurate?"
Natali also voiced fiscal concerns about how the town plans to create the incentive structure. "I really believe the Treasurer needs to weigh in on this" to provide an adequate level of insight and context, she said.
DiRe noted that he and Town Manager Brent Manuel had begun discussions with the Treasurer. Natali also voiced concerns about businesses that may attempt to take advantage of the program. "How do we determine if what they did was appropriate? If they don't meet the criteria, don't meet the regulations, how do we handle getting money back, or getting refunds?" she asked. DiRe agreed that should be looked at, and those rules and stipulations should be undertaken as part of creating the new tax zone. [Read more…]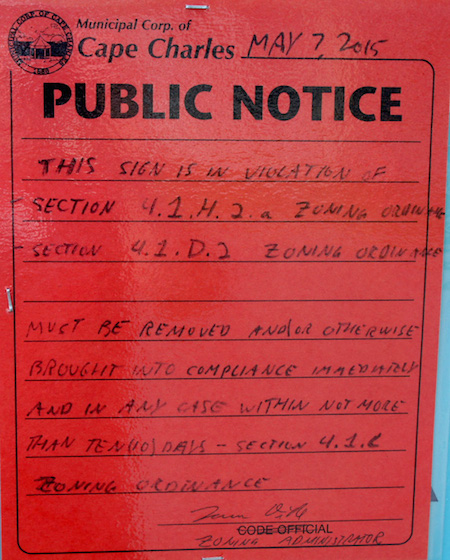 CAPE CHARLES WAVE
May 11, 2015
Everything about the Old School giveaway has been either illegal or underhanded, so no surprise that the NOW LEASING sign was also put up illegally.
The sign is erected on VDOT right-of-way, to begin with. During last year's heated local elections, town officials were instructed to alert VDOT to campaign signs posted in public right-of-way areas, and the signs were removed. There was no "10-day warning."
The sign is also some four times larger than the 4 square feet allowed.
The only surprise is that Cape Charles's new zoning administrator, Larry DiRe, slapped a warning notice on the sign. DiRe has only been on the job a matter of weeks and apparently was unaware that Old School developer J. David McCormack gets carte blanche (including free water). [Read more…]

By KAREN GAY
Cape Charles Wave 
May 11, 2015
It was one of the few sunny spring days when Luis Echevarria and I wandered down the grassy path towards the poultry enclosure at the 40-acre La Caridad Farm in Parksley. As we approached, I noticed a large white goose honking furiously at us. This is a goose with the job of guarding the ducks — and he works for food.
Luis explained that several days before, this goose bit his wife Stacia Childers' leg, causing a large and painful bruise. Since introducing the goose to the flock they have not lost any to predation. The well-guarded ducks are Welsh Harlequins, which weigh about 5 pounds and lay an egg almost every day. Their eggs are larger than chicken eggs, but Luis prizes them mostly for their richness. When Stacia joined us she kept her distance from the goose.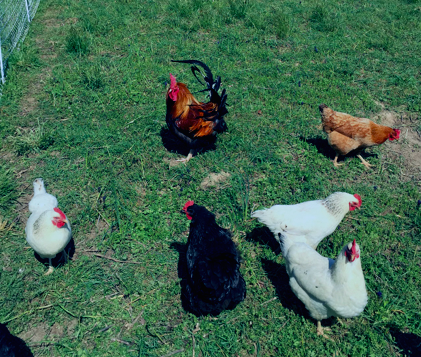 The chickens are in an adjoining enclosure and are of varied breeds. The rooster shown at right is a Dorking, the white hens are Delawares, the brown hen is a New Hampshire and the black hen is an Australorp. They also have Easter Egg layers or Ameraucanas, which produce green, olive, blue or pastel colored eggs.
Luis and Stacia gave me a dozen eggs to take home with me and I ran a test a few days later. I borrowed an egg which had come from regular Food Lion eggs. I photographed the La Caridad and Food Lion egg side by side. Can you guess which one came from La Caridad? The answer is at the bottom of the article. [Read more…]
May 11, 2015
We understand that two Northampton Supervisors recently lamented in a public meeting the county's decision back in the mid-1990s not to allow a state prison to be built here. What's happened to the counties which were included in the state's prison building boom over the last 30 years? Did the promises of jobs, economic development and state-provided benefits meet expectations? Not so much.
And not for many rural counties. Localities were looking at prisons as economic engines back then, and Northampton County's refusal to take the bait in 1993 was considered Wise County's windfall. By the middle of the decade Wise county had not one, but two so-called "Super Max" prisons. Greensville, Buchanan and Mecklenberg Counties, all rural, had one state prison each, and the correctional system was often the largest employer in the county.
Then the prison population started to fall off – court imposed sentences became shorter, the crime rate fell and in the midst of lawsuits against the Commonwealth for unacceptable treatment of inmates, other states took back their farmed-out prisoners.
Former Governor McDonnell closed the Mecklenburg prison, nearly bankrupting the town of Boydton. The town relied heavily on the prison's sewage payments to support their town budget, and was left with a $1.4 million debt for sewer lines to the prison. One of the Wise County prisons was downgraded, causing layoffs and long-term unemployment. The state prison in Pittsylvania County closed less than 10 years after it was built, and a brand new facility in Grayson County has never opened. [Read more…]