By GEORGE SOUTHERN
Cape Charles Wave
October 6, 2014
When Cape Charles Town Council approved a $10,000 employee wage study by Springsted Inc. last February, the Wave publicized the action — and a number of readers reacted negatively to the town's decision. (CLICK to read letter from David Gay: "Town Paying $10,000 for Free Information.")
Apparently wishing to avoid further bad publicity, when Town Council decided to hire the same firm again — this time to search for a new town manager — they did it behind closed doors. The official minutes following the July 31, 2014, executive session (CLICK) refer only to a motion "to hire Springsted Inc. per their proposal for executive search services for the Town Manager position as discussed." The "as discussed" part will forever remain secret, as no minutes are recorded for executive sessions. There will be no explanation, for example, why Town Council chose Springsted or whether any other headhunter was even considered. [Read more...]
By DR. NATHAN HIGGINS
October 6, 2014
There are two questions that I generally get when I meet someone new. It's either, "Do you have family here?" or "What brought you to the Eastern Shore?"
The first one is easy; no, we don't have family here. The second is much more complicated and multi-faceted. From the moment we stepped on the Shore in April 2013, we found the contrast to our usual hustle and bustle to be so refreshing. Northampton County was filled with unobstructed charm along with caring people who took the time to get to know us.
We saw an exciting small town community that was growing steadily while keeping a safe, family atmosphere. But we were astounded to hear that there was no veterinary clinic in the county, and to learn how far people were traveling for pet care. [Read more...]
CAPE CHARLES WAVE
October 6, 2014
Last week former mayor Dora Sullivan closed her office supply store at 109 Mason Avenue, which had been the informal "town hall" for eight years. She had announced her retirement concurrent with stepping down as mayor last July, but kept the shop open until it could be sold or rented.
Meanwhile, Realtors Lynn Gray and Melanie Brown had closed their Eastern Shore of Virginia real estate office just up the street and joined Long & Foster in Onancock. That's when L&F listings started appearing on For Sale signs in Cape Charles.
Business must be good, because Long & Foster now has leased the Sullivan's storefront. No more trips to Onancock will be necessary. [Read more...]
By GEORGE SOUTHERN
Cape Charles Wave
September 22, 2014
It took a few months, but an obscure legal notice published June 6 in the Eastern Shore Post finally attracted the attention of Bay Creek property owners when they heard that the private roads they drive on might be sold for back taxes.
The legal notice listed 47 properties owned by Bay Creek LLC, the company owned by Richard "Dickie" Foster. Most of Foster's former holdings have been sold to Keyser-Sinclair, operating as Bay Creek South LLC. Another portion – the former Bay Creek Marina, Shops, and Aqua Restaurant – was foreclosed and sold to Robert Occhifinto in December 2012.
More than half the properties listed in the legal notice are lots on Stone Road coming into town that have nothing to do with Bay Creek other than that Foster owns them. Those lots have now been conveyed to another entity, "HJ Rail LLC," also wholly owned by Foster — but the tax is still overdue.
Before the Stone Road lots were listed to be sold for back taxes, Foster offered six other Stone Road lots to the Town of Cape Charles for $100,000, and the town bought them for the asking price. The terms of sale required the $100,000 to be applied against Foster's delinquent tax bill, both to the town and the county. [Read more...]
By GEORGE SOUTHERN
Cape Charles Wave
September 15, 2014
What a difference being mayor makes. Just seven months ago when George Proto was president of the Cape Charles Business Association he wrote a hard-hitting letter to then-Mayor Dora Sullivan, chastising her for failure to answer his questions about processing county sewage at the town's new treatment plant. "My original questions have yet to be answered after almost 6 months," he wrote.
Proto and the Business Association were concerned that running a sewer line to Route 13 would promote commercial competition on the highway. "There does not appear to be any significant benefit to the Town of Cape Charles from the proposed connection," Proto wrote to Mayor Sullivan.
Now Proto is mayor, and acting Town Manager Bob Panek has convinced him, along with all other members of Town Council except Frank Wendell, that piping commercial sewage from Route 13 into town is a good idea. Panek's argument is that (1) the income received will reduce town utility bills, and (2) if the town doesn't take the sewage, the county will eventually build a plant elsewhere – perhaps on the Webster property in Cheriton — and the town will have forever lost the opportunity to operate a regional treatment plant.
Panek oversaw planning of the town's new sewer plant, which with some modifications is large enough to treat all the wastewater in the lower part of the county, were there some means to get it there. Meanwhile, the fixed costs of the plant are eating the town and its ratepayers alive.
Town Council agreed September 11 (Wendell dissenting) to negotiate an agreement with the County's Public Service Authority to accept wastewater for 1.5 cents per gallon. All Council members agreed that PSA customers must also pay the town a substantial facility hookup fee, even though Panek has opposed such a fee, fearing it would drive away potential customers.
As Business Association president, Proto had urged that the sewer line project be put on hold "until certain significant questions" were answered. The first question was, "What is the projected benefit to the town from the Route 13 sewer line?" [Read more...]
CAPE CHARLES WAVE
September 8, 2014
A consultant hired by the Town of Cape Charles has reported that town staff salary ranges are "significantly lower" than in comparable regional organizations. The consultant warned that because salaries are "below average market rates," Cape Charles may experience difficulty hiring and retaining employees in the future. [Read more...]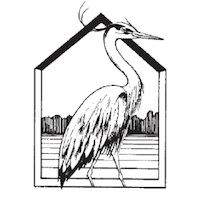 By JOHN ORDEMAN
Citizens for a Better Eastern Shore
September 8, 2014
The ShoreLine editorial board announced several months ago that we have begun a campaign to get county Supervisors to hold occasional Town Hall meetings with their constituents, a practice that would give the people who elected them an opportunity to engage in meaningful discussion with their representatives and enable the Supervisors to be more responsive to the will of the electorate.
All of the Northampton Supervisors responded to a query from ShoreLine asking whether they would schedule meetings with their constituents.
Granville Hogg, who has been holding Town Hall meetings ever since he joined the Board of Supervisors in January, wrote: "I have always thought Ron Wolff [the Accomack Supervisor who holds monthly public meetings] did a great job by meeting with his constituents. I decided it would be good for me to adopt a similar policy so long as residents were interested in what was happening. I would try to keep them informed and listen to what they thought was important. At those meetings I would exchange information with constituents. If there was disagreement, why did they disagree and what information were they relying on? In some cases, they had better information than I possessed; hence, I took that information into consideration for future decisions."
Hogg's statement is an excellent summary of what can be accomplished at Town Hall meetings, and it is remarkable that Hogg's colleagues will not follow his example and give their constituents the opportunity to exchange information and debate issues with them.
Larry LeMond's response to the query was, "I thought about holding a town hall meeting last year, but never got around to it. But I do think it is a good idea and I plan to hold one or two this year – probably the first one will be in July or August."
Rick Hubbard wrote, "I will give your idea some consideration and look into possibly doing it sometime."
Larry Trala sent word through Janice Williams that "he has no problem or objection to having constituent meetings."
Oliver Bennett replied, "No comment."
None of the Supervisors, other than Hogg, has held a Town Hall meeting in spite of the fact that Northampton County is embroiled in the most contentious issue — the proposed overhaul of zoning regulations — that residents have had to deal with in recent memory. [Read more...]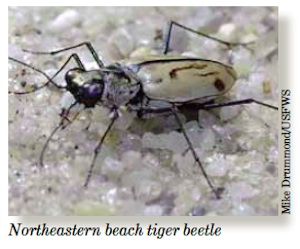 CAPE CHARLES WAVE
September 2, 2014
The lowly Northeastern beach tiger beetle, a threatened species, has won out over Bay Creek beach goers — with the help of the U.S. Fish & Wildlife Service.
The Bay Creek Homeowners Association used to rake the Bay Creek beaches to remove whatever washed up with the tide, such as seaweed, grasses, and the like — just as Cape Charles does at the town's public beach. But the raking, especially with a tractor, is highly damaging to the Northeastern beach tiger beetle, whose habitat has been reduced to two areas: Martha's Vineyard in Massachusetts and some relatively undisturbed beaches on the Chesapeake Bay.
That counts out the town public beach, where the tiger beetle gave up long ago. But the Bay Creek beaches, having become frequented by people only in recent times, still host the tiger beetle. So the beaches at Bayside Village and at The Colony/Kings Bay have been designated by the F&WS as tiger beetle habitat and may not be disturbed. 
"This means that the beach must be left to nature with the exception that human pedestrian traffic is permitted, as well as the hand removal of glass, metal, plastic, etc. In years past the beach at Bay Creek was mechanically raked and maintained. This practice was suspended when the F&WS Enforcement branch placed the management of the Home Owners Association on notice that cleaning the beach is a violation of law subject to criminal prosecution and heavy daily fines for continued violations," the Bay Creek HOA reported to its members in August. [Read more...]