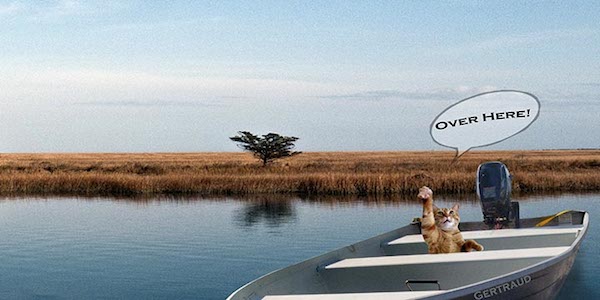 By GERTRAUD FENDLER
July 14, 2014
Living on the Eastern Shore, bounded by water on two sides, makes owning something to float on a necessity. I have this little kayak, a short, round, cute little tub. Not a streamlined kayak, just a little basic kayak. Used it every so often, not too often. After a long, painful trip out to the Barrier Islands a few weeks ago, I realized that my paddling days were not so enjoyable any more.
I also have another boat, a small aluminum rowboat. Has been sitting in my backyard as an ornament for years, slowly turning into a planter. So a few days ago, I decided to purchase a real, small outboard engine at a local marina. Next day I was ready to head out with my new toy. Eureka! It felt like having my first car, after riding a bike for years. Freedom!
Started out early to avoid the searing afternoon heat. Made it to the boat ramp just fine. Backing up took (quite) a few tries. The boat ramp looks much wider close-up when on foot. (Note to self: Should practice backing up in my driveway — and remember, turning left means the bloody boat turns right!)
Slid the boat off the trailer without any problems — even remembered to tie it up before I parked the car. Tried to lower the motor into the water. Where on earth was that little gizmo Tom showed me at the marina that I had to pull out first? Ten minutes later — oh, this one! (Note to self: Things look different when viewed standing on land behind the boat.)
Then tried to start the motor. Pump … Choke … Pull … Again. Took a few pulls (Why did it only take ONE at the marina?) And then the motor stopped. Again — see above — nothing, just a few sputters. Ten minutes later — Success! (Note to self: Do NOT stand on the gas supply hose while trying to start the motor!) [Read more...]
(EDITOR'S NOTE: The Wave normally does not publish promotional press releases from afar, but this one caught our eye as exceptional. We congratulate Lisa McPherson on her successful and growing Eastern Shore start-up.)
By LILLY McGEE
July 12, 2014
Blue Skye Lavender, a 13.7-acre lavender farm near Modest Town in Accomack County, is featured in a nine-page spread in the current edition of Martha Stewart Living. Founded by Lisa McPherson in 2008, Blue Skye Lavender caught the attention of the magazine in 2013, and a camera crew spent two days on the farm last June capturing its natural beauty and the 1,200 lavender plants that dominate the farm's landscape.
McPherson uses the lavender she grows to produce elegant confections and bath products. She distributes her products in North Street Market in Onancock and in the Washington DC area.
The business started as a series of happy accidents. "Six years ago, I wanted to plant some lavender to deter deer from eating my plants and trees, so I ordered 300 lavender plants from a West Coast nursery. They sent 3,000 plants by accident, so my daughter and I rounded up some friends and got to work," McPherson said.
The Shore's wind and sun were hard on McPherson's fair skin, so she mixed lavender extract with sugar and created a soothing skin balm. "One day, I noticed my daughter spooning this lavender skin balm out of the jar and eating it," said McPherson. "I just about fell out of my chair. Then I started thinking about it and realized that lavender might be a nice accent in candy, so I started making nut brittle with a lavender accent." [Read more...]
By ANDY ZAHN
July 12, 2014
All fishermen are liars . . . except you and me — and sometimes I have my doubts about you!
There is a small lake at Fort Lewis, Washington, and it is in the artillery impact range where often they fire 105 mm Howitzers, so the area is off limits five days a week. On Saturdays my Captain, my Sergeant, and myself would go there to catch the beautiful Rainbow Trout living there in large numbers. I would dig a worm, put it on my hook, cast, and in short order reel in a nice fish.
The Captain would ask what I was using for bait and he would say worms are no good. "Use some of my salmon eggs." I would dig another worm and catch a fish. Each time I caught a fish he moved to my spot, but no matter, I continued to catch fish.
The limit was 15 and when I had enough I left to meet my girlfriend who was in the Air Force and then go to where they had fireplaces and tables and enjoy the elegant feast. When I left the lake the Captain was still using salmon eggs and had not caught a fish.
The Captain was also a game warden on the Fort, and I went with him to a club on the base for hunters and fishermen. Above the bar they had the head of a mounted "Jack-A-Lope," which is a cross between a jack rabbit and an antelope: very rare!
That girlfriend became my wife, and 56 years, four sons, and 12 grandkids later here we are in Melfa. [Read more...]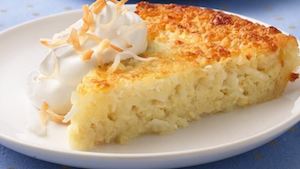 July 12, 2014
At the Wave's request, longtime Monroe Avenue residents Dolores and Stefanie Somers are sharing a recipe known as "Impossibly Easy Coconut Pie." Dolores says the recipe was popularized by Bisquick, but no matter — it really is the best coconut pie ever!
 Impossibly Easy Coconut Pie
2 cups milk
¾ cup sugar
½ cup Bisquick
¼ cup butter or margarine, softened
4 eggs
1 ½ tsp vanilla
1 cup coconut flakes
Lightly grease pie pan.
Mix all ingredients except coconut flakes in blender or food processor.
Stir in coconut flakes.
Pour into pie pan and bake 50-55 minutes at 350 degrees.
No need for a pie crust — the pie forms its own crust!
July 9, 2014
(EDITOR'S NOTE: The following letter from "Citizens for Open Government" was read to the Northampton County Board of Supervisors at their meeting last night. The Supervisors subsequently agreed to hold a joint work session with the County Planning Commission to hear testimony and evidence on whether to retain protections of the Chesapeake Bay Act on the seaside.) 
Dear Chairman LeMond and Members of the Northampton County Board of Supervisors:
After the March 11, 2014, joint meeting of the Northampton County Board of Supervisors and the Northampton County Planning Commission, the BOS imposed a 100-day time limit for the Planning Commission to make recommendations on the 150-page complete revision of the Northampton County Zoning Ordinance. Citing Virginia Code 15.2-2285(b), County Administrator Katie Nunez at that time announced that failure of the Planning Commisision to finish their review of the complete revision of the zoning ordinance within the 100-day time limit would allow the BOS to adopt the proposed zoning ordinance as written, and would also allow the BOS to consider the lack of a recommendation as an endorsement for approval by the Planning Commission.
Unfortunately, but as predicted by many who were observing this process, the Planning Commission was unable to finish its review of the revised zoning ordinance by the May 31, 2014, deadline, and was only able to make recommendations on about one half of the 150-page document. Indeed, some of the most important and profound suggested changes to the current zoning ordinance were not addressed by the Planning Commission, and yet the BOS did not recommend remanding the unfinished portion of the proposed zoning ordinance to the Planning Commission to resume their review. This denial of allowing the Planning Commission to resume their review of these changes poses to profoundly affect the future of Northampton County. This failure by the BOS runs counter to the interest of the public and those hundreds of citizens who have voiced their opposition to the proposed zoning revisions.
At the July meeting to of the Planning Commission, the work on amending the current Comprehensive Plan resumed, as they were not asked to continue their review of the proposed zoning ordinance revisions. During deliberations last week, they addressed the language in the current 2009 Comprehensive Plan which calls for extending the protections of the Chesapeake Bay Preservation Act to the waters of the seaside. At first, it was recommended that the Planning Commission recommend that this language be retained and brought forward into the draft amended Comprehensive Plan. However, discussion among the members turned to a debate as to whether or not there is enough scientific evidence to support either continuing the Cheasapeake Bay Act protections to the seaside or to let those protections lapse. After lengthy discussion, it was decided that the Planning Commission needed to call in experts in this field, and it was finally agreed that Art Schwarzchild, a well-respected marine scientist from Willis Wharf who has studied this issue in depth, should be invited to present evidence and input from his peers to help the Planning Commission in their deliberations. [Read more...]
By MARY MILLER
Citizens for a
Better Eastern Shore
July 7, 2014
Counties around the state are finishing up their budgets for the next fiscal year. This is the time of year we can easily see where our county's tax dollars are going – and take a look at similar expenses for the counties around us.
This year, and not for the first time, Northampton County wins the spendthrift award. Compared to Accomack County, and compared also to several eastern Virginia counties with similar populations, Northampton spends more per person for county administration, public safety and debt service, and provides more education dollars per student than most of the others. Northampton also tops the list in per-person local tax revenue collected.
When comparing expenses of the two Eastern Shore counties with a disparity of population (Accomack's population is about
 three times Northampton's), it's more informative to compare the costs for what are assumed to be similar services on a per-person basis. For instance, Northampton collects almost $1,700 in local tax revenue per person, while Accomack collects about $1,100. Assuming that the actual costs of several locally funded services are similar from one county to the next, it would be logical that the same costs spread over a larger population would make the services less costly per person. All things being equal, one might assume that the total costs for many services in Accomack could be as much as three times as much as in Northampton, which has one-third the number of residents. [Read more...]
By GEORGE SOUTHERN
Cape Charles Wave
June 30, 2014
In August 2012 the Washington Post sent travel writer Becky Krystal to the Eastern Shore, where she discovered then newly opened Hotel Cape Charles, as well as Brown Dog Ice Cream, and gushed over both of them. Two years later the Post has discovered the Eastern Shore all over again, this time through the person of Andrea Sachs, who appears not to have read the yellowed clippings of her colleague's story.
Ms. Sachs' upbeat account in this past weekend's Post will no doubt bring even more tourists our way – especially those looking for something new and different. She writes:
Travelers familiar with the extrovert to the north, Maryland's Eastern Shore, will be surprised by Virginia's subdued and understated character. Maryland is the lazy man's summer retreat: Simply follow the dancing crabs to your stretch of sand or pot of seafood. Virginia's section is more mysterious and challenging. You have to work for your water views, your beaches and your summer requisites.
That's the first hint that this travel story will be different. The second comes when Sachs, overnighting at the Exmore Holiday Inn, asks a question. As she tells it:
On the drive to my Exmore hotel, I'd passed a sign for Silver Beach, imagining a sparkling strand with sand spun of the precious metal. When I asked a Holiday Inn employee for information about it, she had none. Instead, she directed me north to Chincoteague (done it, and didn't want to repeat it) or south to Cape Charles (on the itinerary).
Imagine – a travel writer who purposely skips Chincoteague! Instead, Sachs highlights the following: [Read more...]
By WAYNE CREED
June 30, 2014
A few years ago, when my work was based near Oceana Naval Air Station, one of my guilty pleasures was to sneak over to the Virginia Aquarium during lunch and hang out by the loggerhead turtle exhibit. Light and graceful swimmers, those blithe movements belie the power and strength held in their huge heads and jaws which are easily able to crush right through a conk shell. Another guilty pleasure is being able to treat my wife to some sort of pampering from the wonderful Breezes Day Spa in Cape Charles. Recently, these two guilty pleasures sort of came together to help shed light on a scientific mystery that had been plaguing marine biologists for some time.
After Loggerhead sea turtles hatch, they begin a frantic race off the beach into the surf. Once into the sea, the hatchlings start a journey that lasts several years, and when it's finished, leaves them across the Atlantic near the Canary Islands. How they get there, however, has always remained a mystery. The time between hatching and rediscovery has always been referred to as the turtle's "lost years."
For some time now, marine scientists at NOAA have been using satellite tracking devices to monitor the travels of adult turtles. The transmitters are glued to the shell, and location data is beamed back and captured. This worked fine for adults, but young turtles grow so quickly that their shells shed whatever scientists tried to use to attach the transmitters. It was here that a professional spa technician, like those working at Breezes, provided a breakthrough.
Marisol Marrero, who is a nail salon technician at Not Just Nails in Boynton Beach, Florida, had a customer, Jeanette Wyneken of Florida Atlantic University, who was also part of NOAA's Southeast Fisheries Science Center study tracking loggerheads. While getting her nails done, Wyneken was reflecting on the problem of getting the transmitters to stick to the baby turtles' shells, which she mentioned are made out of a protein called keratin, the same material as fingernails. Ms. Marrero suggested that they try a similar technique that the salons used for attaching artificial nails: try using an acrylic base coat. Wyneken took the suggestion back to the lab and tried it. It worked. This serendipitous trip to the salon has helped to finally shed new light on sea turtles' "lost years."