By DORIE SOUTHERN
Cape Charles Wave
July 21, 2014
There's a limited supply of groundwater in the Cape Charles vicinity, and the town needs to prepare to deal with saltwater intrusion now. That's according to Elaine Meil of the Accomack-Northampton County Planning District Commission, who addressed the Cape Charles Planning Commission June 30. Meil said the problem is still a few years away, but that the town needs to begin planning for it.
According to groundwater modeling done by the United States Geological Survey, "saltwater intrusion can be expected in town wells over time and the town should be aware of this problem," Meil said, adding that:
Groundwater studies have shown limited groundwater in the Cape Charles vicinity. This is a natural feature of the area.
The Eastern Shore of Virginia Ground Water Committee works extensively on groundwater issues and they have funded the USGS to develop a groundwater model. This model is the best source of information regarding changes to groundwater in the Cape Charles area.
Long term, the Town may need to change water treatment technologies or obtain water from the Eastville area of Northampton County or possibly from the southern tip.
Town staff has applied to renew the 10-year DEQ (Department of Environmental Quality) Groundwater Withdrawal Permit at 68 million gallons per year, a reduction from 252 million gallons per year. The current use is just under 40 million gallons per year, Meil noted. [Read more...]
A CAPE CHARLES WAVE EDITORIAL
July 21, 2014
How many more people have to die, how many more vehicles must be destroyed, how many more close calls must there be before VDOT awakes to the deadly danger of Route 13 north and south of the Cape Charles traffic light? If Route 13 is Virginia's most dangerous highway, we will nominate the Cape Charles/Cheriton area as the most dangerous patch of it.
The traffic light itself is not the problem so much as the multiple turnoffs mostly south of the light. Two of our neighbors had their cars totaled in the past few years — one trying to cross the highway to get to the Corner Mart, the other a victim of someone pulling out from McDonald's directly in front of her.
Last week we saw something new and scary: a full-size charter bus leaving McDonald's was trying to turn left onto Route 13. Judging by the line of cars behind the bus, the driver had to wait a long time for a break in the traffic.
Why does the speed limit drop to 45 mph on the bypass around Exmore but not in the Cape Charles/Cheriton area? The danger here is arguably worse than in Exmore (which funds their entire Police budget from speeding tickets).
Our most recent heart-stopper (and the inspiration for this editorial) came from waiting in the left-hand lane on 13 to turn onto Stone Road. An 18-wheeler roared past at full speed only a few feet away, violently shaking our stopped van in the jet stream. We were literally "sitting ducks." And as everyone knows, a 55 mph limit means it is your God-given right (and duty) to drive 60 — and this trucker was doing his duty.
At least we were encased in a two-ton van; pity the pedestrian who tries to navigate that death-trap. Earl Wayne Spady was hit by a truck last month while trying to cross Route 13 on foot at night. May he rest in peace. [Read more...]
By WAYNE CREED
July 21, 2014
A few nights ago, plagued by a fit of insomnia, I downloaded a copy of the Cape Charles Planning Commission's June 30 meeting agenda. Hoping the content would induce a much needed sleep, I quietly perused the document. As usual, it was filled with the same vapid and gooey pap that has come to define the Natali-McCoy Planning Commission. There was some talk of promoting a museum for the Chesapeake Bay Impact Crater, but then, buried deep down in the weeds, a discussion of saltwater intrusion, and how it will affect the Town. In a cavalier, dim, nonchalant tone, it states:
The Town has limited groundwater resources. In the future, saltwater intrusion may necessitate the Town update water treatment technologies or possibly obtain water from a different location. 
So, what are they talking about? In a nutshell, saltwater intrusion (high concentrations of total dissolved solids making it unfit for human consumption) is the movement of saline water into freshwater aquifers. Aquifers are saturated geologic materials that yield usable quantities of drinking water to wells. In our case, we rely on the Columbia and Yorktown-Eastover aquifers and there are no other viable economical alternative drinking water sources. The Columbia and Yorktown-Eastover aquifer is considered highly vulnerable to salt water contamination due to the high levels of ground-water pumping from coastal wells (like our Keck wells). As towns like Cape Charles continue to over-develop (large developments such as Bay Creek ), ground-water use increases to the point that these areas become vulnerable to contamination and brings into question the viability of ground-water sustainability.
Well drillers around here can attest to the abundance of bad-tasting ground water in parts of southeastern Virginia– a large body of salt water, known as a salt water wedge has been blamed for undrinkable ground water that extends from the mouth of Chesapeake Bay into the Columbia and Yorktown-Eastover aquifers. For many years, scientists thought the wedge was caused by the incomplete flushing of ancient seawater that had invaded the aquifers during high stands of the sea. Understanding of Virginia's inland saltwater wedge changed in 1993 when David Powars of the U.S. Geological Survey and geologist C. Wylie Poag, while studying the Atlantic Coastal Plain made an important discovery. Deep sedimentary cores identified a large impact crater formed by a meteorite near what is now the mouth of Chesapeake Bay ( three times larger than any other U.S. crater and the sixth largest crater known on Earth). [Read more...]
CAPE CHARLES WAVE
July 17, 2014
(Updated to include statement by Mayor Proto)
Cape Charles Town Manager Heather Arcos has revealed that she is resigning from her position effective in September. Arcos reportedly plans to work with her father, Steve McCready, one of the owners of Northampton Growers in Cheriton. She is a single mother, and has told friends that she wants to spend more time with her 12-year-old son.
Arcos was a protégé of former Mayor Dora Sullivan, who stepped down June 30 after eight years in office. Both Sullivan and Arcos earlier worked as office clerks at Town Hall, with Sullivan becoming a member of Town Council and then mayor, while Arcos worked her way up to become town manager. [Read more...]
By BILL NEVILLE
Cape Charles Historical Society
July 17, 2014
Friday, July 18, at the Town Harbor the symbolic return of a piece of Cape Charles railroad history will occur. An early 1900s yacht will enter the harbor displaying on deck a 20-foot-long name board with the word "Pennsylvania."
These boards were attached to the side of the pilot houses on the old Pennsylvania Railroad barges that have been a part of the harbor scene in Cape Charles since the 1880s.
The name board will be crossing the bay on the yacht Mar-Sue following the early route of the barges from Port Norfolk on the Elizabeth River to the harbor in Cape Charles. The event was made possible when Cape Charles Historical Society member and railroad enthusiast Jim Curtin of Chesapeake offered this piece of history, which has been in his possession for decades, to the society last March. [Read more...]
By GEORGE SOUTHERN
Cape Charles Wave
July 14, 2014
The Old School in Central Park was valued on the tax rolls at $921,000 when the Town of Cape Charles sold it for $10 in December 2012 to a developer.  J. David McCormack promised to invest over $2 million to convert the school into a 17-unit apartment building, and town officials saw dollar signs in increased property tax.
But after taking ownership of the building, McCormack informed County officials that while he still plans to spend $2 million, he nevertheless estimates the ultimate value of the school and property to be as low as $750,000.  McCormack made that statement in an appeal to Northampton County to lower his tax assessment, and the county complied.
The 2013 county-wide reassessment dropped the school property from $921,000 to $510,900. But McCormack argued that the value should be much less. He noted that the basketball court was valued at $8,000, but pointed out that "the basketball hoops have been dismantled by the Town of Cape Charles, and the courts are no longer in use." (The Wave reported in December 2012 that after the town sold the school property, it removed the basketball hoops at town expense, even though the hoops no longer belonged to the town.)
McCormack claimed that due to the removal of the hoops the court should have a value of zero, but the county would not go that far. It did, however, drop the assessed court value from $8,000 down to $2,500. [Read more...]
July 14, 2014
(EDITOR'S NOTE: Cape Charles Historical Society has for more than a decade been recording oral histories of the area's earlier days.  A grant from the Virginia Foundation for the Humanities enabled 15 interviews to be transcribed, and the Historical Society has made this one available for readers of the Wave.  All the transcriptions may be read at the Cape Charles Museum. CLICK to read previous oral histories in the Wave.)
1990 Interview of Virginia Fitzhugh conducted by Virginia Savage
PART FOUR
VIRGINIA FITZHUGH: When we lived on Randolph Avenue, Miss Lina Taylor lived across the street from us. And when Daddy built [on Tazewell and Pine] down there, she said that town was so lonesome up there that her neighbors had moved, she bought a piece of property and built on Monroe Avenue.
VIRGINIA SAVAGE: I love that house. And she would be pleased to know that the stairwell is back in it and it's no longer two stories. Did she have a family?
She had Gordon Ames and Winton. Now, Gordon, you remember Cary Ames? Well, that was one of Miss Taylor's sister.  See that double house in back of us, Miss Taylor built. She sold that house to Dixon, that's on the corner where the B&B is now. Mr. Dixon was a painter, paper hanger.
Now that's always been referred to as the Dixon house. He's the one that turned it into two apartments then.
That's right.
Because when I first came over to the shore, you had to go up a back staircase to get to Bond Disharoon's apartment.
And Miss Taylor built that big, brick double house in back of ours, where Ruby Bull lived; they lived there for years. That's right, the Schrecks were living in one part. Then Miss Taylor died and Marie married and went to New York and they sold that house to Ryland Bull. See, Ryland lived up the street in that double house that's across from Ethel May [500 block of Monroe]. And he sold that and bought the double house of Miss Taylor's. Cary Ames was the daughter-in-law. the son was Gordon. He built the house they lived in. [Read more...]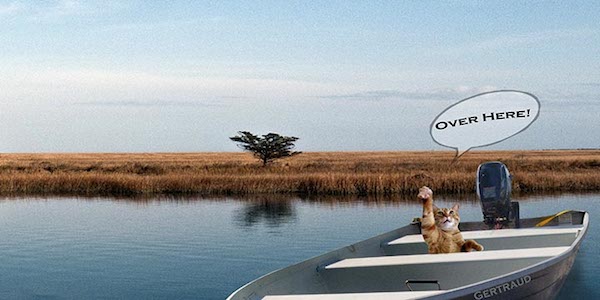 By GERTRAUD FENDLER
July 14, 2014
Living on the Eastern Shore, bounded by water on two sides, makes owning something to float on a necessity. I have this little kayak, a short, round, cute little tub. Not a streamlined kayak, just a little basic kayak. Used it every so often, not too often. After a long, painful trip out to the Barrier Islands a few weeks ago, I realized that my paddling days were not so enjoyable any more.
I also have another boat, a small aluminum rowboat. Has been sitting in my backyard as an ornament for years, slowly turning into a planter. So a few days ago, I decided to purchase a real, small outboard engine at a local marina. Next day I was ready to head out with my new toy. Eureka! It felt like having my first car, after riding a bike for years. Freedom!
Started out early to avoid the searing afternoon heat. Made it to the boat ramp just fine. Backing up took (quite) a few tries. The boat ramp looks much wider close-up when on foot. (Note to self: Should practice backing up in my driveway — and remember, turning left means the bloody boat turns right!)
Slid the boat off the trailer without any problems — even remembered to tie it up before I parked the car. Tried to lower the motor into the water. Where on earth was that little gizmo Tom showed me at the marina that I had to pull out first? Ten minutes later — oh, this one! (Note to self: Things look different when viewed standing on land behind the boat.)
Then tried to start the motor. Pump … Choke … Pull … Again. Took a few pulls (Why did it only take ONE at the marina?) And then the motor stopped. Again — see above — nothing, just a few sputters. Ten minutes later — Success! (Note to self: Do NOT stand on the gas supply hose while trying to start the motor!) [Read more...]