Catherine Kellam, 93, Caterer and Cookbook Author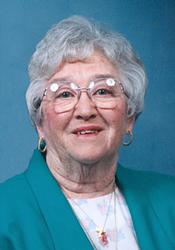 March 6, 2013
Catherine Lavinia Kellam, 93, wife of the late William Matthews Kellam, Sr., and a resident of Cheriton, passed away Tuesday, March 5, at Heritage Hall Healthcare in Nassawadox.
The funeral will be 1 p.m. Tuesday, March 12, at Cheriton United Methodist Church, with the Rev. Patricia Money officiating. Interment will follow in Cape Charles Cemetery.
A native of Exmore, Mrs. Kellam was the daughter of the late Harry Rosser Kellam and the late Ida Lois Killmon Kellam. She was a member of Cheriton United Methodist Church, member and past Worthy Matron of Northampton Chapter #2 Order of the Eastern Star, and will be remembered for the many weddings she catered and as author of a local cookbook, Kitty Caters.
She is survived by two daughters, Barbara Kellam Latham and her husband, Roger, of Cape Charles, Jane Kellam Belote and her husband, Harvey W., of Cape Charles; one son, William Matthews Kellam, Jr., and his wife, Tara, of Fayetteville, PA; six grandchildren, Katherine Latham Brown of Cheriton, Sara M. Latham of London, England, Paige Belote Addison and her husband, Hunt, of Cheriton, Benjamin M. Belote and his wife, Jennifer, of Mechanicsville, Lauren Kellam Muskat and her husband, Steven, of Arlington, Samuel M. Kellam of New York City; six great grandchildren, Mary-Catherine Kellam Addison of Cheriton, Ethan M. Belote of Mechanicsville, Caroline H. Belote of Mechanicsville, Virginia B. Brown of Cheriton, Grayson L. Brown of Cheriton and Mason C. Muskat of Arlington
Memorials may be made to Cheriton United Methodist Church, c/o Jo Ann Heneghan, P.O. Box 297, Cheriton, VA 23316, or to Hospice and Palliative Care of the Eastern Shore, 165 Market Street, Suite #3, Onancock, VA 23417.
Online condolences may be sent to the family at www.doughtyfuneralhome.com
Arrangements are by Wilkins-Doughty Funeral Home in Cape Charles.