The schooner Virginia will be returning to Cape Charles July 2 – July 8. [Read more…]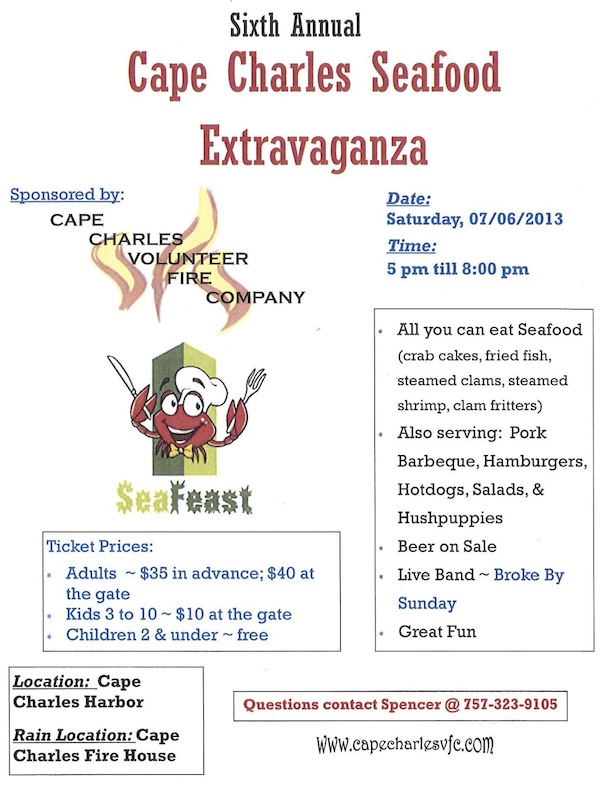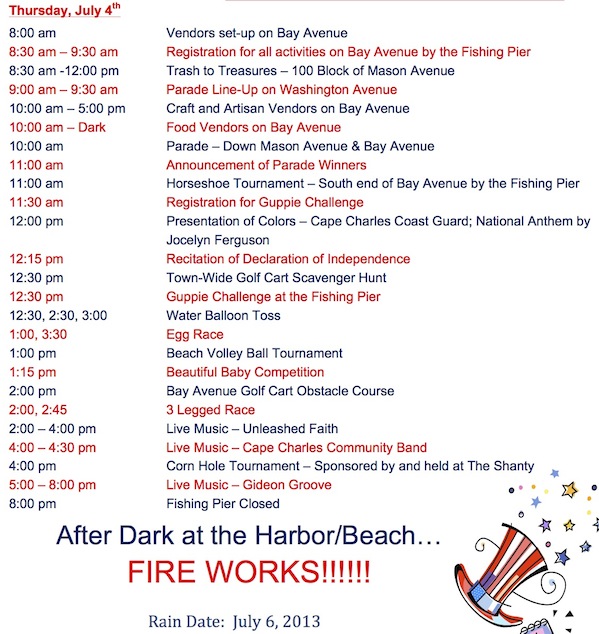 June 28, 2013
Last night as this was being written, Cape Charles Town Council was approving the new budget, including new water/sewer rates.
Even though reassessed property values dropped 35 percent on average, Town Council still felt it was OK to increase our tax bills.
At the County level, elected officials didn't see it that way, and voted a slight tax decrease. But rather than following suit, our Town officials viewed the County tax decrease as justification for raising Town taxes. After all, they told us, your combined County/Town tax bills are likely to be less than last year's.
Yes, and with property values down 35 percent, they certainly should be!
The new budget is further evidence that Town Council doesn't control Town staff – quite the reverse. During the budget planning process, Council instructed staff to produce an "equalized" budget – one that would not require a tax increase.
But Town staff disobeyed orders – as if they had been asked to perform the impossible. And Town Council, like an indulgent parent, gave in. [Read more…]
By DORIE SOUTHERN
Cape Charles Wave
June 27, 213
Cape Charles Town Council meets tonight (Thursday) to approve a budget with the biggest sewer rate increase in Town history. The minimum monthly sewer charge will rise from the current $35.45 to $60.85  – a 72 percent increase.
Town officials plead they have no other option than to drastically increase rates because there just aren't enough users to create efficiencies at the Town's new $19 million wastewater treatment plant.
Assistant Town Manager Bob Panek, who also acted as the Town's chief consultant for construction of the wastewater plant, wants to create efficiencies by pumping in sewage from out of town, beginning with commercial properties on Route 13.
But Panek is ignoring the Town's biggest potential customer – Bayshore Concrete Products. Located only hundreds of yards from the new wastewater treatment plant, Bayshore has never hooked up to Town water or sewer pipes.
Bayshore's treasurer, John Chandler, told the Wave that his company had not given any thought to using Town utilities. When asked whether they would consider it, Chandler said, "There has been no analysis done."
Town residences and businesses generally are required to use Town water and sewerage, and the Bayshore plant is inside Town limits.
The Wave asked Panek why Bayshore had not been compelled to connect to Town utilities. Panek said the reason is because there are no Town water or sewer lines within 100 feet of Bayshore property.
Panek also said that he did not think Bayshore Concrete uses very much water.
A 2007 Town map indicates that Bayshore Concrete had eight wells and five septic tanks at that time.
Research by the Wave reveals that in 2006 the Virginia Department of Environmental Quality (DEQ) fined the Bayshore plant $39,000 for groundwater violations. [Read more…]
Stage Door Gallery, 301 Mason Avenue, invites the pubic to a complimentary wine and cheese reception 6 p.m. Saturday, June 29. [Read more…]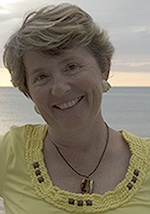 By SHER HOROSKO
Cape Charles Wave
June 26, 2013
I have learned in my life that we will protect fiercely whatever it is we love.
And love takes time. It requires an intimacy that is woven between people and life of all sorts, whether fish or flowers, elusive doodlebugs or old forest trees. What is necessary is this: that we take time to stand still and pay attention to the life around us as if it truly matters.
Because it does.
Here, on Virginia's Eastern shore, life is teeming. Wild turkeys thunder out of the dry thickets of wheat when I walk down the sandy road in the early morning light. A young eagle sits high on the top of a loblolly pine whose center trunk was snapped by a runaway wind. Fastening my gaze on his mustard-colored feet with the curled javelin tips, I think: it may take time for his head to go white but his feet are ready and set.
All day and every day, something big is happening on the Shore. In Red Bank, a frantic mockingbird jumps up and down on the back of a black snake arching and swerving across the road. I reach for my camera but am so mesmerized by the utter bravery of the bird, I miss the shot.
Days later, while wading through the grass at Savage Neck, I spot a blue-colored hornet diving into one of his own kind on a swaying Queen Anne's lace. Is this a petaled battlefield between the boys or a drunken dive into the sweet elixir of spring passion?
Waiting and watching, I'm certain. Hornet perfume must be very strong.
There are people for whom the land and sea are alive. I am one. And though I have been on your Shore for just a month, it is evident to me there are many others who feel the alternatively cool and fiery pulse of life in this place. [Read more…]
The group known as Old School Cape Charles will meet 7 p.m. Thursday, June 27, in the social hall at St. Stephen's AME Church, 511 Jefferson Avenue. The public is encouraged to attend — especially those interested in discussing public property issues and property values in Cape Charles. [Read more…]