DEBORAH BENDER: Why I'm Running for Town Council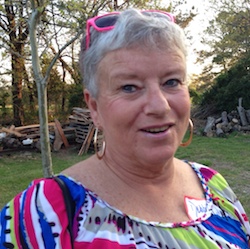 By DEBORAH BENDER
May 1, 2014
I am running for Town Council because I think it is time for a different approach to governance in Cape Charles. I became politically active during the past three years when I felt there was complete disregard by Town Council for my concerns about what happens here. After seeing the way citizens are treated at Council meetings, I decided to run for Town Council. My goal is to have a fiscally responsible, open government where all people are treated equally and fairly.
We have seen Cape Charles in the years of decline and are glad to see it coming back up. But much still needs to be done. I want to work to improve our water quality. Paying for water that you cannot drink is unacceptable. I intend to be a problem-solver, a listener, who is interested in the concerns of all the residents of Cape Charles.
I have lived in the Cape Charles area for 20 years, and in the Town of Cape Charles for the past eight years. My husband, Don, has lived here his whole life.  I operated a very successful dress shop on Mason Avenue, Scarlett's Closet, for three years. I sold my shop just after the birth of my first grandson so that I could care for him when my daughter returned to work.
Regrettably, I feel the need to mention that as a result of my candidacy, my husband and I have been the targets of a smear campaign intended to discredit me. Unable to respond to my call for lower taxes, lower water bills, and lower spending, my enemies have circulated lies about my husband, claiming that he is a gay-basher and a violent, dangerous man. It is sad that anyone could stoop so low as to spread these lies, but perhaps even sadder that some people who don't know my husband seem ready to believe them. First, as I said, my husband Don has lived here all his life, and has never committed a violent act. Second, Don and I have for years had a number of gay friends. They visit us in our home, and we are completely accepting of each other. We recognize that this is a diverse community and a diverse world, and we are comfortable with that.
CONTINUED FROM FIRST PAGE
I hope that anyone who has heard or read about the smear campaign will ask themselves why this has surfaced in the last weeks of my election campaign, when no such allegations were ever made over the past half-century my husband has lived here. If anyone would like to discuss this issue with me, please call me at 757-331-2806. I welcome the opportunity to clear the air.
In closing, I urge voters to focus on the real issues of the campaign. If you believe that your water bills are too high, your town taxes are too high, and town spending is too high, vote for Deborah Bender – because I share your concerns.
The Wave is providing every candidate in the May 6 elections the opportunity to answer the question "Why I'm Running."
CLICK for Frank Wendell
CLICK for David Gay
CLICK for George Proto