DAVID GAY: Why I'm Running for Town Council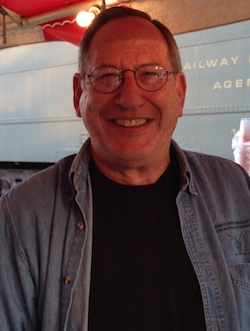 By DAVID GAY
May 2, 2014
I'm a full-time Cape Charles resident and live in the historic district with my wife Karen.  We chose Cape Charles as our retirement home because of the warm and friendly people, proximity to the bay and the charm of the historic district. We appreciate those, who like us, took a chance on Cape Charles.
I retired last year from Holcim, Ltd., an international building materials manufacturer where I served on the executive committee for their US subsidiary (Aggregate Industries). I have held senior management positions at Holcim, General Electric, and Fannie Mae with extensive experience in consensus building, cost reduction, and service improvement. I bring a business oriented approach to town government.
I hold a BA degree from Lynchburg College and attended business development programs at the Harvard Business School and Cornell University.
I am a member of the Cape Charles Historic District Review Board and served as the Chairman of the Historic District Review Board in 2013.
I am running for Town Council to promote Open Government, Efficient Management & Fiscal Responsibility and to acquire Emergency Medical Services.
Open Government
Cape Charles is a great town with many points of view. We all want the best for our town and no one should be left out of the decision making process.  I believe it is the job of government to serve all the people. To ensure that when major issues are under consideration all sides have a chance to provide input and that this input is openly discussed and considered by the Town Council before voting on a resolution. I don't believe the current administration has embraced real dialogue with the citizens of Cape Charles and this has led to the unrest in town. We can change this dynamic by holding quarterly Town Hall Meetings and running citizen friendly Town Council Meetings.
Fiscal Responsibility
Town spending is growing beyond our means. According to the 2000 and 2010 US Census our population is decreasing. Former residents say they left town because of double taxation, high water and sewage fees; and other residents, concerned with rising costs, are considering leaving as well.
CONTINUED FROM FIRST PAGE
To cover the revenue shortfall brought on by expanding government, Council has resorted to borrowing, resulting in over 11 million dollars of debt.  If this trend continues, it is only logical that taxes and fees will increase.  Do you want to give away more of your hard earned money to fund Town Hall?
The Council should not sell town assets below market and purchase new property above market. A return on investment analysis should precede any capital expenditure or asset purchase. This is what any business owner in town would do if they wanted to remain in business.
Government should serve the people … not the other way around
The Town should not spend our money frivolously. Town Management should propose a budget that does not require borrowing or tax increases. They should provide clean water and a properly working sewage system for the high fees we already pay.
Efficient Town Management
Town Management should provide a justification for each town position; all jobs should have clear performance criteria; and employees should be measured and compensated fairly.
Emergency Medical Services
I have heard the feeble responses of our government officials who point fingers at each other trying to deflect the blame for losing our hospital to Accomack County and I don't think going down that road again will generate any positive results.
It is obvious that the County doesn't care about its citizens in the southern part of the county and it is not a high priority for the current town council. If it were we would already have a plan in place and raised some money to get Emergency Care since we knew the hospital was going away at least 2 years ago.
What I propose is that we take the matter into our own hands and establish a 501c3 organization to immediately begin fund raising to create an Emergency Health Services function.  Using those funds and any others that we may obtain from state, federal or private parties we will have the resources to negotiate with an Emergency Health Care provider and obtain these services in our lifetime.
As your Representative, I will work for you on these key issues:
Acquire Emergency Medical Services 
Lower taxes, sewage & water fees
Create an Economic Development Team to streamline regulations and solicit new residential and business prospects
Make our Government more efficient and less costly
Fix our Sewage & Water System Problems
If you want to see these positive changes in our town, vote for me for Town Council. Thank you for your support.
The Wave is providing every candidate in the May 6 elections the opportunity to answer the question "Why I'm Running."
CLICK for Frank Wendell
CLICK for Deborah Bender
CLICK for George Proto