Cape Charles New Roots Youth Garden Club's Thursday session is August 7 at 5 p.m. Youngsters of all ages and their parents are welcomed to learn about gardening and play exercising games at Randolph Avenue and Fig Street, next to Rayfield's Pharmacy. [Read more…]
July 29, 2014
(EDITOR'S NOTE: The following letter was sent by the Riale family of Port Penn, Delaware, in appreciation for the service provided by local law enforcement, fire, and other first responders to the tornado at Cherrystone Campground.)
I am writing this letter in regard to the responses that were made in regard to the EF 1 tornado that struck Cherrystone Campground on the morning of July 24, 2014. My parents and my kids and I were camping there that morning when the tragic storm struck the grounds.
Just a little background on my family: my father has been in the fire service since 1964 and is a Past Fire Chief, and I have been in the service since 1994 and currently serve as my department's Assistant Chief, and I am a Delaware State Police Dispatcher.
Once the storm started to lift that morning we made sure that my mother and kids were okay, and then my father, my son, and I started checking campsite to campsite for injured people. Within minutes we could hear the sirens of the responding units coming. We first were contacted by a Cape Charles police officer to join in the site checks. He informed us that the next streets over they were getting reports of worse things, so we ran over to that area.
While on the way a mother stated that her 11 year old was missing. Just a couple minutes later we found that girl walking down the street and the officer took her back to her parents. We continued onto the street worse hit and noticed campers removing a young boy from a tent site with a tree over it. We met up with a couple firemen from Cape Charles Fire Company that were assessing two more young girls who were lying next to their deceased parents.
The firemen acted quickly in making backboards out of the tops of picnic tables. My father and I assisted in loading and transporting the one young girl out to a waiting ambulance from the Exmore Fire Company. By the time we did that there were so many police units, ambulances, and fire units on the scene that me and my father's attention went back to our own family.
In all of our experiences in the fire service I have never seen such organization of a disaster and the willingness to work together for the common good. The Cape Charles Officer, Cape Charles Fire, Virginia State Police, or the Northampton Sheriff's Officers, never once said get away, we got this, etc. They all asked what we had, what we needed, and asked how they could help. We watched the command structure that was there that day organize site by site searches with no problems. For such a rural area compared to where I work and am from, the responses from these agencies were very fast, efficient, and bar none the very best I have ever seen in such a disaster. [Read more…]
By DORIE SOUTHERN
Cape Charles Wave
July 28, 2014
When Pat Parsons left home 59 years ago to attend Radford College, Cape Charles was far different from now: a bustling railroad town with a ferry connecting to Norfolk. Now Parsons has nearly completed a book of memories of those bygone days.
During breakfast earlier this year at the Cape Charles Coffee House, Parsons mentioned to proprietor Roberta Romeo that she was writing vignettes of growing up in Cape Charles in order to share her memories with her grandchildren. At Romeo's urging, Parsons read one of her stories to her. Recognizing a talented writer, Romeo immediately urged her to publish a book, and promised to sell the book at the Coffee House. And so it soon will be.
The Cape Charles that Parsons writes about in the 1950s was the hub of commerce for Northampton County. Schools were segregated, with white children attending the big old school at Central Park while African-American children crossed the hump to Cape Charles Elementary, now often called the Rosenwald School.
Schools and churches were central to the life of the town, and folks came from all over the Eastern Shore to shop in Cape Charles. There were grocery stores, clothing stores, and a business district filled with bustling shops.
(Story continues following excerpt below)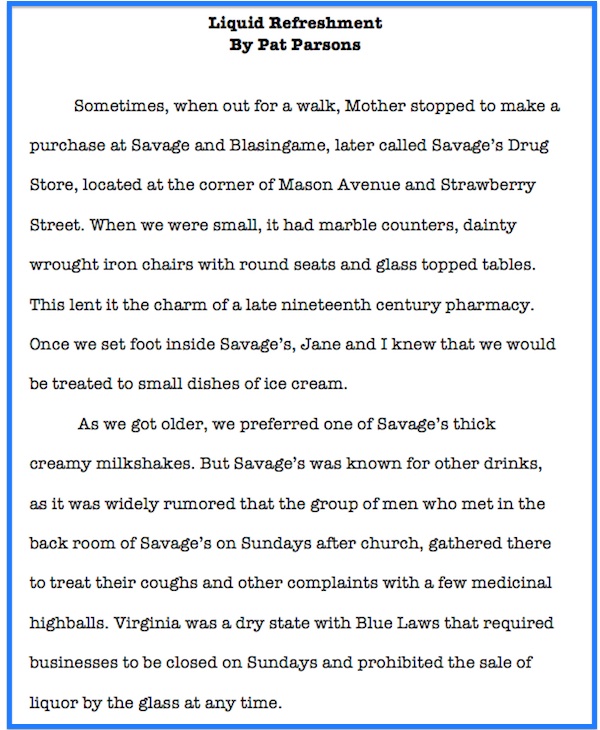 [Read more…]
By KEN DUFTY
July 28, 2014
Thank you to the Cape Charles Wave for keeping us all ahead ot the curve regarding the zoning dispute in Northampton County. The complete rezoning of the county into a what several developers hope to be a Disney-like resort retirement destination deserves to be scrutinized, and readers are well-served by the Wave's reporting.
The million dollar question of who is the "man behind the curtain" orchestrating the plan to completely rezone Northampton County into an industrial, commercial, and resort-style mecca looms ominously heavy on the horizon. And the Board of Supervisors' "we need to be business friendly" mantra makes us wonder what businesses our protective Comprehensive Plan drove out of the county, and prompts us to wonder what it would be like if the curtain of resource and environmental protection was drawn fully open.
In our quest to answer these questions, we had to do a little digging. And we unearthed a plan in 1992 by PEMSCO to bring 60,000 tons/month of contaminated soil to a 65 acre tract in Cheriton, formerly home of the KMC Food Processing Plant. There the petroleum-soaked soil would be "cleansed" by incineration and "biological processes" so that it could be spread throughout Northampton County and beyond, used in landscaping and road building. But because it required a Special Use Permit, county residents had the chance to learn about it, research it, and oppose it en masse for obvious reasons. It was defeated.
But under the new "business friendly" zoning crafted by Economic Development Director Charles McSwain, this type of use will be allowed "by right" in any agricultural zone. The public will not be notified and no public hearings will be necessary.
In the same year, it was discovered that a local industrial contractor was importing and remediating "contaminated soil" and adding it to his asphalt product, using it in repaving and road projects. Again, once the act was discovered, it was deemed a violation of the county zoning ordinance, and the zoning department issued a "cease and desist" order, giving the owner 90 days to meet "binding contracts" already in place.
Again, under the proposed "business friendly" zoning ordinance, this process would be allowed "by right," and residents would not know what was happening until they smelled the stinking fumes from the incinerators. [Read more…]
By ANGELLE BARBAZON
July 28, 2014
Beginning Friday, August 1, artists from around the world will get a dose of small town America. And small town America (in the form of Cape Charles) will get a dose of global art. The Harbor for the Arts Festival will not only host dancers, musicians, actors, puppeteers and visual artists from around the world, but create an environment for those artists and the community to truly engage with art and each other. The event runs August 1-17, offering free, live art and performances scheduled throughout.
August 8-10, and August 15-17 will be especially art-soaked weekends, filled with concerts, exhibitions, performances for children, and even yoga in the park.
The festival's line-up includes artists from London, Canada, Hong Kong, Lebanon, Ghana, Italy, and Sweden, among other places. The five workshops will feature Experimental Film Virginia, Gaga Movement Language, Interactive Sonic Arts, Techniques in Charcoal and Improv/Sketch Comedy. [Read more…]
By JOE VACCARO
American Legion Post 56 Commander
July 28, 2014
On March 4, 1865, President Abraham Lincoln gave his second inaugural address to a war-torn nation that was filled with anger, angst, and uncertainty. Lincoln understood it was the people fighting the Civil War who shouldered the burden for the nation. So he elegantly spoke about the need "to care for him who shall have borne the battle and for his widow, and his orphan." However, those immortal words that were spoken 149 years ago seem to have fallen on deaf ears in America.
We live in a time where the unemployment rate of our veterans still outpaces their civilian counterparts by three to five points and it's about to get worse with significant military drawdowns. Another startling fact is that one-third of the adult homeless populations are veterans, and over 70 percent of them have some type of substance abuse issues.
The early recruiting promises and contracts regarding medical, dental, and retirement pensions have also fallen into the abyss. The majority of the broken expectations are due to politically oriented budget-cutting on both sides and elected officials who have little understanding of veterans' issues since the majority of them never served in the military.
Promises of care for veterans have been around for centuries: in 1776 the Continental Congress encouraged enlistments by providing pensions to disabled soldiers, and some states and communities actually made individual pacts to care for their returning veterans. In 1812 the federal government authorized its first medical facility for veterans that eventually evolved into the establishment of the Veterans Administration in 1930 when Congress authorized President Herbert Hoover to "consolidate and coordinate government activities affecting war veterans."
The VA has been effective in dealing with some veterans' needs and extremely deficient in other cases as the media bears witness in Arizona. However, the Eastern Shore has a ray of hope that comes in the form of two very hard-working ladies named Wendy Ainsworth and Jamie LeCates-Brown. Ainsworth is the Veterans Service Representative and Manager for the Accomack Field Office, and Lecates-Brown is her administrator. [Read more…]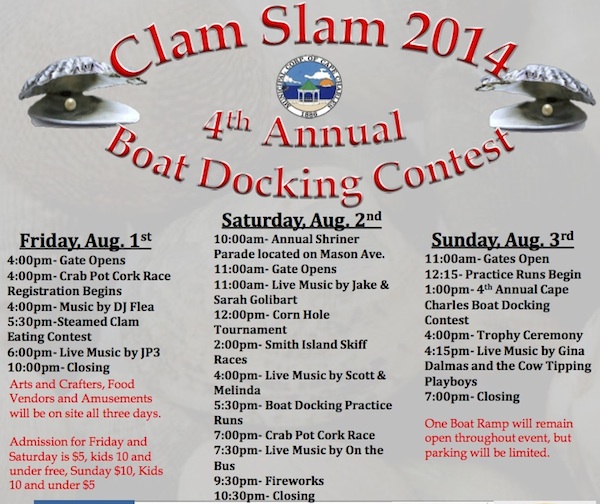 July 26, 2014
A fund for the three children of the couple who died in the tornado at Cherrystone Campground has been set up at PNC Bank.
All monies contributed will be distributed to the court-appointed legal guardian of the children.
Organizers hope that Shore residents will pull together and help these kids who have lost their parents.
Mail checks to:
Balatbat-Ortega Children's Fund
PNC Bank
PO Box 623
Onley, VA 23418
Checks may also be hand delivered to the PNC bank in Onley.