Harold Goffigon, 95, Cape Charles Native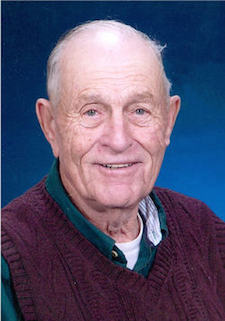 November 12, 2014
Harold Thomas Goffigon, 95, husband of Jewell Hallett Goffigon and a resident of Roanoke Rapids, NC, formerly of Cheriton, passed away Wednesday, November 12, at Bayberry Retirement Inn in Roanoke Rapids. A graveside service will be held 11 a.m. Saturday, November 15, at Cape Charles Cemetery with Rev. Elizabeth Lutz officiating.
Mr. Goffigon was born November 9, 1919, in Cape Charles, the eldest son of William John Goffigon and Madge Wilkins Goffigon. An WW II Army veteran, he served in France and Germany. For 17 years he worked as a mechanic for VEPCO in Hampton. At age 38, he came home to the Eastern Shore to begin his farming career. He raised primarily potatoes, but soybeans, grain, tomatoes, and strawberries as well. He was a lifelong member of Cheriton Baptist Church. He is survived by his daughter Ruby Kay Goffigon Ricks and son-in-law James Wesley Ricks of Roanoke Rapids, NC, and his sister, Esther Goffigon Maxey of Hopewell, grandsons Ryan Thomas Ricks of Wilmington, NC, and William Blake Ricks of Roanoke Rapids. In addition to his wife of 56 years, he was predeceased by two sisters, Ann Goffigon Brewbaker and Margueritte Goffigon Jennings, and two brothers, Eugene Kay Goffigon, and Franklin Nathaniel Goffigon.
Harold loved his family and his roots on the Eastern Shore. His love of Eastern Shore genealogy was shared with all who knew him. He reached the hallmark of 95 years well lived. His family wishes to thank all of his caregivers for their tender loving care during his final days: Abbie, Lois, Rita, Nancy, Lou, CeeCee, and Lucille. The family expresses a special note of sincere gratitude to the wonderful staff and residents of The Bayberry for their nurturing care and many acts of kindness.
Memorial contributions may be made to Cape Charles Rescue Services, P. O. Box 3009, Cheriton, Virginia 23316. Online condolences may be sent to the family at doughtyfuneralhome.com.
Arrangements are by Wilkins-Doughty Funeral Home, Cape Charles.