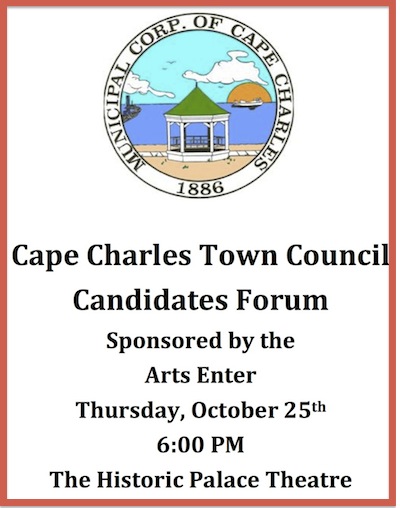 HOW THE WAVE SEES IT
November 1, 2012
The flier on the right was produced by Town of Cape Charles staff and distributed through the official Town Gazette.
It advertises last week's Candidates Forum, sponsored, so it claims, by Arts Enter.
The flier is a falsehood. Arts Enter did not sponsor the forum — town staff, in their official capacity, did.
This should be of deep concern to every resident of Cape Charles, regardless of political viewpoint.
Town staff apparently realized the impropriety of conducting a political event, and so claimed that an independent organization, Arts Enter, was in charge.
But Arts Enter's sole involvement was to allow the Palace Theatre to be the venue.
If our town staff were federal employees, under the Hatch Act they would be liable for prosecution for engaging in political activities while on duty.
The Hatch Act also extends to municipal employees who have oversight of federal grant funds.
The fact that both candidates participated in the town-sponsored forum does not lessen the seriousness of the impropriety. Town staff had the opportunity to manipulate the event however they felt might benefit their favored candidate.
Town staff required questions from the audience to be in written form, including the name and address of the questioner.
The assistant town manager then "screened the questions for appropriateness."
This same "screener" displays in his yard a sign for candidate Steve Bennett. It was clear to a number of observers by the way he shuffled through the cards that he was not submitting questions at random.
Town staff determined that Steve Bennett would have the first opening statement and the last closing statement.
This is not the first time that town staff have attempted to manipulate an election. Our town manager and assistant town manager actively schemed to influence the previous Town Council election in May — when Steve Bennett was also a candidate. [Read more…]