Saturday Service for Eunice Betsy Brown, 1924-2012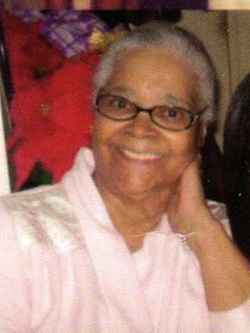 A Celebration of Life service for Eunice Betsy Brown will be held 12 noon Saturday, October 13, at First Baptist Church, Capeville, with  the Rev. Kelvin F. Jones officiating.
Internment will be at Cape Charles Community Cemetery. Arrangements are by Gray's Funeral Home, Cape Charles.
Mrs. Brown passed away October 4 at her home in Greenbackville. She was born in Cedar Grove on November 28, 1924.
She is survived by her husband of 55 years, John Willie Brown; three children, Larry Wayne Corney of Stamford, CT, Faye Eulonda Perry of Atlanta, GA, and Ray Lynwood Brown of Miami, FL; 15 grandchildren; 14 great-grandchildren; 2 sisters-in law; 3 God-children; and many nieces, nephews, cousins, and friends.
She was predeceased by a son, John "Doodie Bug" Corney; siblings John "Jack" Rogers, Cordelia "Sis, Big Mama" Smith, Florence "Nick" Smith Gibson, Jannie "Sock" Smith, Ossion "Smitty" Smith, Eddie "Jake" Smith, Sabor "Nookie" Tolliver, and George "Jimmy" Smith Sr.
Mrs. Brown at an early age attended First Baptist Church, Capeville. She later served as a deaconess for nine years at Community Baptist Church in New Canaan, CT, and at Tabernacle Baptist Church for 14 years as President of the Deaconess board, member of the Pastor's Aide Choir, and Mother of the Church.