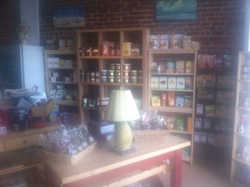 By TED WARNER
Cape Charles Wave
April 8, 2013
A little more than a year ago, shortly after having received the job offer that would ultimately bring me to Cape Charles, I decided to spend a day driving around the Eastern Shore — to see if could imagine, one day, calling this peninsula my home. I didn't know what I was looking for. So it was hard to find.
But turning off the highway, just past the Food Lion, I made my way into Cape Charles and drove slowly, sizing everything up.
The first store that I stopped at was Gull Hummock.
"What is a 'gull hummock'?" one wonders.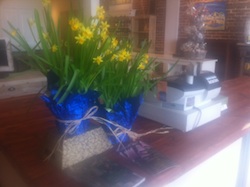 A hummock is small mound of earth and, while their formation is its own geological story, whenever you are looking at very lumpy terrain, you can say: "Look at all 'em hummocks." Now imagine a colony of seagulls alighting on a hummock. It was a busy day for the seagull and now he just wants a nice place to pause for some friendly chit chat and maybe a wine tasting.
That's what Gull Hummock is.
It's a small, warm store, filled to the gills with carefully selected wines, cheeses, breads, soaps, ice creams, chocolates, and other healthy foods (healthy for the soul, at least.)
The good stuff. The gourmet.
"Carefully selected" isn't an overstatement. Jon and Honey Moore, the owners, travel to wine shows and conventions in order to select the best available products. Their wine tastings are orchestrated for flavor, with three price points, and are a delight. And, when you read the contents of any of the packaged foods, you'll note the absence of trans fats and all those other chemicals.
Next time you're there: pick up any product and ask Honey to tell you about it. She'll tell you a story. [Read more…]
Rain Barrel Workshop 2-4 p.m. April 20 at Cape Charles Central Park. [Read more…]