By GEORGE SOUTHERN
Cape Charles Wave
April 30, 2013
Four months have passed since December 26, 2012, when Town maintenance workers returning to work after the Christmas holidays removed the backboards and hoops from what had been Cape Charles' only basketball court.
One week earlier, on December 19, Mayor Dora Sullivan had signed over the deed conveying to a developer the basketball court, playground parking lot, and Old School at Central Park.
The backboards and hoops were not excluded from the sale, and so belonged to the developer, but the Town was allowed to have them in exchange for removing them. They have been in storage ever since.
Developer J. David McCormack, formerly operating as Echelon Resources but now doing business as Charon Ventures, struck a deal with the Town to convert the Old School into an apartment building and the basketball court into a private parking lot.
The property was valued on the Town tax rolls at $921,000, but Town Council agreed to pay Echelon Resources $41,000 to take the property. No bids were requested, and offers from the community group Old School Cape Charles were rejected without a vote.
The children's playground parking lot was also conveyed, and will become private parking for tenants at the 17-unit apartment complex.
The Old School and parkland had been zoned Open Space until the Town rezoned it R-1 Residential.
Although apartment buildings are not permitted in R-1 Residential, the Town Planning Commission voted last August 23 to recommend an exception. A condition to that exception was that the basketball court be relocated.
Eight months later, relocating the basketball court has yet to appear on Town Council's agenda.
Town Council has, however, extended until August 23 the deadline for developer McCormack to begin construction, which means the former basketball court could sit unused another four months. [Read more…]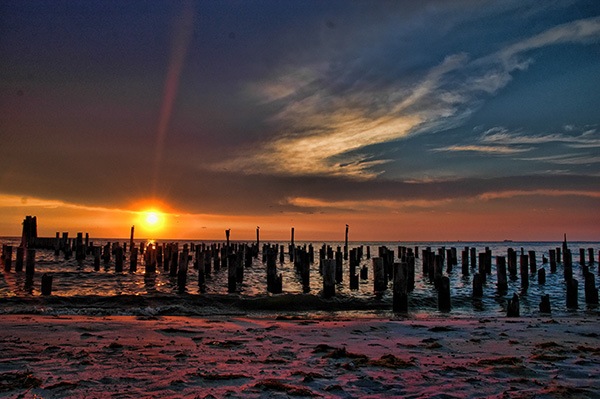 April 30, 2013
"A Ray of Beaming Light," by Florence Womacks, is one of three winning photos in the Cape Charles by the Bay contest. A total of 72 photographers submitted 451 photos, which are on display this week at Arts Enter.
The Science and Philosophy Seminar of the Eastern Shore of Virginia presents "Pysanky: The Science and Philosophy of Traditional Ukrainian Egg Painting" 12:30 p.m. Friday, May 3, in the Eastern Shore Community College lecture hall, 29300 Lankford Hwy., Melfa.
Nancy Kupar-Page will discuss the culture and history of egg painting as well as the techniques used. Kupar-Page is the grandchild of Ruthenian immigrants, has a liberal arts education, and enjoys dabbling in several art forms.
The Science and Philosophy Seminar explores topics ranging from philosophical speculation to scientific research. All seminars are free and open to the public.
Seminars are occasionally postponed on short notice; check www.SciPhi.org within two days of a scheduled date.