THURSDAY 10/3: 'Abrakadoodle Art' for Preschoolers at ESO in Belle Haven
Abrakadoodle Art opens the door to discovering and learning for preschoolers ages 2-4 with a 6 fun-filled-week-session called "A Little Blue A Little Yellow."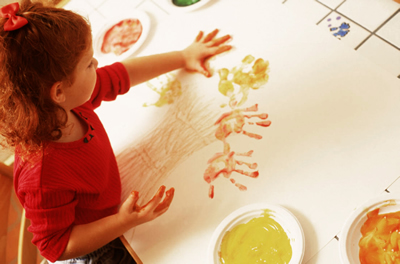 The "Mommy & Me" style class with instructor Charlene Huh meets Thursdays from 10-11 a.m. from Oct.3 to Nov. 7 at ESO Arts Center in Belle Haven.
ESO is proud to offer to the Shore Abrakadoodle Art, the worldwide award-winning art and creativity program voted "Best Art Class to Bring Out Your Child's Inner Picasso." While having fun your child or grandchild can explore and experiment while developing control, focus, and important fine motor skills –all essential for future school success.
This series of lessons focuses upon something that preschoolers love to do – explore! Their little fingers will explore textures from wet clay to grainy salt to the stickiness of tape. They'll learn about absorbent materials such as the soft ends of Q-tips and the amazing disappearing property of salt.
Children will delight in using different media and techniques while looking at different aspects of primary, secondary and analogous colors, shades and tints and more.
The preschool classes help develop: fine motor skills, pincer grasp – using thumb and pointer finger to grasp items, and bilateral hand and arm movements – using both hands and arms together when they use rolling pins to roll their clay paintings making designs suddenly appear. Other skills enhanced are prewriting skills – scribbling, painting, scratching and other manipulations as they create mobiles, drip paintings and Chihuly designs. The session develops hand-eye coordination as well, having the eye following what the hand is doing as they paint, glue and assemble their artwork.
Cost is $79 for 6 Week Session. Pre-register by Tuesday, Oct. 2. Register online or for more info http://www.esoartscenter.org/index.html
Call (757) 442-3226 or visit ESO during our office hours Mon. – Thurs.from 11 a.m. to 6 p.m.
For complete Youth Fall Class Schedule http://www.esoartscenter.org/youth-classescamps.html or Adult Fall Class Schedule http://www.esoartscenter.org/adult-classes.html