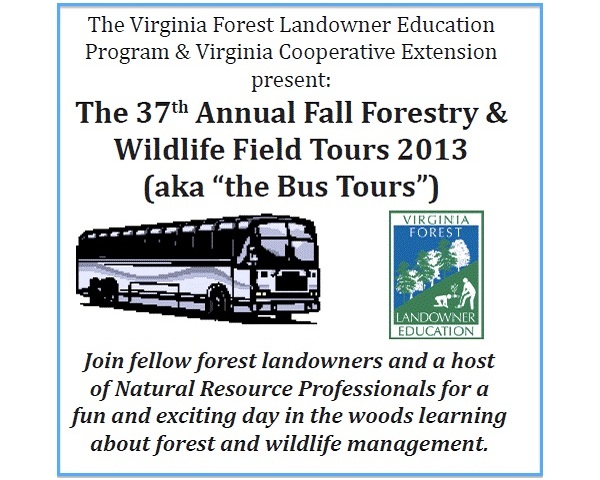 September 7, 2013
The annual Forest Landowners bus tour for Northampton County typically has 50-75 participants.  Teachers, local government officials, and interested citizens are welcome to join forest landowners on the tour, and scholarships are available for K-12 teachers.
Meet-up is 8 a.m. Thursday, October 3, at the Food Lion, Northampton Shopping Center in Exmore. Tour begins promptly at 8:30 a.m.
The day will be spent visiting privately owned forestlands to view and discuss active forestry and wildlife management options. The day concludes at Chatham Vineyards.
There will be numerous opportunities throughout the day for participants to interact with one another, and with natural resource professionals. Robbie Lewis, with the Virginia Department of Forestry, will be the main tour guide.
The tour will conclude by 4:30 p.m.
Registration is $45/person; $80/couple and includes lunch, refreshments, and transportation.
Register by September 25 at http://forestupdate.frec.vt.edu.  For more information contact: Neil Clark at [email protected] or 757-653-2572.
ITINERARY
Stop 1: Mattissippi Tract, Explore the remnants of a house built during the Colonial Era. Discussion will cover topics such as pre-commercial thinning, aerial herbicide release, and waterfowl impoundments (they do duck hunt on the Shore ya' know). [Read more…]
Last-minute chance to purchase two tickets to NASCAR 400 in Richmond 7:30 p.m. Saturday, September 7. Tickets have $75 face value and are offered at half price, so $75 for both. Call Roger at 757-636-7777.