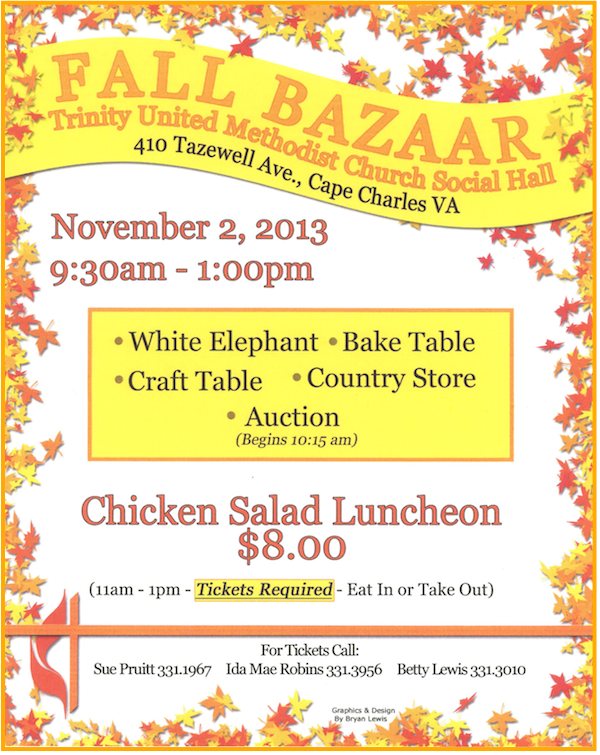 October 31, 2013
DEAR EDITOR,
School Boards in Virginia are charged with three tasks: (1) Determine the policies that everyone must follow to keep the organization running smoothly; (2) Prepare and present to the public and Board of Supervisors a budget that will cover everything from pencils and erasers to salaries, buildings and equipment; and (3) Hire and supervise the Superintendent to manage the affairs of the organization.
Next week we will go to the polls to vote for Northampton County School Board members. I worked closely with school boards over 38 years in education in seven communities and two states, including 14 years as Northampton's School Superintendent. I know what makes a school board work and what doesn't.
The success of a school board depends on the support of the community it serves. It also depends on diversity among its members. That diversity allows for an exchange of views, a broader range of options, and extra security that issues are resolved in the most appropriate manner.
There have always been retired educators on the School Board. Many Board members have also come from the business community, and when we got really lucky we had an attorney on the Board as well. [Read more…]
November's movie at the Palace Theatre is LINCOLN, directed by Steven Spielberg.
Cocktails will be served from 7:30 p.m., with the movie starting at 8 p.m. Friday, November 1.
A donation of $10 is suggested to support Arts Enter. [Read more…]
October 30, 2013
DEAR EDITOR,
I am writing in response to the recent letter in support of Tamsey Ellis for the School Board from District 1.  Shannon Dunham possesses valuable attributes which none of the other candidates running for the School Board have. Namely, she has a vested interest in the school system in that she has three young children who are approaching school age. The need to have a balance on the School Board which would include young parents is essential for a board which should represent all of the community. The notion that she would not devote the necessary time to the School Board if elected is ludicrous.
The value of having a lawyer on the School Board cannot be overestimated, as Shannon would be able to make certain that policies and decisions made by the Board are in fact legal, and the Board would not have to go back and re-work decisions which would in fact be illegal without her guidance.
The writer is bothered by the request made by Mrs. Dunham to postpone the trial date for Tonya Bundick to allow more time to provide an adequate defense. In high-profile cases such as this one, it is common for defense attorneys to make such a motion. I believe such a request shows the due diligence which all of us would want if we were being represented by a lawyer in any legal case.
The writer also denigrates Mrs. Dunham for remarks she made concerning the ultimate use of the legal system against some parents. Evidently the writer cannot conceive of parents who cannot be bothered to get up in the morning to get their children ready for school, both dressed and fed. She does not understand that there are children of all ages who are basically raising themselves in our community. If it is necessary for the welfare of the children to involve the legal system with such parents, that path should not go unused. [Read more…]
October 28, 2013
DEAR EDITOR,
We face a choice here in District 1 for who will sit on Northampton County's first elected school board. Shannon Dunham, a local lawyer, is running against Tamsey Ellis, a retired educator.
Having heard both candidates speak at the public forum at the old middle school a few weeks ago, I have made my choice. While I am sure that the dynamic Ms. Dunham is as smart as they come, and as ambitious, I have serious doubts about her ability to devote the time and energies to the enormous problems our schools face.
She is a full-time lawyer, currently defending the accused female Eastern Shore arsonist in a looming high-profile trial across the bay. She recently asked the judge for an extension, claiming she is not ready, to which the judge replied, essentially, "too bad."
Then she asked to remove herself from the case. Again, the judge refused to let her off the hook from her obligation.
She herself made an issue at the forum of being the mother of three small children, caring for four dogs, and a full-time career. She also played the "outside the beltway" card, claiming that because she is in the law profession and has never been "in education," she can see with clearer eyes the problems our schools face. [Read more…]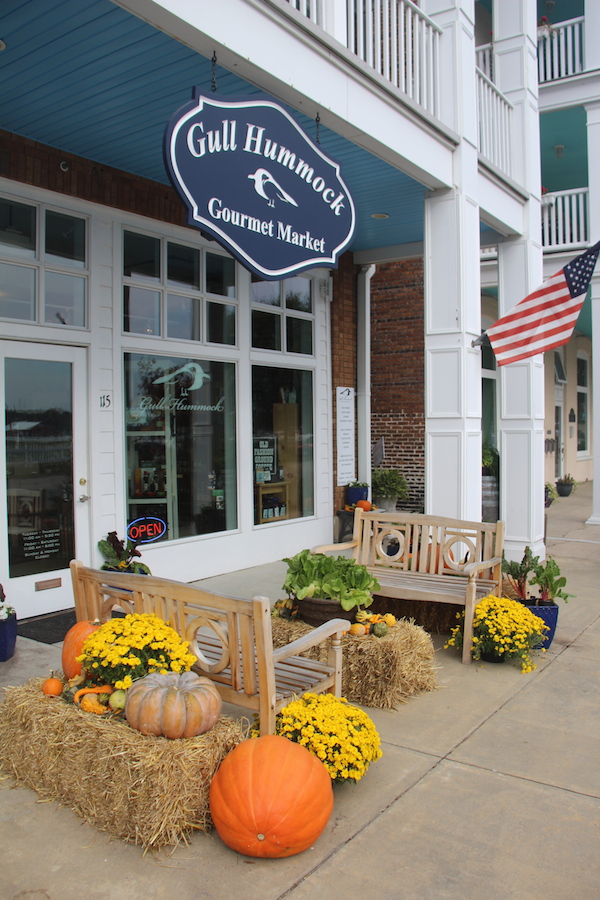 Gull Hummock takes first place, in the Wave's judgment, for best decorated storefront.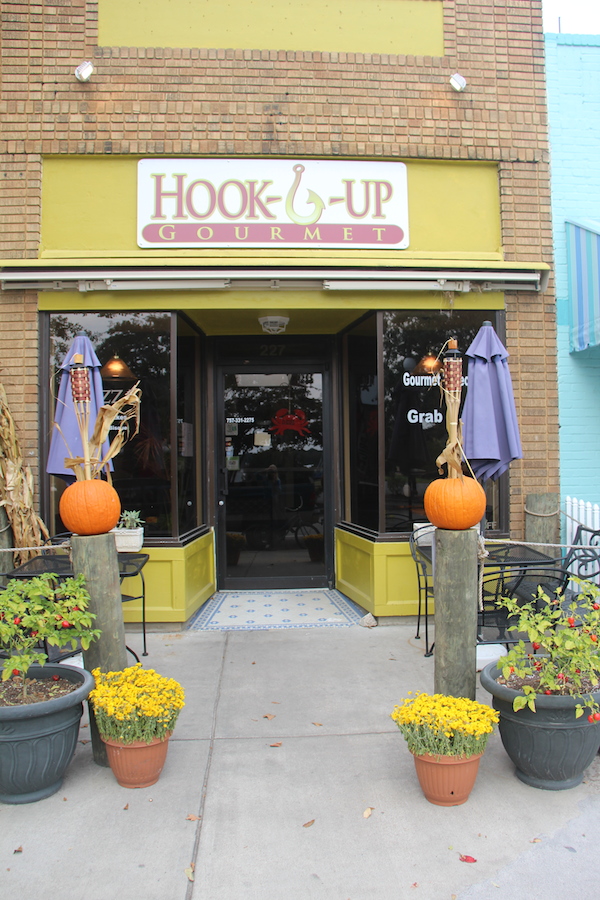 Hook-U-Up earns second place. (Pumpkin pizza, anyone?)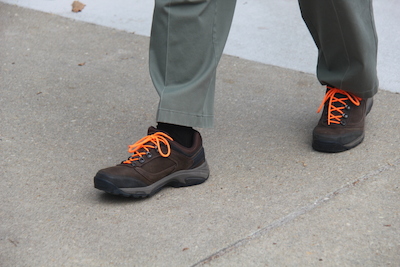 And garnering a "Special Mention" is a laced-up proprietor of Watson's Hardware. (Stop by to find out which one.)
Happy Halloween, Cape Charles!
(Wave photos)
CAPE CHARLES WAVE
October 30, 2013
Cape Charles Town Council has adopted another new procedure to control dissent, which sounds a lot like the old TV program "The Gong Show." Council member Frank Wendell consistently says what other Council members don't want to hear, so they have begun limiting his remarks to five minutes at the end of each meeting. Joan Natali is the timekeeper, and sounds the gong when Wendell's time is up.
Click on the slide show below to hear Wendell harangue Town Council members at the October 17 meeting for their refusal to recognize the front of the old school building in Central Park. A developer wants to construct a parking lot in front of the building in violation of the Town's historic guidelines. But if the front of the building is on Plum Street instead of facing the park, then the planned parking lot would be on the "side" of the building.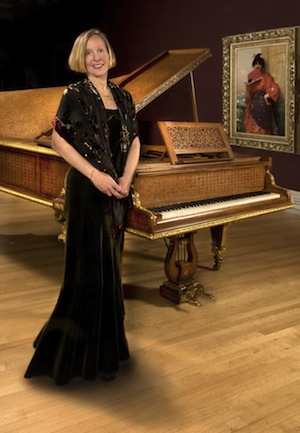 Art comes to life through music with pianist Lee Jordan-Anders at the Historic Palace Theatre on Sunday, October 27, at 4 p.m. "Treasures from the Virginia Museum of Fine Arts" is the first event in Arts Enter's Sunday afternoon classical music series.
The concert is free and made possible by the Dougherty Visiting Artist Fund and Virginia Weslyan College.
Lee Jordan-Anders pairs Degas and Debussy, Pomodoro with Prokofiev, and Watteau with Francois Couperin.
A musical dog performs "God Save the King" in Philip Reinagle's portrait, and Beethoven's variations on the same tune accompany that painting.
Monet's Field of Poppies comes to life with Debussy's "Mouvement," and both Robert Henri and Louis Moreau Gottschalk recall their visits to Madrid with depictions of women from that exotic place.
Paintings by the Americans Paul Sample and Mark Rothko conclude the program with music by Gershwin and Copland.
Lee Jordan-Anders is Professor of Music and Artist-in-Residence at Virginia Wesleyan College in Norfolk.