FRIDAY 1/9: ESO LIVE! Season Begins with Loaded Goat
Prepare to be blown away at ESO LIVE's first show of 2015 with Loaded Goat on Friday, January 9, at ESO Arts Center in Belle Haven.
Loaded Goat, the local band known for its eclectic mix of raw acoustic stomp and groove, has an unusual source for its atypical moniker. "Loaded Goat" is also the name of a 1963 episode of the Andy Griffith Show, when the town of Mayberry feared disaster after the sheriff discovers a farmer's goat has eaten a whole lot of dynamite.
Loaded Goat Band also promises the unexpected, with an array of songs performed by a blend of mandolin, guitar, stand-up bass, and percussion quartet. Andy Malik, Scott Wade, and Brian Irminger collaborate on a soulful, modern brew of past and present music, along with special guest Ryan Davis on the stand-up bass.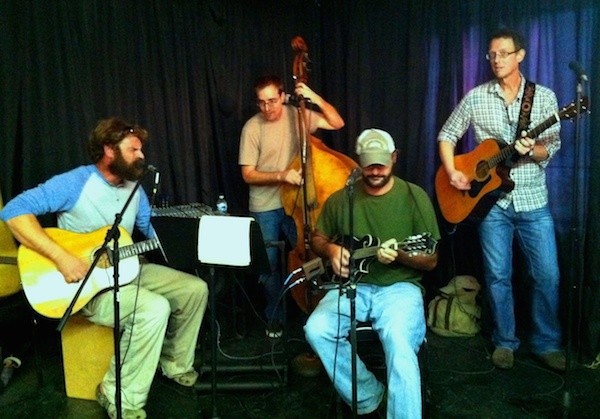 A favorite with musicians and audiences alike, ESO LIVE! Musical Performance Series runs through June, with most shows held on Friday nights. Local and regional talent light up the night in an intimate, nightclub-like atmosphere.
Libations are always available for sale including beer, wine, soda, and snacks.
Partial proceeds go to continue the non-profit's mission of fostering the development of the arts through instruction and performance.
Tickets:$10. Doors open at 7:30 p.m. Music begins at 8 p.m. Reserve a table and bring friends: Call 757-442-3226, email [email protected] or purchase tickets online at esoartscenter.org/events.
ESO LIVE! SCHEDULE
Jan. 23 — Lady Vee: Blues and jazz, including original songs.
Feb. 27 — Sherry & Pat Belote
March 13 — Heather & Nathan: Acoustic originals, and covers from the '50s to today
March 28 (Saturday) — Pound Net at Little Italy Restaurant: ESO fundraiser entertains with bluegrass, country, and gospel
April 17 –  Swing Project : Swing jazz, bluegrass
May 1 –  Chris English: Blues, with a focus on Delta blues
May 29 — Mike Hawker: Acoustic classic country, rock, blues, folk, Americana, and originals
June 12 – BJ Rogers & Richard Williams, accompanied by Stefan Dulcie: Classical
June 26 — "Originals" Scholarship Fundraiser. A night filled with various artists donating their talents to benefit ESO's Scholarship Fund