$8 Million Town Budget Contains No Tax Increase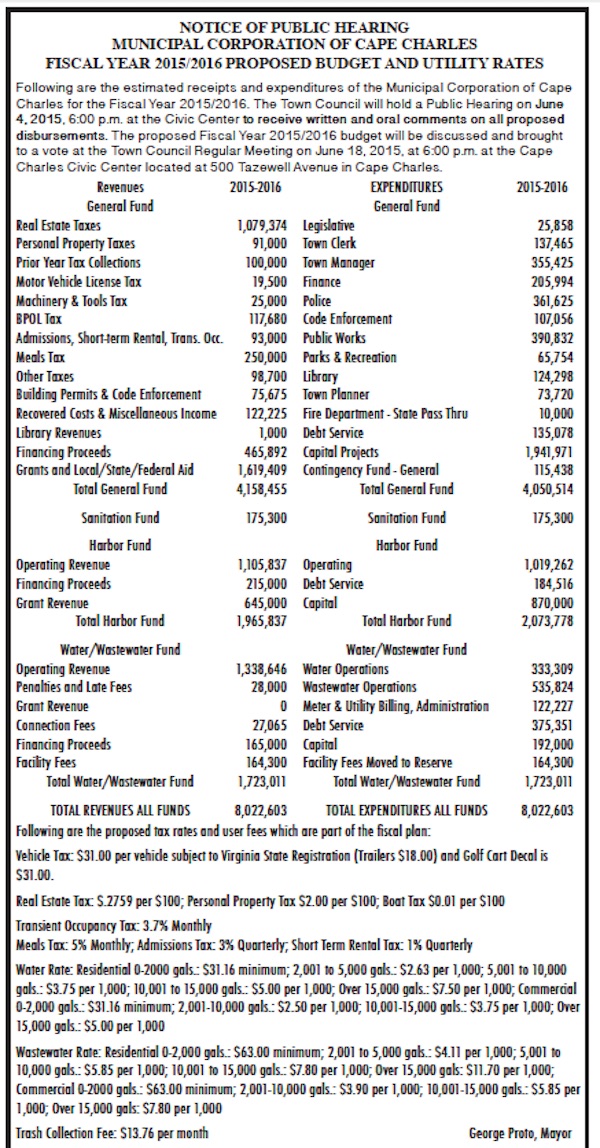 CAPE CHARLES WAVE
June 1, 2015
Owing to the untimely death of a computer software vendor, there will be no tax increase in the Town of Cape Charles next year. That's because real estate reappraisals were postponed by Northampton County when the software vendor died, and the town relies completely on the county for property values.
If property had been reappraised in 2015 as originally planned, the values would have dropped and the tax rate necessarily would have increased. Virginia state law requires appraisals to reflect actual market value, and as the Wave has documented in its Real Estate page, most Cape Charles real estate is selling below appraised value — especially empty lots.
When the last reappraisal occurred in 2013 the town was forced to raise tax rates from 18 cents per hundred dollars to 27.6 cents. That rate will continue to 2016.
CONTINUED FROM FIRST PAGE
All other tax rates remain the same, as do water and sewer rates.Vehicles are charged a $31 "decal" fee in addition to personal property tax. (No decal is actually used.)
Water and sewer rates are somewhat mitigated by town borrowing, shown in the budget as $165,000 "financing proceeds." The Harbor Fund also benefits from $215,000 "financing proceeds." Those funds will have to be repaid in the future through higher taxes.
A required public hearing will be 6 p.m. Thursday, June 4, at the Civic Center (old library). Town Council will enact the budget June 18.