Elizabeth Reid Sweeps State Essay Contest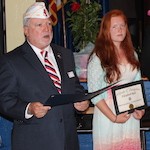 Elizabeth Reid, a Northampton Middle School student, is to be congratulated for her statewide sweep of the Virginia American Legion middle school essay contest.  Each year, the American Legion Post 56 in Cheriton invites Northampton County Middle School students to write a one-page essay that begins with, "I like living in America because. . . ".
Earlier this year Ms. Reid's essay won 1st place in the Eastern Shore preliminary competition.  As best in the Commonwealth, she was presented another certificate and $250 at the Northampton School District Awards ceremony in May.  Her essay declared that she liked living in America "because of our many freedoms, the diversity, and our military." She further expressed that "I am very fortunate to live in this country."
Post 56 Commander Joseph Vaccaro presented Ms. Reid's award, noting that her recognition should be proudly celebrated because her achievement was a Northampton Middle School repeat.  Last year, Alex Marshall, then a Northampton Middle School student, also won both the Eastern Shore and Commonwealth's American Legion essay contest top prizes.