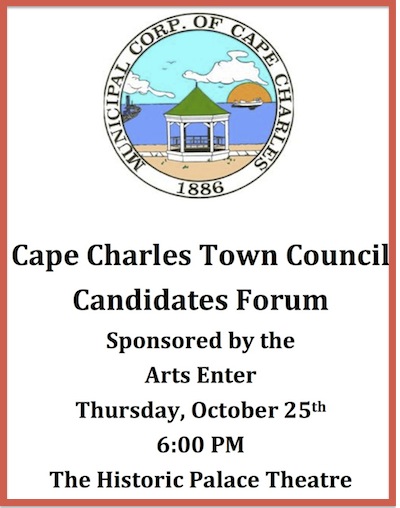 HOW THE WAVE SEES IT
November 1, 2012
The flier on the right was produced by Town of Cape Charles staff and distributed through the official Town Gazette.
It advertises last week's Candidates Forum, sponsored, so it claims, by Arts Enter.
The flier is a falsehood. Arts Enter did not sponsor the forum — town staff, in their official capacity, did.
This should be of deep concern to every resident of Cape Charles, regardless of political viewpoint.
Town staff apparently realized the impropriety of conducting a political event, and so claimed that an independent organization, Arts Enter, was in charge.
But Arts Enter's sole involvement was to allow the Palace Theatre to be the venue.
If our town staff were federal employees, under the Hatch Act they would be liable for prosecution for engaging in political activities while on duty.
The Hatch Act also extends to municipal employees who have oversight of federal grant funds.
The fact that both candidates participated in the town-sponsored forum does not lessen the seriousness of the impropriety. Town staff had the opportunity to manipulate the event however they felt might benefit their favored candidate.
Town staff required questions from the audience to be in written form, including the name and address of the questioner.
The assistant town manager then "screened the questions for appropriateness."
This same "screener" displays in his yard a sign for candidate Steve Bennett. It was clear to a number of observers by the way he shuffled through the cards that he was not submitting questions at random.
Town staff determined that Steve Bennett would have the first opening statement and the last closing statement.
This is not the first time that town staff have attempted to manipulate an election. Our town manager and assistant town manager actively schemed to influence the previous Town Council election in May — when Steve Bennett was also a candidate. [Read more…]
Photos by CAPE CHARLES WAVE
October 30, 2012
"Can New Breakwaters Save Sea Breeze Apartments?" read a Wave headline on August 28.
Exactly two months later, Hurricane Sandy answered the question with an emphatic NO.
The only question remaining is how much worse the damage might have been without the new breakwaters.
Next door to Sea Breeze on Washington Avenue, the Historic District's newest home (c. 2011) boasts on homeaway.com that it's only 150 feet from the beach.
As of yesterday, that is an understatement.
By DORIE SOUTHERN
Cape Charles Wave
October 30, 2012
About 70 residents turned out last Thursday for a Candidate Forum at the Palace Theatre, where Steve Bennett and Dan Burke answered written questions submitted from the audience.
Northampton County Supervisor Willie Randall moderated the event.
In introductory statements, Steve Bennett cited his four years' experience on Town Council.  Bennett was defeated for re-election, but is getting a second chance to run due to the death of councilman-elect Don Clarke in May.
Bennett is a project manager with the architecture and engineering firm Clark Nexsen in Norfolk. Previously he was employed by Baymark Construction Corp., the developer of Bay Creek, where Bennett and his wife, Nan, live.
Bennett served on Town Council from 2008 until June 2012. During the forum he lamented both the previous lack of residents' interest in town government as well as the current degree of contentiousness over the pending sale and use of the old school at Central Park. Bennett admitted that the sale of the old school "could have been handled better."
Candidate Dan Burke emphasized his professional career at Schlumberger, the world's largest oil exploration company, where he was manager of engineering, director of security, and an environmental affairs officer.  Burke said he believed his career experience would serve him well when called on to make decisions as a councilman.
Now retired, Burke has lived in Cape Charles 14 months, although he and his wife, Linda, have vacationed here for years. Burke said they chose to live in Cape Charles after falling in love with its small town charm. They reside on Madison Avenue in the Historic District.
Burke is running on a platform of accountability, accessibility, and openness in government. He criticized Town Council for holding numerous closed session meetings resulting in decisions of major importance without input from town residents. [Read more…]
Cape Charles Historical Society will hold its 15th annual Oyster Roast Saturday, November 24, from 5-9 p.m. at the Museum. [Read more…]
Issued by HOLLYE CARPENTER
Northampton County Emergency Management Coordinator
October 28, 2012
Due to the approach of Tropical Storm/Hurricane Sandy, the Northampton County Director of Emergency Services declared a local emergency.
Emergency Management officials are advising all residents to prepare for high winds (50-60 mph) and extended high level tidal flooding as this storm approaches the Eastern Shore.
The County's Emergency Operations Center has opened effective 12 noon Sunday. A Mandatory Evacuation Notice has been issued for all low-lying and flood-zone areas of the County effective 12 noon today.
An Emergency Evacuation Shelter is open at the Northampton High School in Eastville. If you are planning on evacuating to the Emergency Shelter, please bring a three-day supply of sleeping linens, food, and medications. Pets will not be allowed in the Shelter. [Read more…]
STATEMENT BY CAPE CHARLES POLICE CHIEF CHARLES BROWN
October 28, 2012
As of 12 noon Sunday, a mandatory evacuation order is in effect for the low lying areas of the Town of Cape Charles.
These areas include all streets and avenues west of Pine Street.
Northampton County will open the shelter at Northampton High School at 2 p.m.
Address concerns or questions to the Emergency Operations Center,  757-678-0448.
Charles F. Brown
Chief of Police
Got a golf cart? Light it up!
Join the parade for the Grand Illumination — December 1 at  6 p.m. in the old school parking lot.
For information on obtaining lighting, contact Sandy Mayer at 757-331-2087 or [email protected].