Edith Mae Bailey Mitchell, 98, Cape Charles Matriarch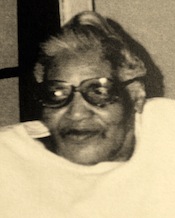 April 12, 2013
Edith Mae Bailey Mitchell, 98, wife of the late Willis E. Mitchell, passed away peacefully in her home in Cape Charles Tuesday, April 9.
The funeral will be 1 p.m. Saturday, April 13, at St. Stephen's AME Church, 511 Jefferson Avenue, Cape Charles.
Mrs. Mitchell was born April 2,1915, in Bayview, and was the daughter of the late Albert Terry and Emma Terry.
She was a resident of Cape Charles, and in her earlier years was a domestic worker, but spent most  her life as a homemaker, raising seven children.
She is survived by two sons, Robert Mitchell of Asbury Park, NJ, and Anthony Mitchell of Chesterfield, and three daughters, Lenora Mitchell of Cape Charles, Edith Mitchell Scott of Philadelphia, PA, and Sally Mitchell Payton of Baltimore, MD; and by a host of grandchildren, great-grandchildren, nieces, and nephews.
Arrangements are by Gray's Funeral Home, Cape Charles.