Gull Hummock Expands: What's Their Secret?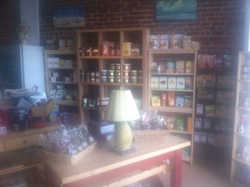 By TED WARNER
Cape Charles Wave
April 8, 2013
A little more than a year ago, shortly after having received the job offer that would ultimately bring me to Cape Charles, I decided to spend a day driving around the Eastern Shore — to see if could imagine, one day, calling this peninsula my home. I didn't know what I was looking for. So it was hard to find.
But turning off the highway, just past the Food Lion, I made my way into Cape Charles and drove slowly, sizing everything up.
The first store that I stopped at was Gull Hummock.
"What is a 'gull hummock'?" one wonders.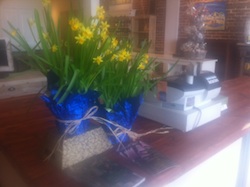 A hummock is small mound of earth and, while their formation is its own geological story, whenever you are looking at very lumpy terrain, you can say: "Look at all 'em hummocks." Now imagine a colony of seagulls alighting on a hummock. It was a busy day for the seagull and now he just wants a nice place to pause for some friendly chit chat and maybe a wine tasting.
That's what Gull Hummock is.
It's a small, warm store, filled to the gills with carefully selected wines, cheeses, breads, soaps, ice creams, chocolates, and other healthy foods (healthy for the soul, at least.)
The good stuff. The gourmet.
"Carefully selected" isn't an overstatement. Jon and Honey Moore, the owners, travel to wine shows and conventions in order to select the best available products. Their wine tastings are orchestrated for flavor, with three price points, and are a delight. And, when you read the contents of any of the packaged foods, you'll note the absence of trans fats and all those other chemicals.
Next time you're there: pick up any product and ask Honey to tell you about it. She'll tell you a story.
CONTINUED FROM FIRST PAGE
Honey's name has been with her all her life. Her brother couldn't say Helen Ann (which is the name on her birth certificate) so the family suggested "Honey" to him in the meantime. But the name stuck. And it suits Honey.
Owning and running a gourmet market certainly wasn't Jon and Honey's first ambition. They've each had careers on the Shore, across the Bay, and up the coast. But they were inspired. It goes back to its name. Gull Hummock is a place where people can gather. Not just locals, but visitors, too.
And maybe that's part of the secret to its success.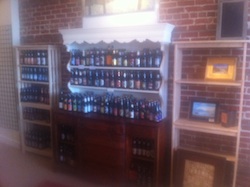 Stores come and go and many can't make it through the winter, but Gull Hummock has recently moved to a larger location in order to expand. Exactly which new products will be available is being decided, but, if history is any guide, they will be delicious and of the highest quality.
Along with quality and its welcoming atmosphere, Gull Hummock also maintains its hours consistently, even in the lean winter months. It rotates its inventory, which is retail-talk for keeping new products coming in and moving products that don't sell out.
If you ask Honey what her secret it, she'll politely say that she doesn't know. Partly it's the niche market that the store has carved out for itself. Partly it's their commitment to community and to local merchants.
But in the end, it's probably even simpler than that. I always feel welcome at Gull Hummock, just like those seagulls who need a place to land.
Gull Hummock's new location is at 115 Mason Avenue.