By SARAH GOLIBART
Cape Charles Wave
August 9, 2013
With a large gleaming peach in each hand, Tammie Nottingham stands regally in her orchard on Pickett's Harbor Farms just south of the Town of Cape Charles. With tears in her eyes but a smile that never seems to leave her face, she admires her peach trees as she tells the girls that pick for her to "sculpt the baskets" and "have fun" in the orchard that she and her husband, W.T., planted 13 years ago.
Tammie began picking peaches when she was 10 years old in South Carolina. From around 1990 until about five years ago, she picked the entire peach orchard at Pickett's Harbor. By that time the farm's bounty exceeded even her veteran picking abilities.
"It all happened by word of mouth," explained Tammie. Her first helper was a local, Christine Tankard, and over the years more have signed on to help harvest. There are 500-600 peach trees in the orchard, with more than 10 varieties that begin ripening in early summer and last until the first week of September.
"Five years ago, we moved from the corner of my porch and my kitchen to the farm shed," Tammie noted. That's where they now sell all their locally grown produce including tomatoes, watermelon, blackberries, and cantaloupe, to name a few.
Tammie, however, does not take credit for the farm's success. "I would like to give the glory to my husband W.T." she said. "He takes care of everything on this farm."
"Both W.T.'s and my family are generational here on the Shore," Tammie continued. "We've been here since people first came here." She went on to relate that both her and W.T.'s families can be traced back to Martha Custis Washington. She and W.T. are the fifth generation of Nottinghams to work the farm, with their son Josh Nottingham being the sixth and granddaughter Carlee Parker the seventh. [Read more…]
CAPE CHARLES WAVE
August 9, 2013
The second week of events in the Harbor for the Arts Festival begins today and includes:
Friday, August 9, noon to 2 p.m. — Piano students under the direction of Marijana Nottingham perform on Mason Avenue in front of the Stage Door Gallery (Free). Cash bar and concessions in the Gallery.
Friday, August 9, 5:30-7 p.m. — John Sheppard on keyboard with Jim Harding on sax in front of the Stage Door Gallery on Mason Avenue (Free). Cash bar
Friday, August 9, at 7 p.m. — A revival of "London Suite," a comedy by Neil Simon, featuring local favorites. Adults $12, Students $5 (R rated).
Friday, August 9, 9-11:30 p.m. — Almost Famous Band dance party on Strawberry Street (Free). The Almost Famous Band is a group of friends who just plain love music of all kinds. Anything from classic to Southern rock 'n' roll, from alternative to blues, from reggae to country to bluegrass. Cash bar. [Read more…]
Come on out and watch these beauties cruise into Cape Charles Town Harbor between 2 and 3 p.m. Friday, August 9. [Read more…]
By DORIE SOUTHERN
Cape Charles Wave
August 8, 2013
Yesterday Cape Charles residents received their first water bill with the huge new sewer increase – formerly $35.45, now $60.85. The rate hike is to pay debt service on the Town's new sewer plant.
This is not the first double-digit rate increase caused by the new plant: In March 2009 Town Council hiked the $25 minimum sewer charge to $34.
The minimum sewer charge might not be the highest in the state, but other high-rate localities are "more affluent than Cape Charles," according to USDA Rural Development official Kent Ware. The Town's new $108 minimum monthly combined water bill is a burden on low-income and fixed-income residents, and appears likely to continue to drive them out of town.
How did the Town come to charge such a high rate? The answer is that plans for a new sewer plant were based on the assumption that the developers of Bay Creek would contribute significantly to the cost. When that didn't happen, the Town went ahead and built the plant anyway, leaving ratepayers to shoulder the cost.
Town Council also raised, but then lowered, water and sewer connection fees for new service that are intended to pay capital costs of new water and sewer infrastructure.
How did it all happen? The Wave has unearthed some pieces of the puzzle. It begins 25 years ago with the mega-construction company Brown & Root, who decided to develop a large tract of land to be called Accawmacke Plantation and incorporate it into the Town of Cape Charles. [Read more…]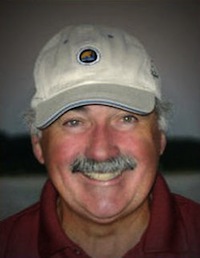 August 8, 2013
Cape Charles resident Michael F. Lucier, 68, died July 30 at Duke University Medical Center in Durham, NC. He passed away peacefully, surrounded by his family after courageously fighting a short, aggressive battle with cancer.
A Celebration of Life service will be held 11 a.m. Saturday, August 17, at St. Charles Catholic Church. A reception will follow.
Mr. Lucier was born in Milford, MA, the son of the late Edward J. and Helen G. (Kerns) Lucier. He attended the former St. Mary's Grammar School and graduated from the former St. Mary's High School in 1962. He received a Bachelor's Degree in Engineering from Virginia Tech in 1966 and was a resident of Virginia for the past 45 years. [Read more…]