By GEORGE SOUTHERN
Cape Charles Wave
August 20, 2013
Northampton County's newest land baron Robert Occhifinto bought three out of five County properties offered at a bankruptcy auction yesterday at Aqua Restaurant. The properties are in or on the road to Oyster, about seven miles northeast of Cape Charles. Occhifinto dabbled in bidding for other properties, but never seriously.
Two Bay Creek houses, including one built by developer Dickie Foster, were the big-block items. Foster's former house, known as Heron Pointe, crossed the auction block at an even $1 million. Its tax assessment is closer to $3 million.
All the auction properties belong to the Madonia family, whose tomato growing business on the Eastern Shore and Florida is in receivership.
Another Madonia house in Bay Creek, "Magnolia Plantation," did almost as well, despite its tax assessment being over a million dollars less than the Heron Pointe property. Magnolia Plantation sold for $950,000.
Two properties in Chincoteague and one in Painter were also part of the auction. A Chincoteague house sold for $257,000, and a .14-acre waterfront lot brought $47,000. The Painter house was the lowest bid of the day at $41,000.
[Read more…]
CAPE CHARLES WAVE
August 20, 2013
Watch this 3-minute video of auction action yesterday as buyers bid on Heron Pointe, the former home of Bay Creek developer Dickie Foster. (Click bottom right of image for full screen view.)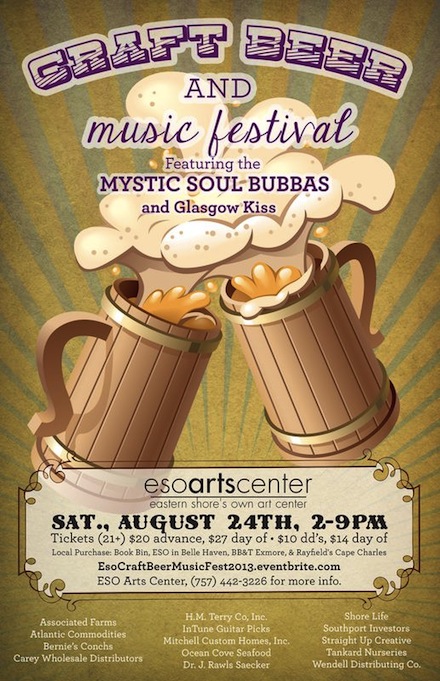 By DONNA BOZZA
August 20, 2013
ESO Arts Center will turn its Belle Haven lawn into a beer garden on Saturday, August 24, from 2 p.m. to 9 p.m. for a Shore first — the Eastern Shore's Own Craft Beer & Music Festival.
The oldest arts center on the Eastern Shore is pinning its hope for a successful fundraiser on the ever growing popularity of craft beers. U.S. sales of microbrews hit $12 million in 2012 and are now celebrated with craft beer festivals across the country.
Craft beers are artisan beers, typically brewed in relatively small, independently-owned commercial breweries that employ traditional brewing methods where the emphasize is on flavor and quality, instead of mass production.
There will be over 30 different local and regional microbrews available to sample. Admission includes one sampler wristband which gives each attendee ten 4 ounce pours. Along with a prime variety of craft beers the festival will offer fresh local seafood and lip smacking BBQ as well as other food offerings. [Read more…]
August 20, 2013
(EDITOR'S NOTE: The Cape Charles Historic District Review Board meets at 4:30 p.m. today (Tuesday) at Town Hall to further consider an application by developer J. David McCormack to convert the Old School, basketball court, and playground parking lot at Central Park into an apartment building and private parking lot. Town Planner Robert Testerman has recommended that the Historic Board approve the developer's application, even though it has not been approved by the Virginia Department of Historic Resources, and yet-to-be-met conditions have been stipulated by the National Park Service. On the eve of the meeting of the Historic Review Board, the community group Old School Cape Charles has submitted an open letter documenting why the Board should wait until the developer meets conditions required by the relevant state and federal bodies.)
TO THE HISTORIC DISTRICT REVIEW BOARD:
Old School Cape Charles is committed to the common good of our town. One of our town's most valuable assets is Central Park, which until recently included the Old School, the basketball court, and the playground parking lot.
In order for an historic property to receive tax credits it must adhere to the Secretary of the Interior's Standards for Rehabilitation, (Click to read) including the following:
A property will be used as it was historically or be given a new use that requires minimal change to its distinctive materials, features, spaces, and spatial relationships.
Converting our historic Old School, playground parking, and basketball court into an apartment house and private parking lot is a far cry from creating minimal change to the building and its use.
The historic character of a property will be retained and preserved. The removal of distinctive materials or alteration of features, spaces, and spatial relationships that characterize a property will be avoided.
The developer wants to call the side of the building the front, even though there will be no front door. Not only will the historic character of the building be lost, but the developer hopes to attract vacationers to rent the apartments. Town Council's giveaway of a park resource thereby becomes competition to vacation and other rental property owners. [Read more…]
As we begin to think about shaking the sand out of our flip flops or perhaps finishing up that last summer project, the faculty and board of directors at the Cape Charles Christian School are gearing up for another year of innovative, experiential learning for their students. [Read more…]