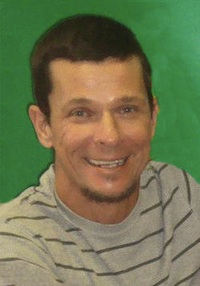 August 5, 2013
Lynwood (Lyn) LeCato Drummond, III, 40, husband of Sarah E. Drummond, passed away Monday, August 5, at his residence in Cape Charles.
A graveside service will be 2 p.m. Wednesday, August 7, at Cape Charles Cemetery with Mr. Barry Downing officiating.
A native of Cheriton, Mr. Drummond was the son of the late Lynwood L. Drummond, Jr., and the late Katie Parks Drummond. He was self-employed as a house painter and tattoo artist and was baptized at Cheriton Baptist Church.
In addition to his wife, he is survived by a daughter, Kailynn Elizabeth Drummond of Cape Charles; two sisters, Vicki Wise and her husband, Pat, of Eastville, Bonnie Lynn Marshall and her husband, Raymond, of Cheriton; two brothers-in-law, Dan Brown and his wife, Lauren, Garry Brown; one sister-in-law, Laurie Klingel and her husband, Jeff; one uncle, George Drummond and his companion, Betty Badger, of Machipongo; mother-in-law and father-in-law, Betty and Garry Brown of Eastville; nieces and nephews, Courtney Wise, Sam Marshall, Zach Marshall, Barbara Marshall, Bonnie Marshall, Jason Marshall, Forrest Marshall, Alex Brown, Molly Brown, Katie Brown, Halsey Klingel, and great-niece, Madison Wagner. [Read more…]
CAPE CHARLES WAVE
August 5, 2013
Dance transcends language barriers. Last Saturday, eight Italian dancers from the IVIR Danza company kicked off the Harbor for the Arts 2013 in a sparsely attended world class performance at the Palace Theatre in Cape Charles.
The superb piece "Today is Already Tomorrow" was choreographed by Irma Cardano, accompanied by a mixture of classical, techno, and popular music. The elegant, energetic and lyrical movements by the young dancers managed to convey their interpretations of that existential question "What is the meaning of life?".
Kudos to Clelia Sheppard for spearheading the Harbor for the Arts. In Europe, these types of summer art festivals are very popular and underwritten by both the government and commercial sponsors. Attending the Arts festival in Avignon, France, or Impulstanz in Vienna, Austria, are worthwhile endeavors, but let us not forget we can also enjoy the arts in our own backyard. [Read more…]