By TAMMY HOLLOWAY
October 3, 2013
A total of 25 kids from Cape Charles Christian, Kiptopeke, Home School, and Broadwater are participating in New Roots Youth Garden's Fall Garden Club, a 7-week program held Thursdays from 4-5 p.m.
Club participants are planting and tending fall crops to be harvested and sold at the New Roots Farm Stand, an initiative that began during the 2013 Summer Garden Club. By creating and running a farm stand, the children learn many facets of business, including economics, handling money, sales, and customer service.
NRYG received several generous donations that made it possible to create the farm stand. The Virginia State University Farm Stand Extension donated many supplies, including a canopy tent, baskets, chalkboards, a calculator and a cash box. Also, the United Way of Virginia's Eastern Shore selected New Roots Youth Garden as a Community Partner in 2013, allocating over $4,500 to supplement the existing program. Part of the United Way funds will be used to expand and market the farm stand, and the remaining funds will be used to perform infrastructure upgrades in the garden, such as installing a dry well, a shallow well, and a pump station. [Read more…]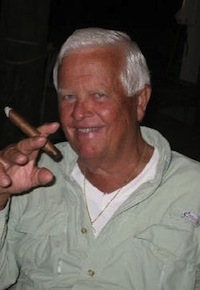 October 3, 2013
Edward J. "Ned" Doughty, III, passed away at his Norfolk home Tuesday, October 1, after a long and courageous battle with cancer. A graveside ceremony will be held 1 p.m. Saturday, October 5, at Cape Charles Cemetery. Memorial contributions may be made to the Children's Hospital of The King's Daughters, PO Box 2156, Norfolk VA, 23501-9873.
Condolences and remembrances may be shared with the family at www.doughtyfuneralhome.com. Funeral arrangements are by Wilkins-Doughty Funeral Home, Cape Charles.
Ned, as he was affectionately known to his family and many friends, was born November 30, 1929, in Oyster on his beloved Eastern Shore and was a self proclaimed "Oyster Rat". [Read more…]
Introduction to K9 Nose Work, 11:30 a.m. to 1 p.m. Sunday, October 6, at Barrier Islands Center. [Read more…]