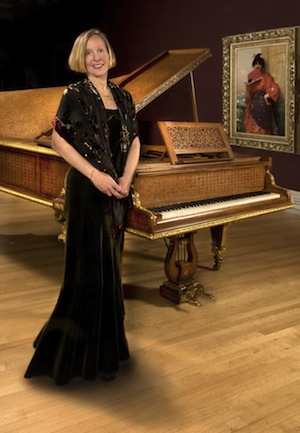 Art comes to life through music with pianist Lee Jordan-Anders at the Historic Palace Theatre on Sunday, October 27, at 4 p.m. "Treasures from the Virginia Museum of Fine Arts" is the first event in Arts Enter's Sunday afternoon classical music series.
The concert is free and made possible by the Dougherty Visiting Artist Fund and Virginia Weslyan College.
Lee Jordan-Anders pairs Degas and Debussy, Pomodoro with Prokofiev, and Watteau with Francois Couperin.
A musical dog performs "God Save the King" in Philip Reinagle's portrait, and Beethoven's variations on the same tune accompany that painting.
Monet's Field of Poppies comes to life with Debussy's "Mouvement," and both Robert Henri and Louis Moreau Gottschalk recall their visits to Madrid with depictions of women from that exotic place.
Paintings by the Americans Paul Sample and Mark Rothko conclude the program with music by Gershwin and Copland.
Lee Jordan-Anders is Professor of Music and Artist-in-Residence at Virginia Wesleyan College in Norfolk.
Calling All Lovers — Cape Charles lovers that is! The LOVE sign is leaving, but before it goes, join us for a Flash Mob Photo Shoot Saturday, October 26, at 11 a.m. [Read more…]
Ray (Fig) will be having another sale down at his shop in Capeville, on the north end of Sting Ray's parking lot Saturday, October 26, beginning at 8 a.m. to whenever. [Read more…]