By DORIE SOUTHERN
Cape Charles Wave
October 17, 2013
A three-judge panel at the Virginia Supreme Court in Richmond heard arguments October 15 by the civic group Old School Cape Charles. The group's attorney, Kevin Martingayle, told the court that the Town of Cape Charles failed to follow its own code by letting the school in Central Park fall into disrepair. Citizens should have standing to raise concerns about the sale of a public building and parkland, he argued.
"The Town manufactured its own crisis and then used it as an excuse to sell the property," Martingayle said. He termed it "remarkable" that the Town used its own failures to enforce its code as the excuse for disposing of historic property. Martingayle told the court that he could find no precedent in law for the Town's actions.
The Old School group is contesting the Town's "gifting" to a developer of park property valued on the tax rolls at $900,000. Northampton Circuit Court Judge Revell Lewis ruled last February that Town citizens had "no standing" to question the divestment of Town property.
The Supreme Court now must decide whether the case has sufficient import to merit an appeal. The court considers if errors were made in a ruling, and also whether an an area of law is unsettled and in need of clarification. "Many aspects of Old School's cases have no legal precedent, which makes them more appealing to the judges," Martingayle told the Wave. [Read more…]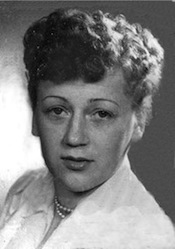 October 16, 2013
Irene Carpenter, 85, a resident of Machipongo,  passed away Tuesday, October 15, at her home where she had been cared for since suffering a stroke in 2008.
A visitation will be held 7-8:30 p.m. Friday, October 18, at Wilkins-Doughty Funeral Home in Cape Charles. Interment will be 1 p.m. Saturday, October 19, at Cape Charles Cemetery with Pastor Russell Goodrich officiating.
Mrs. Carpenter was born December 22, 1927, in Chemnitz, Germany, to Oskar and Walli Post Roschar. She became a beautician and was working in Landshut, Germany, where she met soldier Alvin Thomas Carpenter, Sr., when he came in on Thanksgiving Day 1950 to get a haircut. They celebrated their 60th wedding anniversary August 14, 2013. [Read more…]