By DEBORAH BENDER
October 14, 2013
Tomorrow the Old School Cape Charles civic group will get a second chance at justice. On Tuesday, October 15, the Virginia Supreme Court will hear an appeal of a lower court decision allowing the historic school in Central Park to be given to a developer.
Those who have been reading the Wave know the sad story of the Town's secret negotiations and purported "sale" of the school for $10. One can barely buy lunch for $10, but our Town Council sold valuable town property –including the Town's only two basketball courts — for that "price."
But it gets worse: Not only did they sell the school for $10, they then gave the developer $41,000 in insurance money for earthquake damage not noticed until three months after the fact.
The Town bumbled about for several months trying to issue a legally acceptable rezoning and conditional use permit, which they were never quite able to do.
The Town signed a contract and enacted an ordinance to sell the school to Echelon Resources. But when Mayor Sullivan signed over the deed, it was to Charon Ventures — an entity that was never mentioned in the contract or the Town ordinance.
Town residents who value public property and care about the local children thought better of the school than to give it away. They formed a group and named it Old School Cape Charles. Old School set to work alerting townspeople through signs, leaflets, and petitions. In reaction, Town Planning Commissioners have spent months working on the Town's sign ordinance to ban protest signs. [Read more…]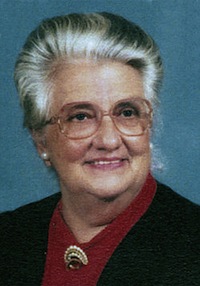 October 13, 2013
Rubye Knight Rew, 94, a resident of Cape Charles, passed away Sunday, October 13. A graveside service will be held 2 p.m. Tuesday, October 15, at Cape Charles Cemetery with Pastor Russell Goodrich officiating.
Born April 27, 1919, in Richmond, Mrs. Rew was the daughter of the late Bertha and Estell Knight. She grew up on the Eastern Shore and was married to the late Alva James Wimbrow, and after his untimely death, she married the late S. Farring Rew. They were married for 50 years.
Mrs. Rew was a member of Trinity United Methodist Church and was active until her health prevented her from attending. She was a past president of Faithful Workers Class, a 60-year member and past Worthy Matron of Northampton Chapter #2 Order of the Eastern Star, and a member of the Eastern Shore Woman's Club, serving as Chaplain for many years. [Read more…]
Let's dance — it's Line Dancing time again! Starting October 14 from 7-8:00 p.m., Northampton County Parks and Recreation will again be offering line dancing lessons at Indiantown Park. [Read more…]