November 30, 2013
(EDITOR'S NOTE:  The Cape Charles Historical Society has for more than a decade been recording oral histories of the area's earlier days.  In 2002, as one in a series of lectures sponsored by the Cape Charles Library entitled "The Way We Were," Cape Charles native Lloyd Kellam shared the following account.  In 2012, funded by a grant by the Virginia Foundation for the Humanities, the recording, along with 14 others, was transcribed. The Historical Society has now made it available for readers of the Wave.  All the transcriptions are also available for reading at the Museum.  This is Part 2 of Mr. Kellam's reminiscences.  Click here to read Part 1.)
Anyway, where was Sample's [Barbershop]?
[Audience member]: Near Wing Sing's Laundry. Right in that group.
I don't remember that. I remember apartments being over top. Anyway, to change the subject, in my time, Sample's Barbershop was down that same street. He moved it. His son's picture is in the paper this week, Johnny Sample. If you wonder who he is, Tommy Savage taught him all he knew about football!
When you turned the corner, there was Savage's Drugstore and then, I can't remember what was next to that. Was it a dress shop? OK, there was a dress shop there. Then the Palace Theatre was my first recollection, but I do remember when the Palace was built and I remember them tearing all those old buildings down. But I can't remember who was there. I do remember Mr. Tilghman and I spent many a day in Mr. Tilghman's place watching him fix watches. Back in those days, a watch was probably the most important thing that people had. And then there was Adam's Quality Shop [?], Harry Rudy had a barbershop in there. And Lee Hart had a plumbing place, I forgot what it was called. And then Byrd Vick and then a Western Auto. The Radium was between Waddell's Popcorn Shop, I called it, and Slim Colonna's Barbershop. Then about the time I really remember, they opened up a beauty parlor upstairs and F. Winslow Toussaint's.  F. Winslow Toussaint and he started taking pictures. In looking back on it, I think that he didn't have a bad deal with having the Miss Virginia Pageant in the Palace Theatre, which is another story. The newspaper that had that in it had nothing in there but pictures of all those beautiful girls from F. Winslow Toussaint. They were great, he could make a local girl look like a movie star! He was good.
Mr. Sak's was down there. Where the building burned, I can't remember exactly what was there, but my recollection was it was a grocery store.
[Audience]: Gaskill's Grocery Store.
Then last but not least on that corner, in my memory, is the Palm Tavern. If Cape Charles ever really does come back, I want to go in there and open up a restaurant called Peach Street Chicken! [Read more…]
November 30, 2013
Frances Christine Parks, 85, wife of the late Thomas Smith Parks, Jr., and a resident of Cheriton, passed away Friday, November 29, at Sentera Norfolk General Hospital.
A celebration of life service will be 3 p.m. Wednesday, December 4, at Cape Charles Baptist Church with Reverend Russell Goodrich officiating.
A native of Franktown, she was the daughter of the late John Showard and the late Lottie B. Travis Showard.
She is survived by three daughters, Jo Ann Edmondson and her husband, Bill, of Cape Charles, Sandra Parker and her friend, Bill Powell, of Cape Charles, Ann Walker of Cheriton; six grandchildren, and 10 great-grandchildren. She was predeceased by a son, William Thomas Parks, and son-in-law, Doug Walker. The family wants to make a special thanks to Dominic Horner. [Read more…]
By GEORGE SOUTHERN
Cape Charles Wave
November 29, 2013
Cape Charles Town Council is proceeding with plans to borrow an extra million dollars in the next few weeks, and members will discuss how to spend it at a workshop 6 p.m. Tuesday (December 3) at Town Hall. The problem is that the Town wants to spend closer to twice that much — an estimated $1.724 million.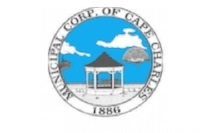 Meanwhile, nobody seems sure how much money the Town already owes. The Wave reported (click here) that at the November 14 Council meeting, Councilman Frank Wendell asked Treasurer Kim Coates how much debt the Town currently owes. Coates was unable to say, but financial advisor David Rose thought it was around $8 million or $9 million. After consulting with bond counsel Kevin White, he revised that estimate to "about $10 million." Town Council voted at that meeting to pay Rose $37,500 for his financial advice. Wendell says he still has not heard from Coates exactly how much money the Town owes.
In preparation for the Tuesday workshop, Coates has produced a one-page report entitled Town of Cape Charles Remaining Debt as of 11/26/2013 (click here). But the figures shown are not loan balances, but instead the remaining debt service. The only time total debt service equals loan balance is for a no-interest loan. Cape Charles is fortunate enough to have one no-interest loan with a balance of $4.7 million, but that's a little less than half of the Town's total debt according to estimates of Messrs. White and Rose.
The "Remaining Debt" report also omits four loans for police vehicles: a 2013 Dodge Charger, a 2013 Ford Explorer, a 2011 Dodge Charger, and a 2010 Dodge Charger. Interest rates on those loans range from a high of 6.6 percent to a low of 3.125 percent. Again, the loan balances are not known. [Read more…]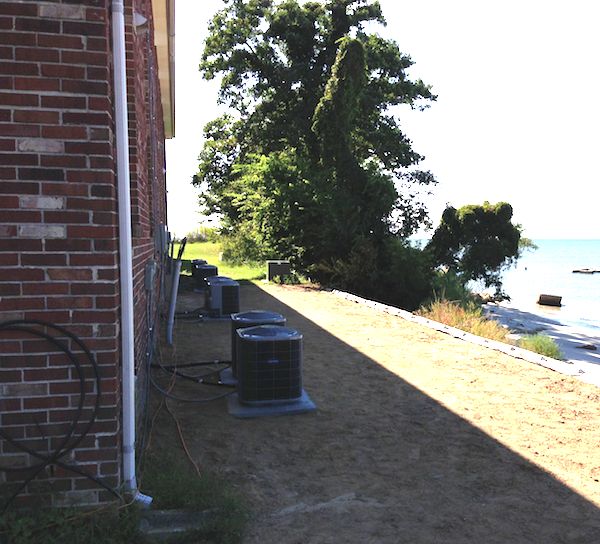 CAPE CHARLES WAVE
November 27, 2013
More than a year after Hurricane Sandy washed out the foundation on a section of Sea Breeze Apartments on Washington Avenue, the condemnation signs have been removed, and  units are being readied for re-occupancy.
The owner has constructed a sea wall out back and fortified the foundation. When the storm took out the foundation, it left the air conditioning units hanging from their wires, high but not dry, as shown below.
As shown in the top photo, all-new heating/AC units have been installed, but they are sitting directly on the ground, much like the old units.
Holiday Open House at The Nature Conservancy: 4-8 p.m. Thursday, December 5. [Read more…]
Casting call for "The Odd Couple: The Female Version": Auditions are Saturday, December 7, from 11 a.m. to 1 p.m. at the Historic Palace Theatre. [Read more…]
By DORIE SOUTHERN
Cape Charles Wave
November 25, 2013
Cape Charles is "under the gun" to stop pumping untreated backwash directly into the Town Harbor.
Public Works Director Dave Fauber told Town Council November 21 that the Virginia DEQ (Department of Environmental Quality) has ordered Cape Charles to cease discharging excessive amounts of iron- and manganese-laden water into the Chesapeake Bay. The Wave first reported the "red tide" in August after a resident observed the discharge and expressed concern.
Ironically, the Town only began the unlawful discharge after completion of the new $19 million sewer treatment plant. Previously, backwash was directed into the old treatment plant's polishing pond.
But, "when the new wastewater treatment plant was built and the old polishing pond demolished, the discharge from the water treatment plant backwash was sent directly into the harbor," Fauber said. Council approved his recommendation to expand a backwash vault at a cost of approximately $28,000 to allow metal solids to settle before the water is discharged into the Bay. [Read more…]
The national TV episode of "Beachfront Bargain Hunt" filmed in Cape Charles last summer will air on HGTV cable network 9 p.m. Sunday, November 24 and repeat at midnight.
The August filming was featured in a Wave story by Marlene Cree (click here).
According to the HGTV promo, "The Outlands are on the hunt for a vacation home on Cape Charles's historic beachfront strip. Local realtor Eva Noonen will attempt to find the perfect spot for Jim, Jodi, and their three children. Is that going to be possible with a budget as low as $350,000?"
UPDATE: Click here for an update featuring the first portion of the show.