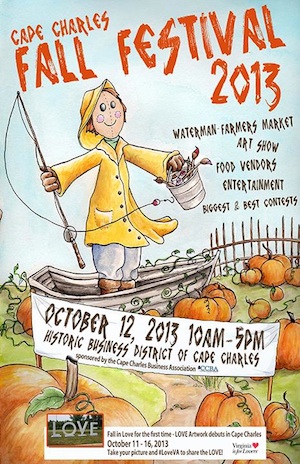 By GEORGE PROTO
President, Cape Charles Business Association
October 5, 2013
"Oktoberfest, Products of the Shore" is the theme of this year's Cape Charles Fall Festival next Saturday, October 12, from 10 a. m. to 5 p. m. downtown along Mason Avenue.
The festival is aimed at promoting the Town of Cape Charles and enlightening visitors as to the things produced on the Shore and in the immediate area of the Chesapeake Bay.
Various service organizations will be on-hand to publicize their activities and raise money to continue their valuable contributions to our community. Participating organizations include the Cape Charles Volunteer Fire Department, Citizens for Central Park, Cape Charles Christian School, New Roots Youth Garden, and Rotary Club.
An underlying goal of this festival is to establish a format on which the Business Association can produce future festivals as a way to provide ongoing education to visitors and others as to who Cape Charles is, what we make, and what we do. [Read more…]
CAPE CHARLES WAVE
October 5, 2013
What a beautiful day on the Shore for the 21st Annual Harvest Festival at Sunset Beach Resort — sunny and hot but not sweltering. "Things seemed to flow smoothly and people had a good time enjoying the event," according to an organizer.
With 2,500 tickets sold at $40 far in advance, $50 beginning in September, it would be hard to imagine that anyone with a ticket stayed away.
"The new layout with the corporate tables in the center did seem to work well," was the general opinion. But the time change (food was served at 11 a.m. instead of noon) got "lots of comment and mixed reviews."
And for people who just won't go home, there was the traditional "After Party" at Sunset Grille, which "did well and we had a lot fun!"