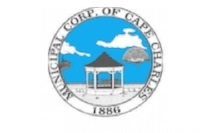 By DORIE SOUTHERN
Cape Charles Wave
December 9, 2013
The minimum utility charge for any building in Cape Charles is $108 a month – whether or not a drop of water is consumed. In some cases, owners of vacant buildings have not paid a water bill for years, but the monthly charges continue to accrue. A long-vacant house on Harbor Avenue reportedly has an outstanding water bill of over $8,000.
But it's not just vacant buildings that have to pay: if a property ever had a building on it, the monthly charges continue even if the building is demolished. The justification, according to Assistant Town Manager Bob Panek, is that 70 percent of water and sewer expenses are for fixed costs such as debt service and personnel that accrue whether or not a customer uses water.
That's the case facing South Port Investors, who leased property from the Town in 2007 in preparation for construction of Cape Charles Yacht Center, now underway. The property included a building connected to Town water and sewer, but the structure subsequently was demolished.
Not until February of this year did South Port ask the Town to turn the water back on. But in accordance with Town code, officials demanded over $5,000 in back charges, including over $400 interest and penalties.
Town Code  Section 72-9.c states: "If a connection existed as of June 30, 2007, and the house or building has since been demolished, the owner shall continue to be liable for the minimum charges."
Eyre Baldwin of South Port Investors asked Town Council to waive the utility charges given that the land had been vacant all those years. But Mayor Dora Sullivan expressed concern that doing so would set an expensive precedent: Many other Town properties also have the water turned off but continue to be billed.
And in addition to vacant buildings, Public Works Director Dave Fauber estimates there are about six properties in Town with no buildings that nevertheless receive monthly utility bills. [Read more…]
December 9, 2013
DEAR EDITOR,
Citizens for Central Park would like to thank all the people who braved the cold wind on Saturday evening to attend the Grand Illumination of Central Park! It was the culminating event in a day filled with holiday cheer!
There are so many different people and groups who had a hand in making the day a success. Many thanks to the numerous volunteers who worked all day to get the luminaries prepared and ready for the event. Special thanks go to the Northampton County Chamber of Commerce and Jim Weiner for their invaluable assistance, Jeb Brady for the use of his trailer, and Wako Chemicals for allowing us to use their space to prepare and store the luminaries.
Thanks also go to the Town staff who kindly worked with us to decorate the park for the holiday season and to many citizens such as Ned Brinkley, Heather Gladden, Zach Hunter, and others who helped us keep the luminaries lit in the windy weather. We are also very grateful to the Cape Charles Business Association for providing hot cocoa for guests, the children from Cape Charles Christian School for their joyful song, and Angie Pheiffer for transporting Santa and Mrs. Claus from their sleigh to the Park to greet the children.
We hope you had the opportunity to visit the Cape Charles Museum' s antique toy display, Santa's House at the Cape Charles Christian School, the boat tours and the lighted boat parade sponsored by the Cape Charles Yacht Club, and the lighted golf cart parade organized by Sandy Mayer. We appreciate the willingness of all of these groups to work together to create a magical day in our beloved town.
I do hope the Cape Charles Community Band will accept my apologies for the shortening of their concert in Central Park. As you may be able to imagine, coordinating the flow of events from one venue to another can be difficult. It was out of concern for our littlest guests that we moved the Grand Illumination ceremony along more quickly than planned. The wind was cold and we wanted to be sure that the children had the opportunity to visit with Santa. [Read more…]
Come on out of the cold for a special weekend at the Eastern Shore of Virginia National Wildlife Refuge for a rare exhibit of decoys in the Visitor Center December 14-15. [Read more…]