(EDITOR'S NOTE:  The Cape Charles Historical Society has for more than a decade been recording oral histories of the area's earlier days.  In 2002, as one in a series of lectures sponsored by the Cape Charles Library entitled "The Way We Were," Cape Charles native Lloyd Kellam shared the following account.  In 2012, funded by a grant by the Virginia Foundation for the Humanities, the recording, along with 14 others, was transcribed. The Historical Society has now made it available for readers of the Wave.  All the transcriptions are also available for reading at the Museum.  
This is Part 3 of Mr. Kellam's reminiscences.  Click here to read Part 1 and click here for Part 2.)
December 8, 2013
I'm trying to bring back memories to people who lived here and describe what the town was like [if you] didn't live here. But we had a dairy and I remember, I don't think you got it all the time, but I remember him delivering milk in the horse and buggy. And there were cars, we had cars. I can remember when the cars parked catty corner in the streets. One other story that I forgot to tell you. Later on as I was walking down the street, Ray Lassiter came here with a music store. He had a store on Pine Street and moved it right next to your drugstore, right?
[Audience member:] Lloyd, at one time, you know, Dad moved down next to the Wilsons.
Yes, he did. He had two stores at one time. The store next to the bank was Lloyd's until he bought the store from Louis Getzel. For a period of about a year he ran both stores. But he renamed the one down the by the bank, "The Capital." He sold that to Toad Ewell and a guy named Harry Johnson ran that for a time. Then Lloyd's was up close to town.
Another story of when Daddy bought the store from Getzel — I smiled when I think of Miss Getzel because her little bulldog she had, she would never let me in the store to get any of that ice cream. I think the first ice cream I got was when Daddy bought it! I didn't know this and I don't know if anyone else does, but Mr. Getzel used to sell ice cream up and down the Shore and he put it on the train. He'd loaded ice cream on the train. He had these freezers in the back and all this ice cream ice, I guess, block ice and rock salt, and metal cans. He had freezers back there. But when Daddy bought the business from him, he filled every metal can full of ice cream before he left. I've never talked to you about this, but the worst thing he ever did to you, was Daddy had a halfway decent ice grinder down at the one down next to the bank, but the ice grinder he left Daddy at Getzel's was just horrible. And that was my job, ground ice. If you had one of those hand grinders, it would kill you. [Read more…]
Mellisa Stein brings the holidays to life through storytelling at "Christmas Stories & Traditions" on Sunday, December 8, 2 p.m. at the Historic Palace Theatre, 305 Mason Avenue. [Read more…]
Stage Door Gallery hosts a Holiday Open House on Sunday, December 8, from 3 p.m. to 5 p.m.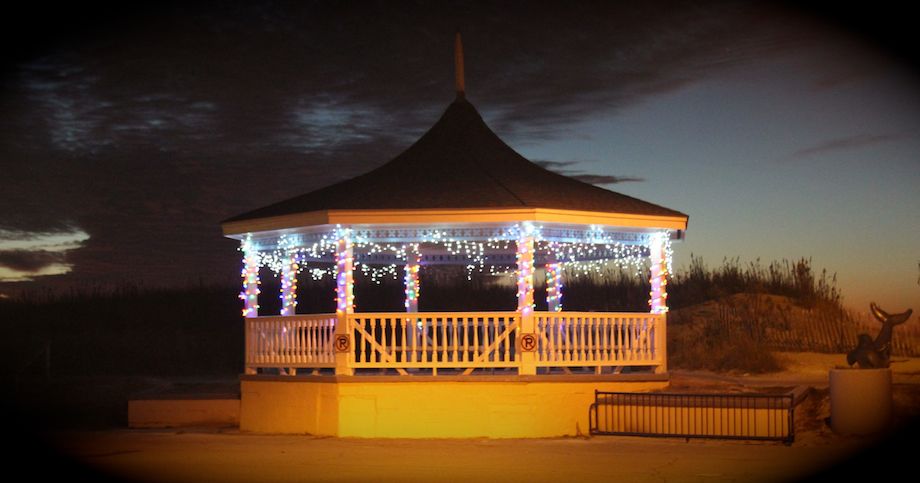 Photo by Chris Glennon (Published December 7-8, 2013)
It's holiday movie time at the Historic Palace Theatre with a screening of "Elf" on Sunday, December 8 at 3 p.m. This movie is free and open to the public. Come see this hysterical holiday favorite on the big screen. [Read more…]