Alston Joynes Godwin, 101, Pioneer Female Undertaker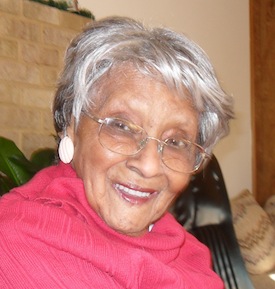 January 19, 2013
Alston Joynes Godwin, 101, died at her Cape Charles residence Wednesday, January 16.
The family will receive friends at a viewing 5-7 p.m. Wednesday, January 23, at First Baptist Church, Cape Charles. The funeral service will be 12 noon Thursday, January 24, at the church.
She is survived by a son, Cape Charles Town Council member Thomas George Godwin, and his wife Juanita; a daughter, Jennie Marie King; three grandchildren and three great-grandchildren.
Mrs. Godwin was one of Cape Charles' longest living residents. She was one of the oldest living licensed funeral directors in the state of Virginia, and was considered by many as a trailblazer for women in the funeral business.
Born in 1911 in the small community of Fairview on Virginia's Eastern Shore, her early days were spent commuting from her family's farm to school via horse and buggy. As a teenager, she attended boarding school at Tidewater Institute and Nursing College at Dixie Hospital in Hampton.
At the age of 16, she began a mortuary apprenticeship at Gray's Funeral Home, under the direction of her aunt and uncle, Jennie and Mills Gray. She learned the art and science of funeral directing and contributed to the business in numerous capacities before attaining a Virginia Funeral Director's license in 1944.
Upon the passing of her aunt, Godwin became owner and operator of Gray's Funeral Home, and built the current location near her home in Cape Charles.
CONTINUED FROM FIRST PAGE
In addition to overseeing the funeral business, she partnered with her husband, the late Thomas L. Godwin, to manufacture burial vaults. Together, they expanded the business to serve funeral homes throughout the area.
In later years, Godwin opened Gray's Funeral Home Floral Shop and supplied flowers for funerals, as well as special events including wedding, church events and galas.
Throughout her career, Godwin was very active in parent teacher organizations; Prince Hall Affiliation of the Eastern Star, Lee Chapter #13; United Order of Tents, local chapter Shiloh Tent #116.
She was a member of First Baptist Church for more than 70 years and was ordained as the church's first female Deacon.
In March 2011, she renewed her Virginia Funeral Director's license at the age of 99.
In 2012, she was recognized as a Living Legend by the 100 Black Women in Funeral Service.