The Eastern Shore Oyster Roast is Saturday, October 25, from 4-8 p.m. with proceeds benefiting the Eastern Shore Artisan Trail. If you look carefully on the poster below you'll see there could not be a more appropriate location in the whole world.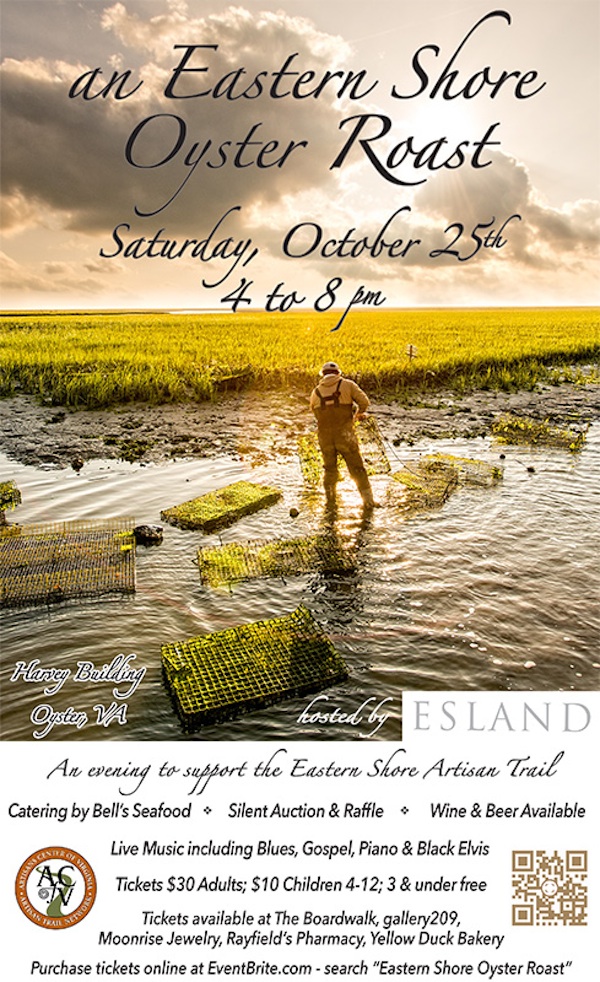 CAPE CHARLES WAVE
October 20, 2014
Cape Charles Town Council spent $25,000 on a chicken study and laid an egg. Council member Chris Bannon provided that cost estimate October 17 at Council's monthly meeting. Although Bannon did not break down the cost, it presumably is a measure of how many hours were spent on the chicken question by Town Planner Rob Testerman over the past year, as well as the cost for legal counsel to review a proposed town ordinance to allow backyard hens under a highly regulated set of conditions.
Although Testerman clearly wanted to see Cape Charles get on board with the nationwide urban chicken movement, Town Council was not convinced, even though the majority of Historic District residents participating in Testerman's survey approved of the concept. [Read more…]
October 20, 2014
Peacewerks Center for Well-Being, LLC, announces its opening in Cape Charles at 109 Mason Avenue, Suite A (the former Sullivan's Building).  Peacewerks is staffed by Gerald E. Boyd and Polly Boyd and exists for the support of individuals, families and communities in the continuous achievement of emotional and spiritual balance and the reclaiming of life. [Read more…]
By WAYNE CREED
October 20, 2014
Some have described the Stay Tuned Music Fest on Oct 4 at the Shanty as a flop, or even an epic fail. Even if it was, that's not really a bad thing. Getting in the ring and taking a swing is the most important part — these festival things are hard to predict, and given the limited population and demographic, they sometimes don't turn out as well as we hope.
I know the promoters, and I'm sure they will collect some Lessons Learned, and make some adjustments for next time (maybe move to coincide with Harbor for the Arts, or go old school with Shore Made Music by Shore Made Musicians — then cook up a pig, some crabs or oysters, with plenty of cold beer).
All this aside, there was still something about Stay Tuned Fest that bothered me; as if something was just a bit off. One evening, after a few martinis, staring at the old brick at Kelly's, I realized just what was bugging me: it was that holding the event at that location (new harbor) lacked so much authenticity, and was so typical of the New Cape Charles — that is, to completely ignore the old Eastern Shore ways and arrogantly try to impose some foreign aesthetic in its place. [Read more…]
By ANDY ZAHN
October 20, 2014
PART 5
With so many women working on the war effort, and many had children, there had to be a way to take care of these kids. My town came up with "Child Care Centers," and my mother, being a natural with children, got a job as a Child Care teacher. Now this was amazing since Mom never graduated from 8th grade because her father got killed at work and left a widow with seven kids. The oldest had to quit school and had to find jobs.
I've heard of "horse whisperers" and "dog whisperers" where a person can train the animal through just plain love, and I think some people, especially kindergarten teachers, also have this talent.
After Mom quit school she was playground director in the school she had just left. At times she taught nursery school and in a large federal housing project in California she was in recreation for the teenagers. I saw my mother who was 4′ 11″ just simply clap her hands at a dance of a couple hundred boys and girls and the place fell totally silent. The respect was incredible!
Dad was overseas, and he loved real stinky German Limburger and Liederkranz cheese. The cheese came in a wooden box with about eight half-pound blocks, each wrapped in tin foil, and then Mom wrapped the whole thing securely in brown paper and I took it to the Post Office. They could smell it, and it had to be re-wrapped and then sent. I avoided the kitchen whenever my parents were eating that cheese.
Dad was a stickler about eating. "Eat that fat. I paid 35 cents a pound for that too!" "Clean your dish." We had a deal which was fine for me. Eat everything on your dish, that meant all the veggies, etc., and then you could have seconds on whatever you wanted, which meant steak and chops. Dad couldn't abide people who ate with their eyes or noses. "Taste it. You may like it," and usually he was right. Finally he goaded me into trying the stinky cheese, but one bite was my limit. I said it tasted just like what it smelled like.
Turkey, I got the drum stick. T-bone steak, I got the tail. I thought it was the best part and because they loved me. Only now I realize their teeth couldn't handle it! [Read more…]