TUESDAY 8/27: Field and Stream Writer Discusses Fishing at Accomac Library
Friends of the Eastern Shore Public Library present "Fishing Virginia's Eastern Shore" 7 p.m. Tuesday, August 27, at the Accomac Library, 23610 Front Street.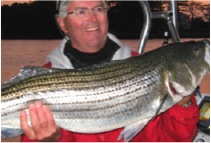 Ken Schultz will speak about the many opportunities for recreational fishing on Virginia's Eastern Shore. He will discuss the primary species caught locally, seasonal opportunities, and access points, as well as answer questions about gear and fishing from different types of watercraft or piers.
Ken retired to the Shore after a career as a journalist, author, and broadcaster for ESPN and staff writer for Field and Stream magazine. He is an avid photographer and kayaker, and represents the Eastern Shore on the VMRC's Recreational Fisheries Advisory Board.